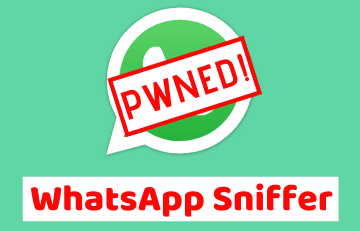 Nowadays, people trust blindly, which is good, but they do share infinite privacy that does not end well.
In this digital world, everything is encrypted, and some people use it to do wrong. Parents should track their children and make sure that the children are not in any type of bad influence or wrongdoings. Also, check Droid Buddy 2 Apk.
Also, if you feel that your partner is cheating on you, then there is nothing wrong with double checking on him/her. You may also like to check these PS3 emulators and Telegram channels.
In this article, I have shared everything about the widespread application— WhatsApp Sniffer.
What is WhatsApp?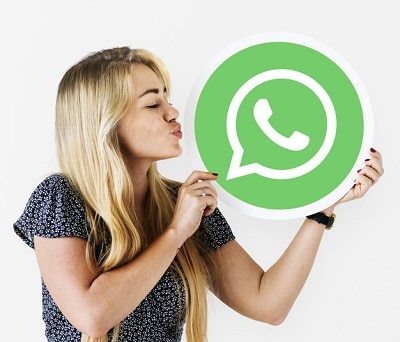 WhatsApp is one of the most popular social messaging platforms, and it is fully secured (encrypted), which makes it more reliable.
Almost everyone desires to read conversations of other users, and the sniffer might fulfill it. If you are not aware of the WhatsApp Sniffer, then you are at the perfect webpage as I have comprehensively mentioned everything about it.
We do not promote breaking someone's privacy, and this article is only for educational purposes. Let us not waste any more time in the introduction and move further to the fantastic spying application WhatsApp Sniffer. Also, check YesMovies proxy and Yify Proxy.
There are thousands of applications on the internet which promise Android spying but only projects creepy ads in reality.
Sniffer not only helps to spy on WhatsApp in the Android operating system but also in iOS.
Also, check these best torrent sites and Putlocker proxy.
If you are struggling for a reliable & working spy application, then carefully follow this thread, which features everything about WhatsApp Sniffer.
Also, share this thread with your friends and help them enjoy this fantastic application too.
You may also like to check these sports streaming sites and sites like Rainierland.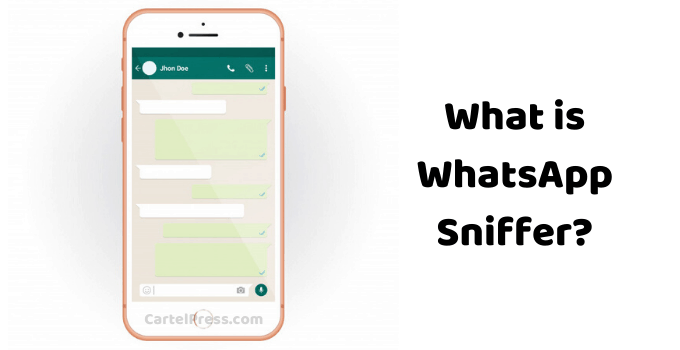 WhatsApp Sniffer is an application that allows a user to access WhatsApp messages of any other person without any technical hassles, but it has some conditions.
I have tried hundreds of Android spy applications, but WhatsApp Sniffer is the only one that I found worth sharing.
If you want to read the conversations of your children and what they are up to, then WhatsApp Sniffer is a perfect application for you.
It breaks the encryption without alarming the user about the data breach. The minor condition of this application is that you and the user (victim) should be on the same network (through WiFi.) You may also like to check these best Xbox one emulators and Pokémon Go Apk.
The WhatsApp Sniffer offers a straightforward & user-friendly interface, which makes it easy to use. It had a few bugs, but the developers fixed everything in the recent update.
Unlike most of the third-party applications, it does not projects creepy advertisements & surveys, which ruins the user experience.
If you want to download and use the sniffer application, then read the article till the end.
You may also like to check these best proxy servers and download the Facebook social toolkit.
As mentioned earlier, WhatsApp Sniffer offers a simple interface that can be operated by anyone.
You can use & spy through sniffer even if you have no knowledge about digital technology.
The thing you should keep in mind is that you should be connected to the same network to which the victim's device is connected (WiFi).
You can also create a WiFi connection and ask the victim to connect it to the network. If you fail to connect yourself to the victim's system, then sniffer application won't work for you.
Apart from this, you do not need to root or jailbreak your device to use this amusing application. The application is not available on PlayStore, and therefore, you need to download it from third-party websites/stores. Also, check the Grammarly free trial.
I recommend verifying the source of the apk file because many sites modify & alter the application and inject malware, which eventually ruins your device.
We have shared the verified & original apk file of WhatsApp Sniffer, which you can download without doubting the reliability.
We do not modify any apk file and share the original apk (directly offered by the developer)
You may also like to check TorretKing proxy sites and RARBG proxy.
You are much aware of the basic functions of WhatsApp Sniffer, but a recap is always helpful. I have briefly mentioned all the features of WhatsApp Sniffer below.
It alarms the user whenever it connects to a similar connection.
Sniffer allows you to read all the WhatsApp messages of any device which shares a standard network connection (WiFi.)
WhatsApp Sniffer offers a friendly interface which is easy to operate for even a ten-year-old kid.
The application arranges different chats in an organized way for you to quickly access them all.
You are not required to root or jailbreak your Android & iOS devices.
You may also like to check these best android rooting apps and how to download Whatsapp status videos.
The old version has a lot of issues that ruined the user experience, and so the developers worked hard and dropped a new stable release. The new things in this version are:
This version is purely AD-FREE, which makes it a premium application.
You can read the whole conversation in one page that makes it user-friendly.
Save chats even after reading and use it later as proof.
You may also like to check these best games like Skyrim and iOS emulators.
It is pretty easy to download WhatsApp Sniffer on your phone, but make sure the Apk file is virus-free. Sniffer is not available at the official app stores as it violates the privacy encryption, but you can download it from third-party sites & app stores. Make sure to verify the source before downloading the apk file or download it from the below-mentioned link as it is 100% safe & secure.
Also, download IDM Optimizer.
After successfully downloading the sniffer apk file, you now need to install it on your device. Follow the below-mentioned instructions to install the WhatsApp Sniffer apk on your phone.
You may also like to check these best proxy servers and the best custom Android ROMs.
Step-1. Before installing the apk, you need to enable unknown resources on your device; Open Settings of your Android device and search for "Unknown Sources" as I did in the screenshot mentioned-below.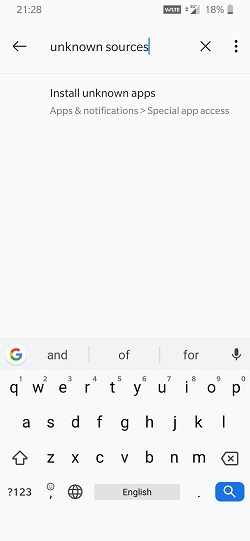 Step-2. After following the instructions mentioned above, you are ready to install the apk file. Now, Please navigate to the downloaded apk file and tap to install it.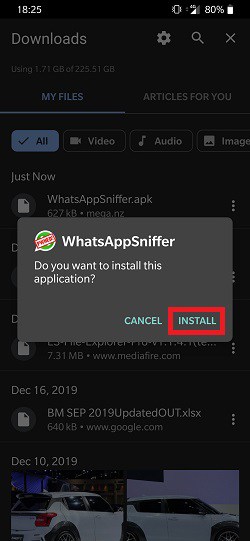 Step-3. It is blocked by Play Protect. So, you need to click on the "Details" option and after that tap on "Install anyway (unsafe)" option to start the installation process.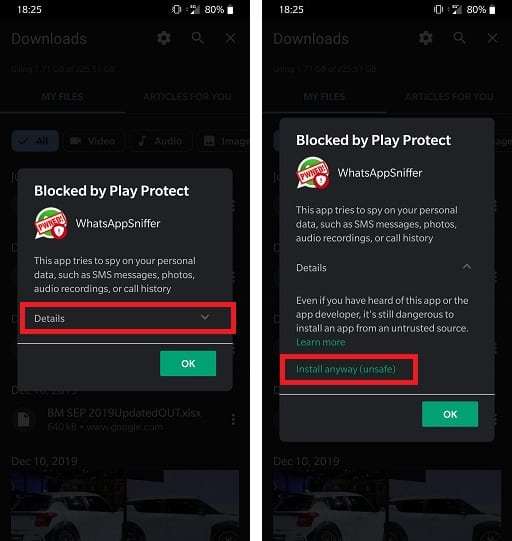 Step-4. Now, wait for the installation process to complete.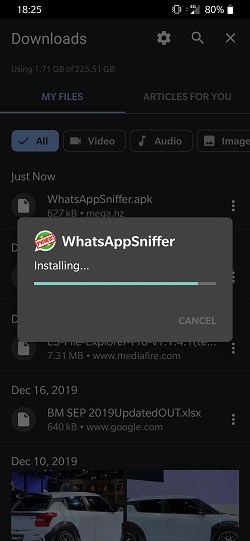 Step-5. Open the application and grant all the permissions it asks for, and then you are ready to spy on WhatsApp messages of others.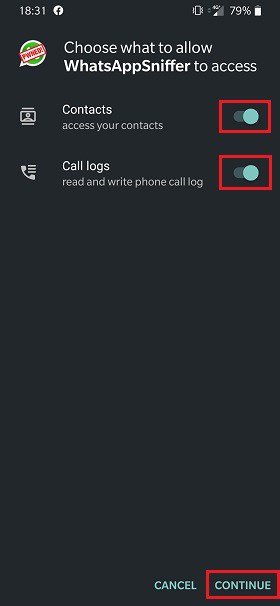 *Note: You need to share a network connection with the victim to read his/her WhatsApp messages.
You may also like to check these sports streaming sites and sites like Rainierland.
Spying on someone's WhatsApp was a dream for many years, which is turned into reality by this fantastic application.
Every smartphone owner has a WhatsApp account in his/her phone, which makes it an essential platform for everyone.
It has billions of users all over the world, and that makes it the most used social messaging platform in the world.
WhatsApp Sniffer is one of the best spying applications I have come across and is certainly safe to install & use.
You may also like to check these best Manga Sites and Rainmeter Skins.
I believe that this comprehensive article helped you and satisfied all the subject related doubts & queries.
But if you have any issue or error relevant to the topic, then please comment below, and I or someone from our team will surely respond to it with a positive & helpful reply in no time.
Also, share this piece of information with your knowns and let them explore something unbelievable.
On whom are you going to try this spy application?
Please share your experience with WhatsApp Sniffer and keep visiting CartelPress.com
Also, check out these best sites like coke and popcorn and Garageband alternatives.