Grammarly Review: Is Grammarly Worth It? Read this honest Grammarly review before buying this grammar checker software.
Grammarly Review (Updated Version 2023)
Grammarly is a highly popular writing tool that offers users suggestions to enhance their writing. It uses advanced algorithms to identify errors in grammar, spelling, and punctuation and provides helpful tips for style and tone. The interface is easy to navigate, and the free version of Grammarly offers basic grammar and spelling checks that can be useful for everyday writing.

On the other hand, the premium version offers more advanced features, such as detailed grammar checks, suggestions to enhance vocabulary, and writing style recommendations specific to different genres. Some users may feel that the premium version is a little expensive, but many find it to be a worthwhile investment in their writing.

Overall, Grammarly can be an advantageous tool for those who want to improve their writing skills and create error-free content. While it cannot replace the need to learn grammar and other writing skills, it can provide useful assistance in enhancing your writing.
In today's fast-paced world, effective communication is more crucial than ever, and this includes having impeccable writing skills. Whether you're crafting an email, a blog post, or a business report, it's vital to ensure your writing is error-free, concise, and easy to understand. This is where Grammarly, a widely-used writing tool, comes in. Grammarly claims to enhance your writing by detecting grammar, spelling, and punctuation errors, as well as offering style and tone suggestions.
But can it really deliver on its promises?
In this comprehensive review of Grammarly, we'll closely examine this writing tool and provide our unbiased evaluation of whether it's worth your time and investment.
Please note that this article is for those who are looking for a detailed Grammarly review. So, if you are one of those people, then this is the article that you should read until the bottom of this page, as we will discuss everything that this grammar checker tool offers to its users.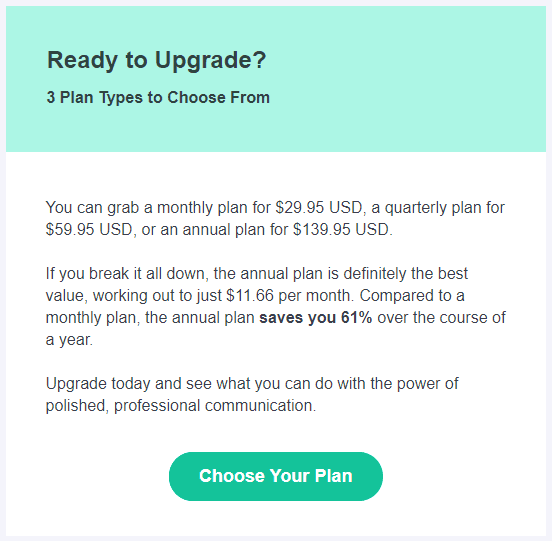 Here is how we will go about the review today:

When Alex Shevchenko, Max Lytvyn, and Dmytro Lider came out with Grammarly in 2009, it caught on the same fire as the examples mentioned above. Of course, this was after some criticism, but then again, what revolution isn't? In a world moving fast towards the internet and with computers becoming more and more accessible, Grammarly provides an amazing solution to the problem everybody faces.
You JUST could not get every word and sentence right while typing stuff. But then there was Grammarly. So you could check every write-up of yours for spelling mistakes and grammar mistakes and avoid being embarrassed over a typo in a professional document.
We've come a long way from 2009, and now Grammarly is available for Microsoft Office suites, as extensions on browsers, and as apps on phones. It is much more accessible than it was, but also, there are a lot more players in this space now.
Several autocorrect modules have been launched in the past decade, and as much as we loved what Grammarly did for us, as consumers of a service, we all look to find who is offering the best deal to us. There are alternatives like Whitestone, ProWritingAid, Ginger, etc., delivering a wide range of services that are both advantageous and disadvantageous to Grammarly services at the same time.
But as consumers, you have neither the time nor the tolerance to go through trial and error for trying to figure out which proofreading software is the best for you. You cannot go and try every product out there and pay money for each of them to see how accurate they are and how they compare to other players in the market. And this is exactly where our motive behind this post lies.
Today, we will put Grammarly under the microscope and try to figure out if Grammarly still stands out among a crowded market of proofreading modules, how accurate it is as compared to a human proofreader and its competition, and whether paying for Grammarly premium services is worth it, or it is like throwing your money into the trash box.
Grammarly is a browser extension or an application that double-checks everything you write on your device (PC or Mobile) and either corrects it automatically or suggests the correct format based on the setting you have put it on. It will check your spelling, grammar, your punctuation, and your tone. Moreover, it also rechecks your work and does not let you submit it without fixing all the potential spelling and grammar mistakes.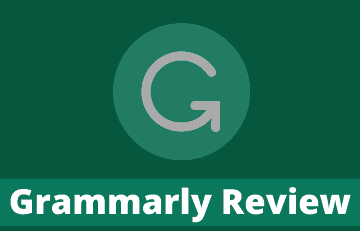 Try Grammarly Now. [FREE]
May it be your browser where you write your emails or Microsoft Office where you create most of your office work products, you can use Grammarly almost anywhere.
It might seem a bit time-taking at first, but once you get the hang of using it, it does not take nearly as much time as one would expect. For example, you will not have to smile awkwardly after everyone notices your spelling mistake in your PowerPoint presentation at the board meeting!
Writing an important email to your boss and misspelling "respected" at the very beginning of that mail? That is embarrassing, isn't it? Submitting a write-up to your senior editor for review, and he finds that you used "there" instead of their"?
That is how you get out of a job! And that is basically why you need to know about Grammarly because this is the boon that has helped many others to save face in hundreds of situations like these.
In a nutshell, Grammarly provides you with the following services:
1. Proofreading Review
Grammarly proofreads your write-ups and checks if you've committed any spelling mistakes or grammatical mistakes. It provides you with both real-time suggestions and a button-click report of the whole document where you can see what you have written wrong and correct it with the suggestion given by Grammarly. Also, Grammarly will provide you with the reason why what you have written is wrong so that you can improve your written skills with time.
Official Website: Grammarly.com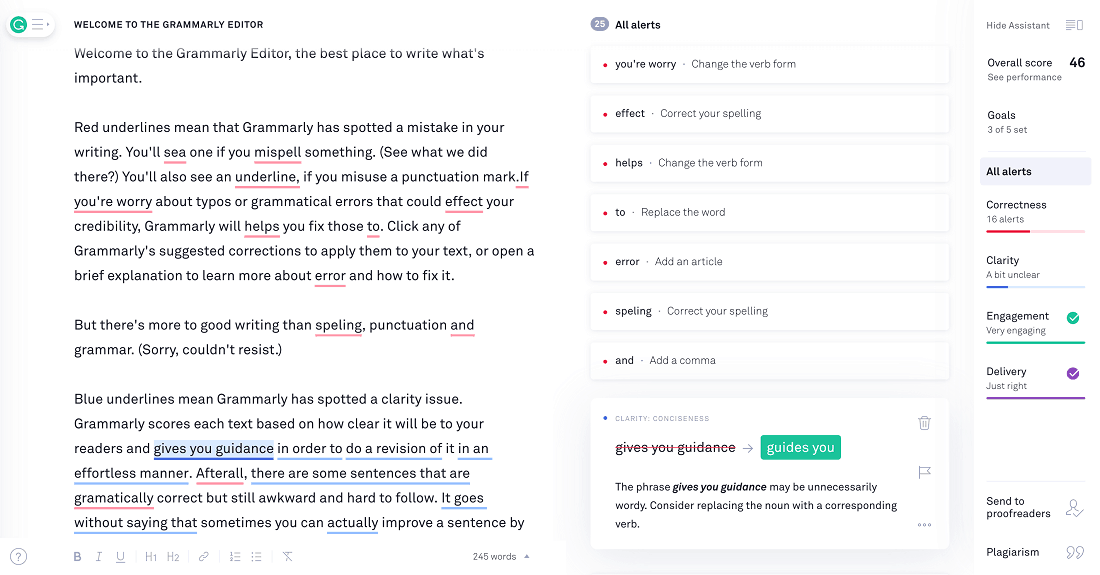 2. Plagiarism checker – Grammarly Review
Grammarly also provides you with an extension service where you can check if your write-ups match someone else's on the internet, or in case you are trying to rephrase some other blog, how much similar is it. Thus, you can save yourself from being caught up in allegations of copying someone else's work.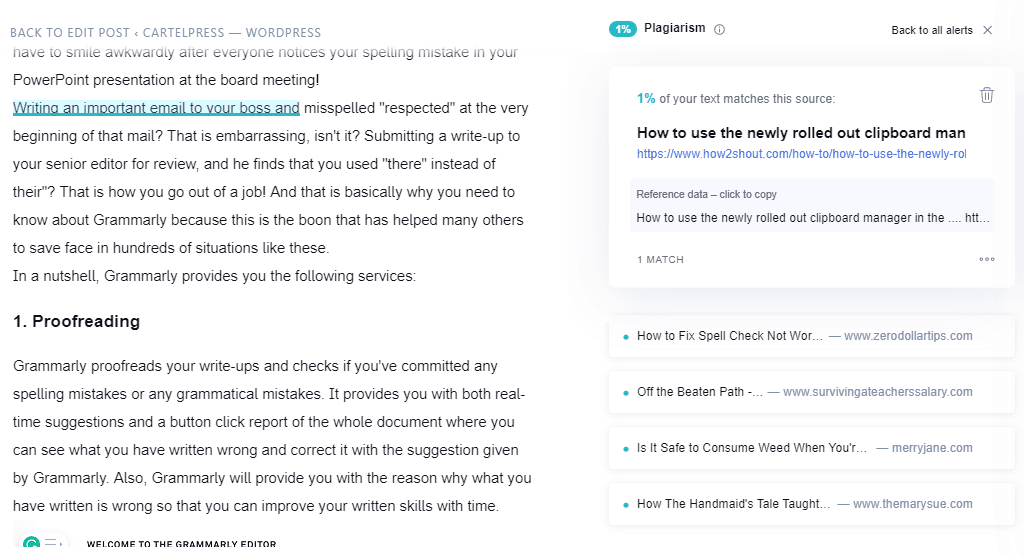 3. The Tone Detector Review
Everybody has their own tone of speaking and their own style of writing. But sometimes, the audience you are targeting isn't really comfortable with your personal tone. So you can self-edit your tone of writing with insights from Grammarly about sentence lengths, readability scores, etc.

Everybody who hears about Grammarly thinks that it would be such a helpful tool, that it would save them on so many occasions, and that it would be of regular use to them. So they end up buying it; they use it once or twice and then just forget about it because, well, they really DO NOT have use of it.
So what you need to think before wasting your money on Grammarly (or wasting your time and effort, if you're using the free one) is that would it really be of daily and essential use to you?
We have outlined a few cases where it might be useful to you:
1. Writers or Bloggers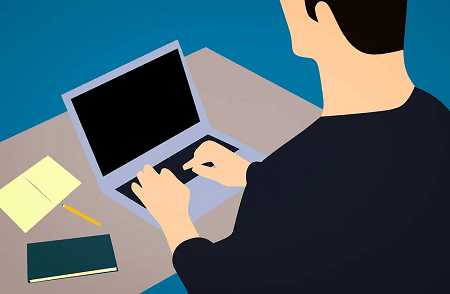 If you are a writer or a blogger, this tool is perfect for you, and it could help you in so many ways you can't even imagine. The biggest problems that writers face are the tone differentiation in the whole write-up and the unintentional jotting down of verbal language in passion, which is often not grammatically correct. The same is with bloggers. Grammarly can fix both of these problems for you without much hassle!
2. Secretary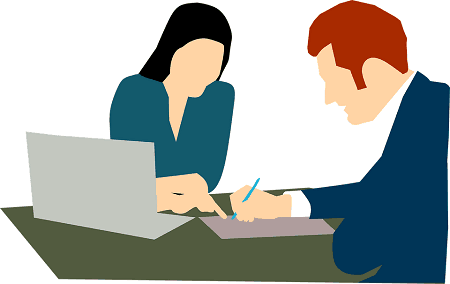 If you are a secretary to someone, the chances are that 75% of your life goes into receiving and sending out emails. And the worst part is that you are to sending those emails out on your behalf but on your boss's behalf. It is a scary notion to think that if you would misspell something or incur stupid grammatical mistakes, your boss comes out looking like a fool. You don't want that. And thus, Grammarly is a boon for you because it can be installed directly into your browser or outlook and can check for mistakes in real time.
3. Corporate job workers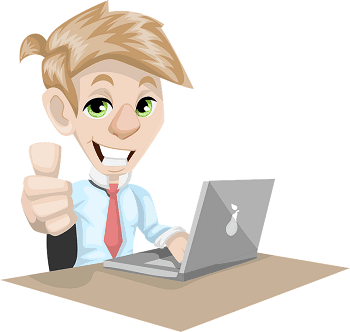 If you work in a corporate job, you obviously work a lot on your laptop and lay with documents all day long. Some of these documents are important, and some are not, but all of these documents do make an impression on your supervisors. So it will work in your favor to hedge your bets and work with Grammarly while making these documents.
4. Editors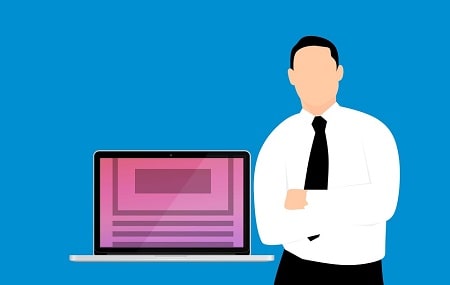 Grammarly is probably the most useful to an editor. It does more than 50% of your job for you! What else can you ask for from the software?
5. Students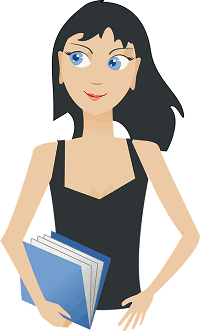 Being a student is probably the most challenging job in the world. You are expected to do everything absolutely perfectly at not such a mature age, and there is no room for mistakes. You submit an assignment with a simple spelling mistake, and you can forget your good reputation in front of the professor. It is wise to use such software that can tell you what's okay and what's not.
You may also like to check: How to get Amazon Prime Video Free Trial?
Where can you access it?
In a world full of different kinds of devices, you end up typing your messages or your books or your blogs on absolutely anything, right from your phone to your tabs. So people at Grammarly also had to evolve.
Grammarly is not just software for windows now. It is available on your Play stores and App Stores, as extensions on multiple browsers, as plugins in different office suites, and so on. Here's how you can attain access to Grammarly and get your work products checked:
Grammarly for iOS
Desktop app for Grammarly on Windows
Desktop app for Grammarly on Mac
Grammarly Add-in for Microsoft Office
With the most recent updates across all the platforms, Grammarly has really outdone itself in terms of ease of access and user-friendliness. Adding hundreds of little tweaks and convenience tools like setting up writing goals and readability scores has really made it an indispensable software.
An interesting new thing that we found out during our research is that Grammarly also offers its own keyboard that you can set as default in your mobile devices, and it will be operational on any other apps, for example, Facebook, Gmail, Linkedin, and so on.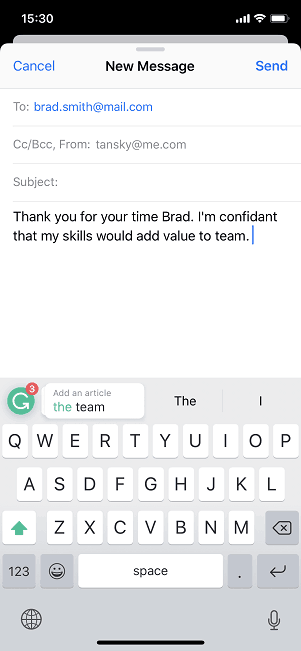 It will give you real-time suggestions and complete most of your words before you even write them. With time, we also noticed it to learn our writing style and suggest words according to that. You can also set the keyboard up for autocorrecting spelling, punctuation, and grammatical mistakes.
While every service that has been outlined above can be construed as a benefit of Grammarly, we will try to go deep into it and try to understand how it REALLY helps you. With Grammarly being used by huge multinational companies as well as the most recognized authors in the world, it has really gained credibility, and you can trust this excellent service blindly.
For most international students and employees coming from non-English countries, it has been a blessing in disguise. They can write sensible emails and other work products instead of mail with broken and non-understandable English.
Grammarly has really exploded in the last couple of years, and let's try to figure out why:
1. Auto-checks grammar in real-time.
To do what people hired human proofreaders for and waited an extra week for, you can just install Grammarly; it will take care of the rest in real time. In most cases, it will prove to be more productive and accurate than a human proofreader. Above all, it will give you real-time notifications or prompts (whatever you like and choose in the settings) and give you a choice to correct it with suitable suggestions and a reason why what you have written is wrong.
2. Keeps your punctuation in check.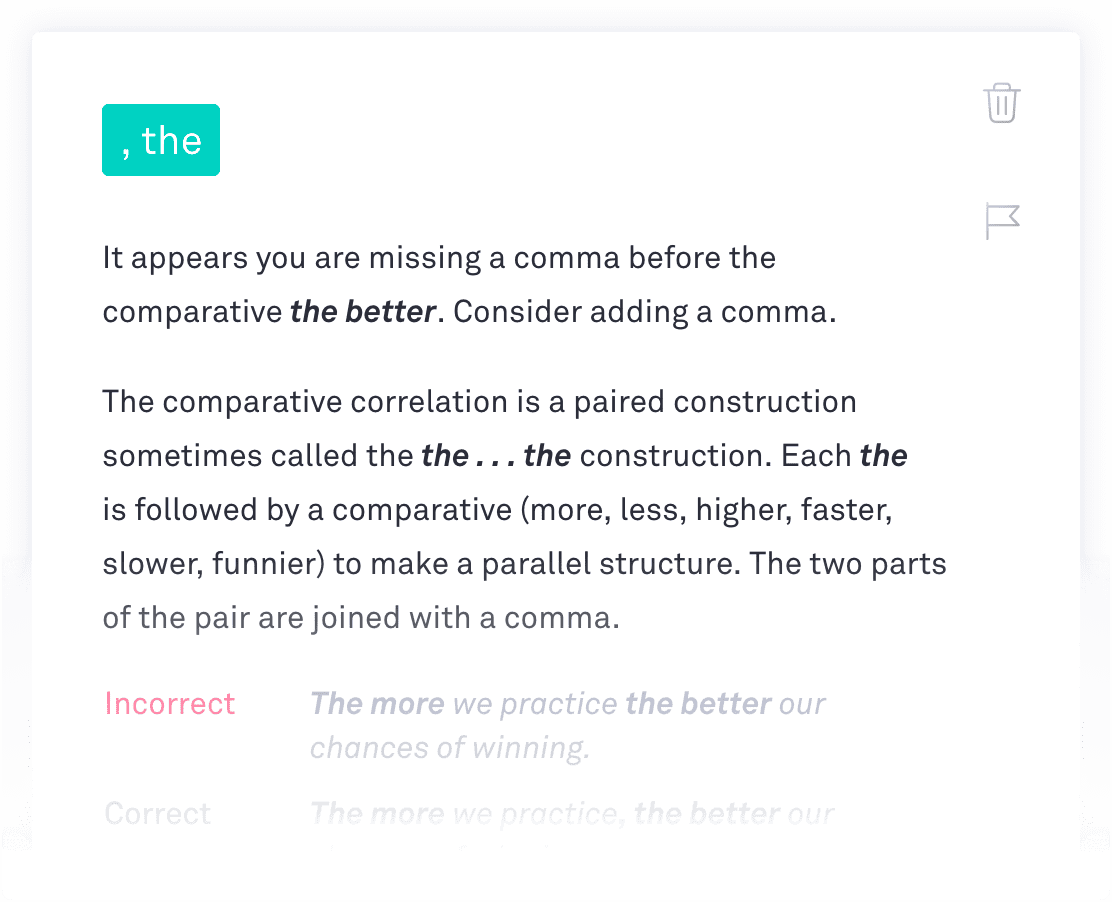 Punctuation is that part of our language, which is indispensably important, but very few of us actually know how to use it completely. Misplacing even a single comma in a sentence can change the entire meaning of the sentence and turn your world upside down in a second if you do it on an important document or mail. Grammarly prevents that from happening by making necessary changes at the time of writing itself.
3. Great Accuracy.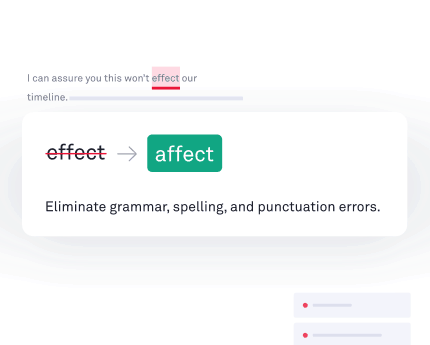 Grammarly is the oldest and, thus, probably the most accurate proofreader on the market because of the sheer in-depth reporting it does. Gone are the days when you would have to rely on the spelling and grammar check of Microsoft Office. With the Grammarly plugins available everywhere, every single grammar mistake and punctuation mistake of yours, may it be a simple grammatical rule or a really complex one, is being caught and corrected.
4. Extremely user-friendly.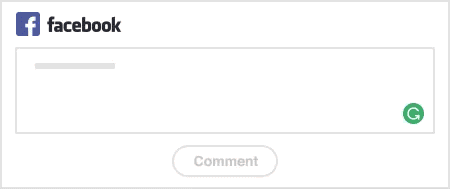 What we felt in research is that most of the proofreaders on the market lacked certain ease-of-use. We found Grammarly to come out victorious in that regard. With extremely simple explanations and ease of correcting (with just one click), it is probably the best software for you if you do not do well with computers. However, even if you do know how to work on complex software, a little convenience is not something you should run away from. It will save you energy as well as time.
5. Customization.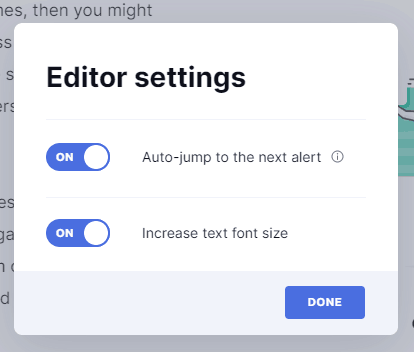 We often do not use the absolute correct language while we speak. But that's just how we learned it, living in our region, didn't we? And it just so happens that everybody around you uses the same kind of language, but alas, most proofreading software doesn't recognize these words, so you have to weed them out of the suggestions every time.
It is as tiring as it is irritating. But in Grammarly, you have one of the most uncommon setting options, i.e., "Add to Dictionary." Now you can add your own region's words that people around you use and prevent Grammarly from showing prompts on that word a hundred times in a single document.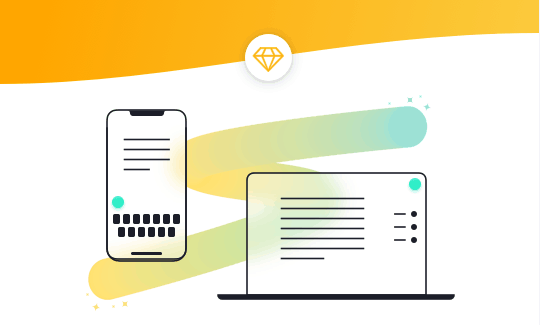 The Grammarly Premium gives your writing a leg up. Whether you're finishing up a big project for work or writing something just for yourself, Grammarly Premium helps you have a faster and more productive writing experience across platforms. With Premium writing suggestions in Microsoft Word, in the Grammarly Keyboard, and on all your favorite websites, you can get the writing support you need, no matter what you're working on.
Upgrade to Premium for access to advanced features like vocabulary enhancement, readability, and writing style. Grammarly works on a Freemium model. Let us explain.
The most commonly used services of the software, including basic grammatical corrections and spelling mistakes, are available to use free of cost just after signing up. But some of the essential features like call support, advanced grammar issues, and various add-ins like tone selection, etc., are only available at a small cost. If you pay for such services on your account, you are referred to as a Grammarly Premium customer.
This premium version of Grammarly also includes an additional tool — plagiarism checker, which is probably one of the most beneficial features in the premium package because it can help you save face in situations where you are trying to rephrase someone else's work.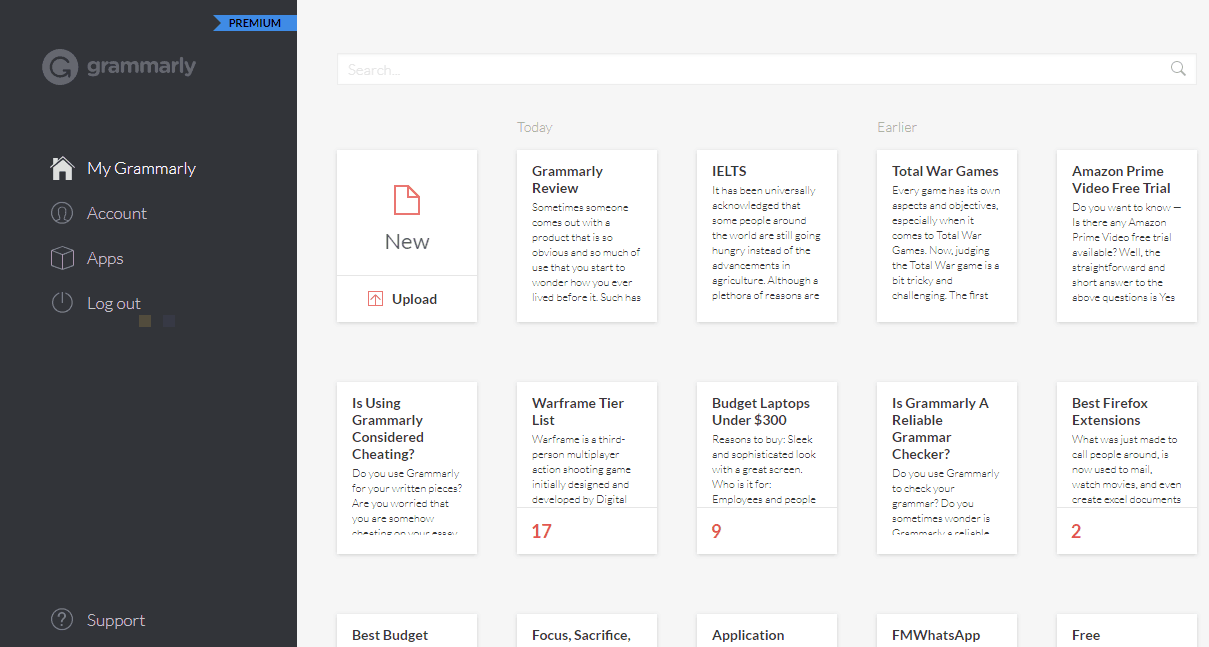 Also, it is essential to get your content checked through a good plagiarism checker. Because once out of ten times, you are bound to get a huge match percentage instead of the topic of writing being the same, and that too unintentionally. So instead of getting a copyright claim at your helm, it is better to take precautions to stay away from such headaches.
While you can always use the Grammarly service free of cost, it does charge you small sums of money for solving some of the advanced and technical language issues for you. With these Premium services, you can both correct your language to make it absolutely right and learn what mistakes you made and try not to commit them the next time. This will make you a better writer every time you type something wrong.
Although Grammarly does tend to cost a little bit higher than its alternatives like ProWritingAid, etc., it completely justifies its price with the sheer Accuracy of its proofreading and suggestions. In addition, being the oldest proofreader out there, it has really improved its algorithms and made its software next to perfect.
Here are the charges you will incur if you decide to go for Grammarly Premium:
Also, you might be interested to know that you can always go and try a free month of Grammarly Premium by signing up on its website. This will really help you decide whether it is the right choice for you or not!
For a detailed guide, you can check this Grammarly cost subscription guide.
Grammarly Premium is worth it for me as it helps me write compelling and error-free content. With a Grammarly Premium upgrade, you will have access to new checks and features. For example, You will get customizable settings for business, academic, casual, and creative writing. On the other hand, vocabulary enhancements help you find the perfect word every time. In addition, Grammarly's plagiarism checker makes sure your voice is original and identifies those passages that need citations.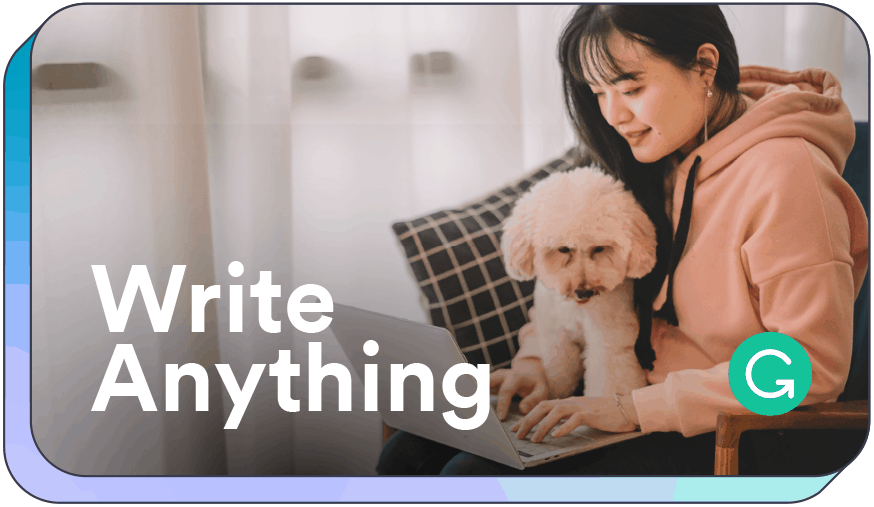 While Grammarly is available to you as a free tool to use, and while the free version is also very helpful as a second set of eyes to proofread your work, the importance of the fact that it is just another free spelling and grammar checker that you can get anywhere, can't be discounted.
You will often find in life that the saying "there are no free lunches" stands right. If you need a thorough grammar check on your work, we recommend buying the premium version. It will surely catch more advanced issues with detailed nuances of the language. It will also help you develop your language and help you improve your tone and style of writing. You should see it more as an investment rather than a service.
As for the comparison to its competitors, yes, Grammarly is costly. But, with that said, it is still the most used proofreading platform in the world. There must be something about it that the competition lacks. After all, sales never lie. The key upside that it has is precision and ease of use. Just keep this in mind while you decide whether or not to buy this product!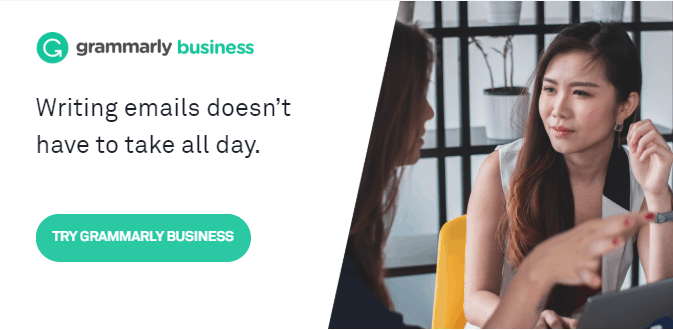 A few years back, Grammarly launched a version just for businesses. Providing even such IT services to huge businesses can be a little trickier than you might expect it to be. Enterprises use these services in kind of a different way than personal use. They need admin support, cumulative billing, and such an ad on services.
Well, Grammarly Business was developed, keeping in mind such exact requirements. Over the services Grammarly already provides in its premium package, the Business plan includes the following services:
Round the Clock email support.
Cumulative Billing.
Admin controls privacy and team groupings.
Monitoring tools.
The business version costs $15 per member for your team, which can prove to be really affordable if you have a really big team.
Grammarly Free vs. Grammarly Premium vs. Grammarly Business
The core difference between the free, premium, and business plans of Grammarly you need to understand is that it is all about the precision of language proficiency you want in your blogs or copies, or work products.
For instance, the free version works well enough if you are just an amateur blogger, student, or corporate employee. Still, you would want to get the premium Grammarly for high-quality grammar edits if you are an academician, scholar, or author.
The free version gives you suggestions based on all the basic grammar rules and tells you where you went wrong with your spelling. So if you are a little shorthanded on your written English proficiency, the Grammarly free version can be of big help to you.
But if you are seriously shy of any English proficiency, you might want to get the Premium one because it is only the free version that will correct the next-level issues with your write-ups. It will also give explanations of where you went wrong in that particular situation so that you can develop your language as time passes on.
The premium version also lets you use several other functionalities, such as setting writing goals, sentence lengths, readability scores, and tone differentiation. It can suggest complete phrases based on what you have already written and the tone you have set.
You should also note that you can get Grammarly Premium plans at a discount if you buy the quarterly or the yearly packages. Personally, we recommend the quarterly package because it gives you a good discount without the burden of a huge payment going out all at once.
The business plan is mainly for companies that cannot afford or do not want to bear with idiotic or embarrassing grammatical mistakes in their documents because companies know that they cannot always hire employees with excellent written skills.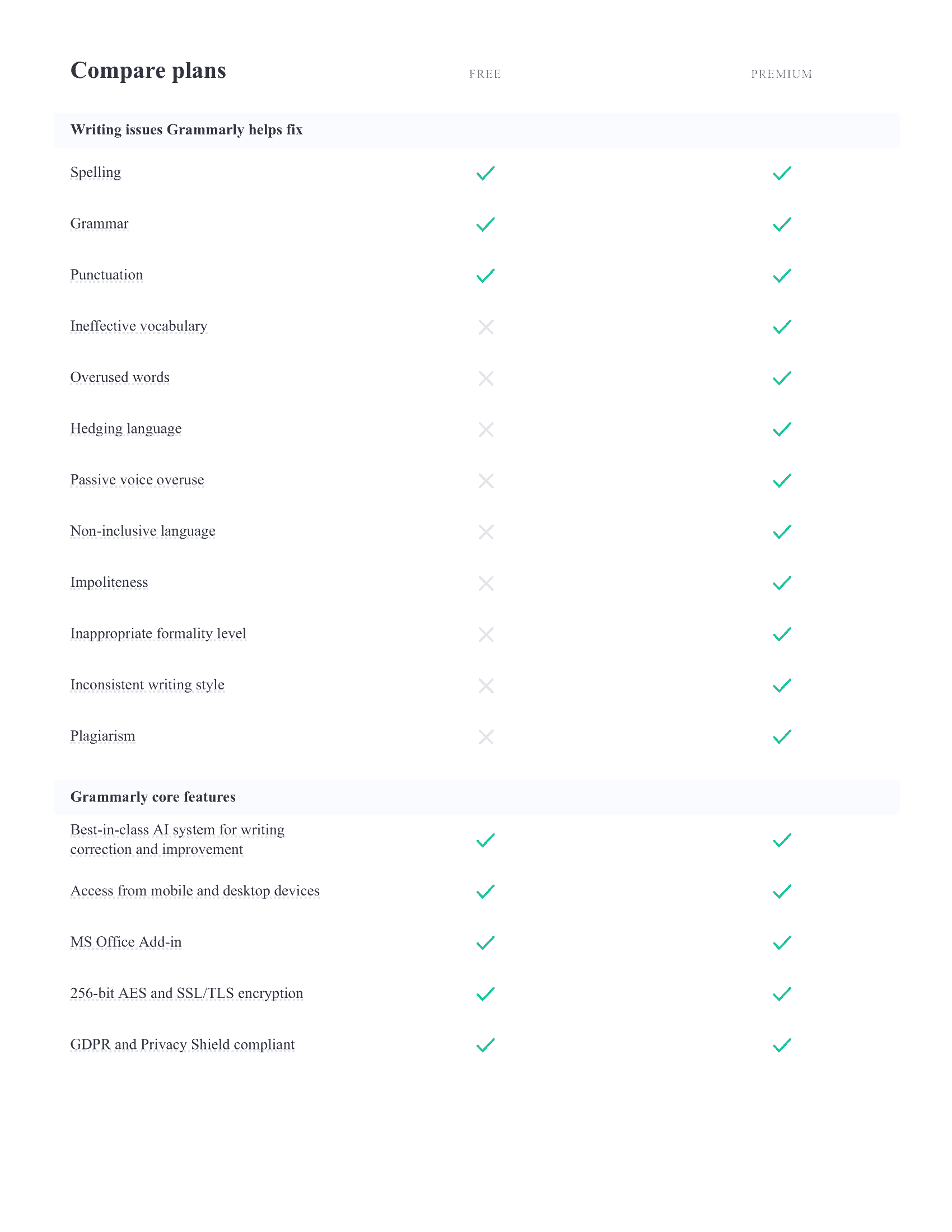 It lets you buy a plan for the whole company and let you manage the privacy settings, team settings, etc., as an admin.
You can get it for $15 for each member and forget about the hassle of opening accounts and paying for each employee separately since the Business plan lets you have centralized billing, which you can also redeem tax benefits for because you can put that in your business expenses.
The Overall Review
After a lot of discussion and explanations about what the product is, we now get to the part of actually reviewing HOW it is, and Grammarly is worth using over all the other alternatives in the market. So let's dive into our experience with Grammarly.
We found this product to be excellent in its accuracy score. We would give it a 9 out of 10 for Accuracy. Even the free version is worth using for daily personal use since it will catch most of your obvious and not-that-obvious mistakes. However, the premium version is well way beyond that. Here is what all this software helped us identify:
Overuse of passive tone.
Repetition of words too many times in a single document.
Spelling errors.
Punctuation errors.
Above-average sentence length—relative to the tone and readability of the whole document.
Misplaced commas, apostrophes, articles, prepositions, etc. Wrongly used common idioms and phrases.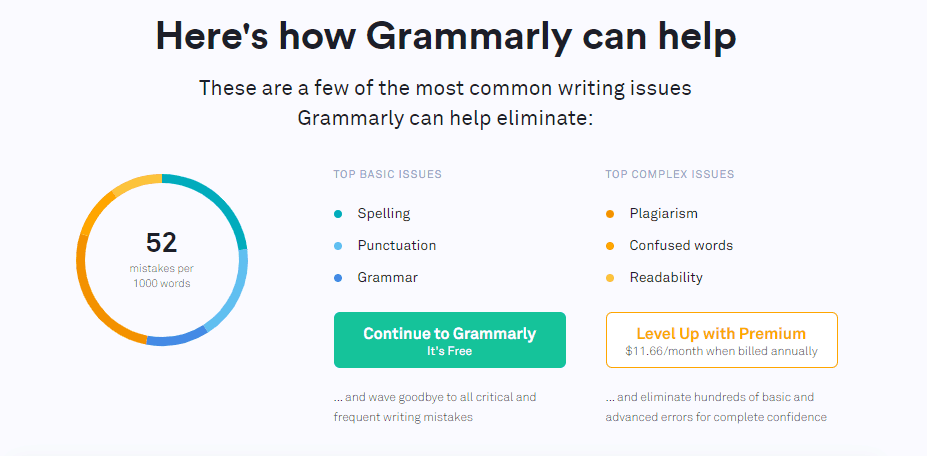 You should know that Grammarly helped us identify these errors with above 95% accuracy. We found this out by intentionally committing the said mistakes and measuring the data. Unfortunately, the grammar checkers that come built-in in the office suites and other software gives you only about 50% accuracy, with most of the errors caught being common spelling mistakes.
Also, in addition to catching the errors, we found the suggestions given by Grammarly to be right most of the time. Therefore, to avoid this mistake the next time, the suggestion box will also give you a staunch explanation in simple words and tell you why it is wrong and what grammar rule you should adhere to.
Is Grammarly an effective grammar checker tool? (Grammarly Review)
When we talk about effectiveness, we mean among all the errors committed, how many did Grammarly actually catch and we have got to admit that we were surprised. In our personal data and error surveys, Grammarly Premium seemed to have missed only ONE error out of 58 that we tested it on. This is the next level of perfect effectiveness; therefore, we give its effectiveness a full 10 out of 10.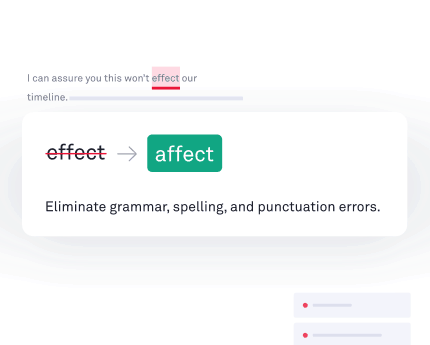 Also, what is interesting when we talk about effectiveness is that due to the extensive network of desktop apps, plugins, and extensions, Grammarly will detect an error literally anywhere it's being made, whether it be in your mailbox in Gmail or your notepad or even in your sticky notes. It will catch it all, and you won't have to worry about making stupid mistakes at all.
Where does it stand when compared to human proofreaders? (Grammarly Review)
Language has always been an essential part of human life, whether it was the sign language of the caves or the English language of 21st-century man. And what you need to know about language is that although there is always a set of rules pertaining to a particular language, it does not always have to follow them. Language breeds out of evolution. When enough people in a region start speaking with the nuances that might have been called errors according to the previous rules, it becomes a part of that area's language, and the rules are just edited in accordance with that,
In contrast, Grammarly is a worldwide software that runs on a set combination of algorithms and a defined set of rules. As a result, it cannot identify your area's accepted practices when it comes to language. For instance, in some regions, the use of the word "Yeah" in an official document might be frowned upon and considered wrong. However, in other areas, it is accepted because of the general use of the word in official and professional capacities.
The point of saying all this is that while Grammarly may bring your document or write-up to a level that a human proofreader might not have to squint his eyes at each word to look for mistakes, it cannot completely replace the need for a native, human proofreader. Language will always have to involve a human touch of expression, and software might not accept such usage of words.
Where does it stand when compared to its alternatives? (Grammarly Review)
Competition spares no one when it comes to business, industries, and markets. Like all other success stories, Grammarly has been tainted with the entry of dozens of new proofreader modules in the market. But we still stand firm on Grammarly being the best, and here's why.
While you will find that most of the alternatives to Grammarly, like ProWritingAid, WhiteSmoke, and Ginger, are all excellent proofreading software in their own regard, they still do not holistically trump Grammarly.
Now what you need to know is that most of these offer their premium services at much lower costs than Grammarly and are almost as effective. On getting our hands-on experience with these modules, we found them surprisingly outstanding in the proofing regard, seeing that most of these are relatively new to the market.
They also provide mostly every service that Grammarly offers, including spelling checks, advanced-level grammar and punctuation checks, and so on. You might even find some of them offer more tools and functionalities than Grammarly.
But after all, is said and done, Grammarly still has a subscriber base of over 10 million PAID customers that blows others out of the water. Now, why would that be? We found the answer.
It is not the luxury add-ins a customer craves before making the payment, but it is the holistic comparison of each service. You will find other services comparable to Grammarly in terms of Accuracy and effectiveness, but you will find it very hard to find a service that compares to the ease of using Grammarly.
The minimalistic user interface ensures that you can understand where you went wrong and that you can correct your mistakes and errors in the next to negligible time without any hassle. The other alternatives might feel a little clunky to you when you use them side by side with Grammarly.
In addition to that, Grammarly has been around the corner for far longer than any of these substitutes and hence has far more credibility when it comes to Accuracy.
Drawbacks (Cons) of Grammarly
While Grammarly may be an essential tool and may become your everyday use software, you should look out for the following cons:
1. It is NOT 100% Accurate.
You cannot blindly accept all the suggestions it makes. After all, it is a tool, and as we explained above, accepted language is different from defined language. Moreover, Grammarly may not understand the nuances of the language in your region and may report it as an error. Therefore, you should look out and understand why it says something is wrong with your write-up.
2. It is more costly than its competitors.
The main negative point of Grammarly over all its competitors is probably its high price point relative to all others. While its services seem to justify a high price, it is important to know that there are cheaper options.
4. They force users to upgrade to the premium version through so many spamming ads.
If you are using the Free version, you might want to be prepared for rigorous ad-spamming from Grammarly, asking you to upgrade to the Premium version. Of course, they REALLY want you to upgrade!
Frequently Asked Questions:
1. Can I blindly apply all the Grammarly suggestions?
While 90% of the suggestions given on Grammarly will be correct, and you can trust the software to change them automatically, we recommend that you do not put the autocorrect setting turned on. This is because it is still a bunch of written algorithms and programs that command the software, and naturally, they are not yet developed to understand the tone of your language to a fuller extent. As a result, we sometimes sacrifice absolute grammar for words said with passion, and guess what? It's okay. You don't need Grammarly to weed them out every time.
There will also be occasions where it will judge the use of a comma wrong or wouldn't be able to understand the subject and object of the sentence. So our suggestion remains that you only use it mindfully and not blindly accept all the recommended changes.
Grammarly is the perfect software for you if you are a writer, author, editor, blogger, secretary, or employee in a multi-national corporate. You should also consider using Grammarly if you are a business owner and your business involves a lot of pitching to new clients. In those kinds of situations, you simply cannot afford stupid spelling or grammatical errors.
But still, if you are neither of the above things but still find the idea of having Grammarly at your disposable wise, you can take out the word that you won't regret splurging on it because the more you use, the more you will realize how useful it is to you even when you only use it for personal work.
Running a million-dollar business does have its perks. The makers of Grammarly have not left a single leaf unturned in safeguarding the software from external malware and viruses.
In addition to all the available Grammarly plugins, add-ons, and extensions, the software is completely safe to use. It is a trusted and credible company, and probably the last thing you need to worry about is being exposed to malware while using it.
4. Can I access Grammarly on different software where I usually write?
Since 2009, years have passed, the customer base has expanded, and competition in this space has increased. All these factors have forced Grammarly to launch several useful tools, plugins, and extensions to make Grammarly more and more accessible and available at exact points of usage.
This is why you can find Grammarly on one of the world's largest document creation platforms, Microsoft Word. For all the office suites that do not have their own Grammarly plugin, you can just install the desktop app for your windows or mac and check your work with that.
5. Does Grammarly work on Apple Mac?
Grammarly is an extensively hardware-friendly tool and is compatible with almost all of the platforms out there. Of course, Mac is one of the world's biggest platforms, and it is no less than obvious to assume that Grammarly would be available to use on it too.
In fact, there is a whole desktop app dedicated to your use of Grammarly on your Mac. In addition, a Grammarly keyboard is also available on the App Store, which you can use on your iPads.
6. How do I get Grammarly Premium?
To use Grammarly Premium, you can just visit the Grammarly website and select Grammarly Premium to open the plan page. This page will explain all the benefits and services of different plans available. After reading it thoroughly, we recommend you choose the plan that caters to your own personal need.
After selecting the plan, you just need to enter your card details or other payment details, and voila, your premium account is now active. Your premium subscription will be valid across all platforms. You will only need to sign in with your account on all your devices and browsers, and you can use premium services at all places at once.
No, unfortunately, you cannot get Grammarly premium services for free. While it is a little obvious that no company would give away their premium services for free, there are still some people who claim to give such premium accounts away at a "low" price or for free but we recommend you to be cautious of such people because 99% of these people are a fraud. You will only find such accounts to be either fake or only valid for up to 4-5 days, after which the person will most probably block you away.
8. What is the standing of Grammarly against other similar products?
Grammarly stands high above the competition as the market leader on the basis of customer loyalty and market share. Of course, there are still pros and cons compared to other services (which you can read above), but as they say, sales say it all.
9. Can I access Grammarly on my phone?
There are two ways in which you can access Grammarly on your phone. The first way is to install the keyboard app of Grammarly on your smartphone. The app is available on both Android and App Stores.
After installing the app, you will find the option to make the Grammarly keyboard your default keyboard. Also, you can access Grammarly on your browser, where everything you write will get checked automatically.
Grammarly is a freemium writing assistant — that helps you write correct and effective content whenever or wherever you write online. So may it be on your Tablet, PC, or Mobile — Grammarly's free browser plugin and keyboard are there to write shining content every time you do writing work.
On the other hand, Grammarly's Premium suggestions help you choose shining words that spice up your writing and enhance its flow. So whether you're texting your best friend or DMing your crush, Grammarly Premium (which costs you $29.95/month) lets you add that extra dash of love to your writing.
Our final verdict is definitely in favor of Grammarly. You might find other substitutes more attractive due to pricing and some luxury add-ins like character counter. However, we feel that Grammarly is still the most reliable, credible, and indispensable proofreading tool out there.
There are obviously cons associated with using Grammarly, but then what software does not?
The benefits you get out of it far outweigh the limitations, and you can blindly go for this one. Moreover, we would like to suggest that you use the Premium version wherever you can because Grammarly might just surprise you with how wrong you have been using the English language.
Tell us how you liked this Grammarly review. We would love to know if you found what you were looking for or do we need to add some more information to this Grammarly review to make it more useful to you.