People like change, but if it is positive, then they will undoubtedly love it. In this article, I will share the best rainmeter skins that will portray your desktop like totally new technology. Although there are thousands of rainmeter skin suites available for free, it is difficult to choose from such a wide variety. We have done the eliminating work for you and stated some premium skins for you. Let us not waste any more time and begin with the main subject.
Rainmeter skins is a free system program which was released in the year 2001. It is an open-source platform where developers from all over the world can contribute to the software. Rainmeter is basically a software which allows you to customize your desktop by activating custom rainmeter skins (applets) on your machine. Also, it enables you to display information according to your requirements.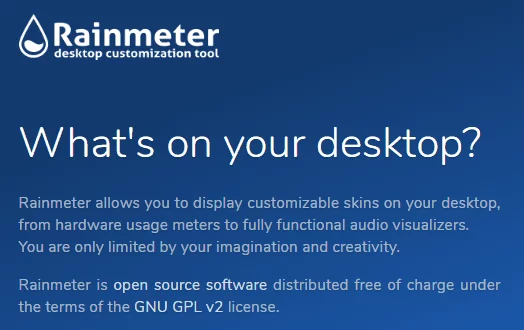 Before we move further to the subject, have a look at these crucial points:
Rainmeter Skins are compatible with almost all the versions of Windows (From Windows XP to Windows 10)
No developer has sponsored this article, and it is undoubtedly an unbiased, informative article.
To use the mentioned rainmeter skins, you should install a Rainmeter application from its official website.
Using heavy skins will slow your desktop performance, so choose wisely!
List of 25 Best Rainmeter Skins of 2023 For Windows PC/Desktop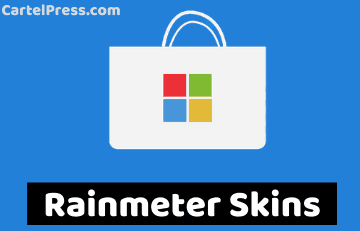 Everybody wants their Windows PC to look cool and enchanting, but basically, you can only switch wallpapers & opt for third-party themes. Rainmeter is the key to style your Microsoft Windows OS to the next level. It allows you to customize your PC/Laptop with desktop widgets or applets, also known as "Skin," which projects information. There are thousands of rainmeter skins available on the internet to gear up with super cool tweaks to change your desktop to the fullest, and here are some of those rainmeter themes for you.
#1. IronMan-JARVIS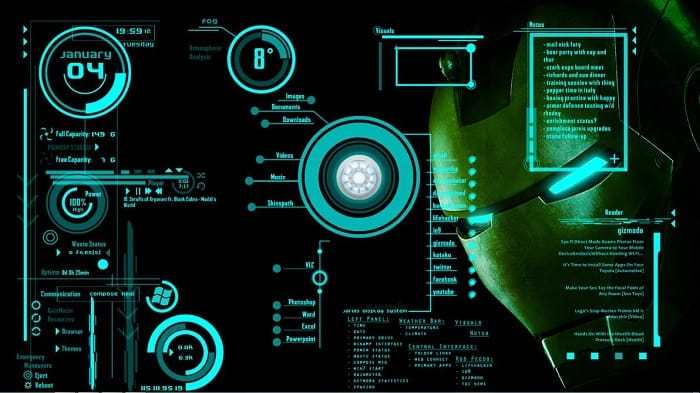 One of my personal favorite rainmeter skins is IronMan-JARVIS. It will project your desktop as a complete Jarvis program. Being an Ironman will let you customize and position every application or module according to your choice. You can adjust the system folders as per your requirement, and this Jarvis Rainmeter will display HDD capacity, RSS feeds, Temperature & Clock/Date. If you are a true Ironman fan, then Jarvis Rainmeter is perfect for you. To download this fantastic IronMan Jarvis Rainmeter skin, click the button below.
#2. Enigma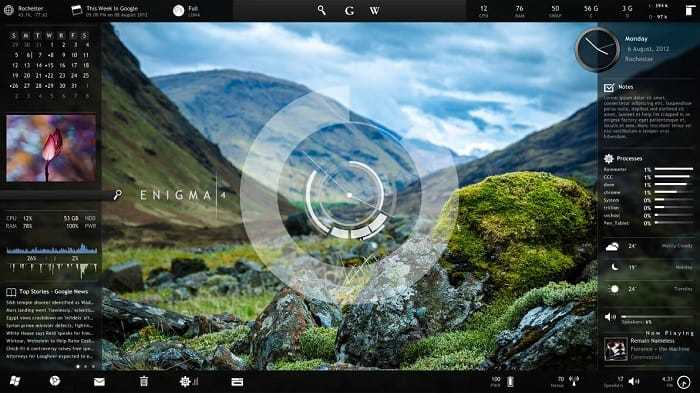 I am not biased, but I love this skin and use this personally on my primary system. Enigma drops a professional look on your PC/Laptop, which increases the worth of your windows system. It does not have too many widgets, which looks crap but only necessary informative options that are totally adaptive to the Windows OS. It was chosen as a default rainmeter skin in the year 2009. Enigma projects highly configurable and customizable widgets, which drops a decent look on the system. The informative sub-modules include RAM usage, CPU, Slideshow, Date & Time, Temperature, and other system information and shortcuts as per your choice. To download this excellent rainmeter skin, click the button mentioned below.
You may also like to check these manga sites and YesMovies proxy sites.
#3. Tech A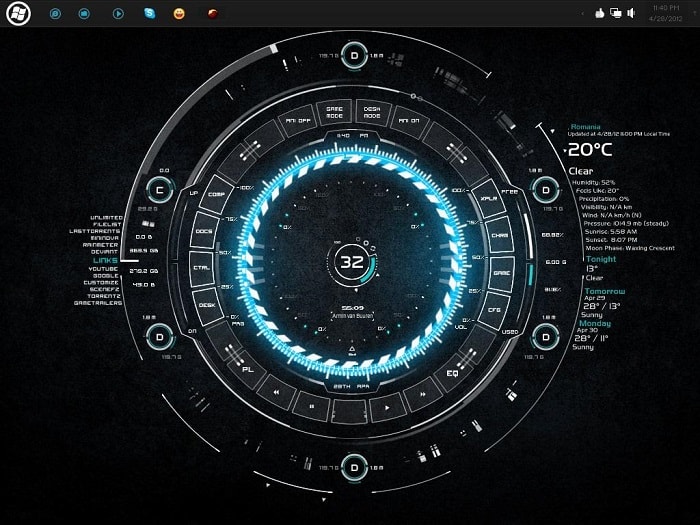 Say hello to the future by upgrading your desktop by one of the best innovative Rainmeter skins called "Tech A." It features an upside-down windows task-bar that can be switched from the settings. It is lightweight and fast. Tech A represents a futuristic side of the technology by projecting in-depth machine information on your desktop, and the report includes RAM, CPU usage, Temperature, & of course, date & time. The most appealing thing is the static position of Disk partitions & system shortcuts, which always revolve. Download TECH-A using the button below.
Also, check these best sites like coke and popcorn.
#4. Senja Suite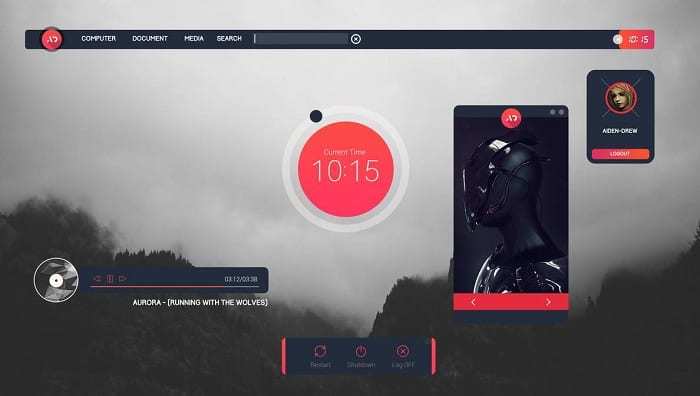 Feel the space with Senja Suite, which features total minimalism by projecting everything and at the same time, leaving a high enough area. Senja Suite is simple and surely a lightweight skin that accelerates the speed of your windows desktop. This rainmeter skin will project all the necessary information like date & time, music bar, a system bar to expand the folders and disk partitions, user profile. Also, you can add system shortcuts as per your needs. If you are searching for something decent and light, then Senja Suite is a perfect option for you. Download this prodigious rainmeter skin from the button below.
You might also like to check these best iOS emulators, Android emulators, and Xbox one emulators.
#5. Win10 Widgets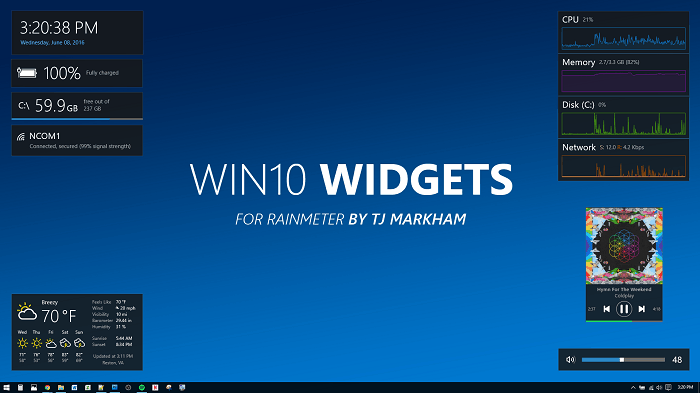 It is a decent skin developed by TJ MARKHAM that is powered by Rainmeter. It is super light and simple to operate with no technical hassles. It won't let you feel that you are even using some third-party rainmeter skins as it adapts according to your operating system. It works fine with all types of wallpapers and screen size. You can witness necessary information like time & date, CPU usage, Memory, Network, weather forecast, and other relevant information. Win10 Widgets can be downloaded by clicking on the button below.
#6. Aliens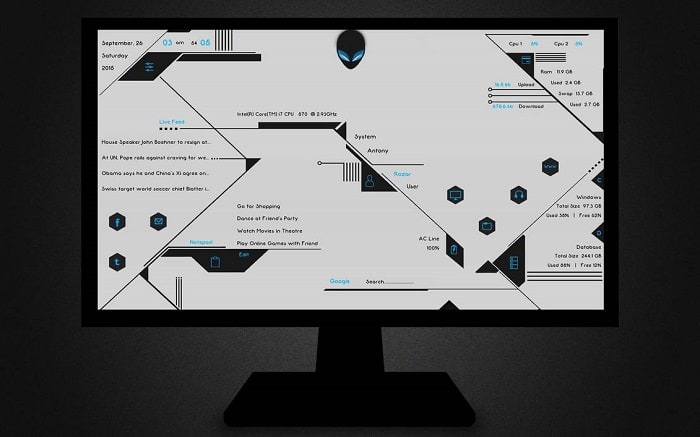 Aliens is a geeky skin with an advanced look to create a futuristic and pro-vibe for your environment. It is designed and developed precisely, which is only compatible with the wallpapers mentioned in the suite. If you try your custom wallpapers, then it won't work or make any sense. The information is scattered on the skin and draws a collage of the data. It looks super cool and will undoubtedly attract anyone's eyes towards it. Aliens too run on or by Rainmeter, and you can download it by clicking here.
Also, check these best torrent sites.
#7. Alphabar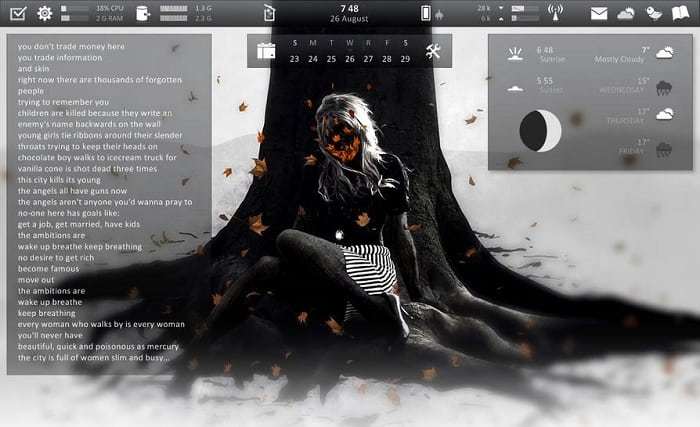 It is a perfect rainmeter skin that does almost everything that you desire in your desktop. Alphabar offers a black & white and vintage touch to your desktop, which drops a premium look to your machine. It allows you to monitor vital information like time & date, temperature, Disk partitions, RSS feeds, Mails Accounts, and other system shortcuts as per your direction. To download and install Alphabar — CLICK HERE.
You may also like to check these best sports streaming sites and games like Skyrim.
#8. Avengers Shield OS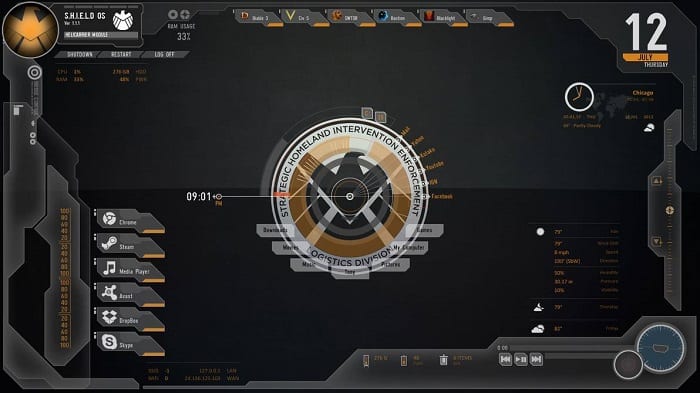 If you are a true Marvel fan, then it will be impossible for you to resist this best rainmeter skin that is none other than Avengers Shield OS. Avengers Shield OS is available in multiple resolutions. You can choose according to your system requirements. This skin will stimulate your friends to ask you about the secret of turning a computer this cool. This rainmeter skin will depict the necessary information with system shortcuts to make it easy for you to navigate. It features date & time. Ram usage, CPU, and other information on the desktop. Click here if you want to download this rainmeter skin.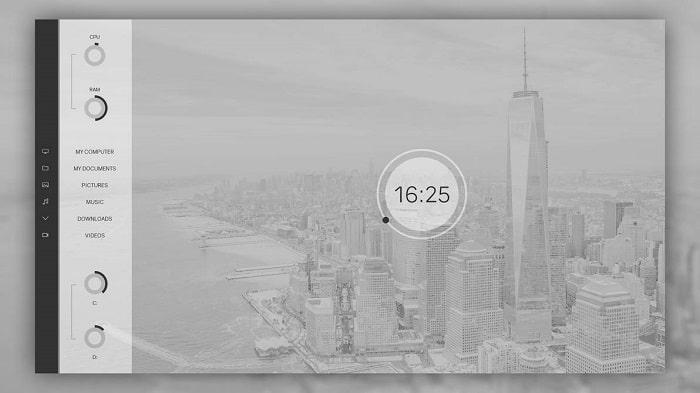 If you love peace and a calm environment, then Rainmeter sidebar skin is a perfect option for you to choose. It does not feature any crap on your desktop but only date plus time in a calligraphic font, which looks beautiful. You can open other options by double-clicking on the time or date. It does not feature any different vibrant colors for displaying information as everything is in plain white text. It is perfect for people who like their life to be straightforward with less or no hassles. You can download it using the link mentioned below.
Also, check these best sites like Rainierland and Pulocker alternatives.
#10. Eker Lina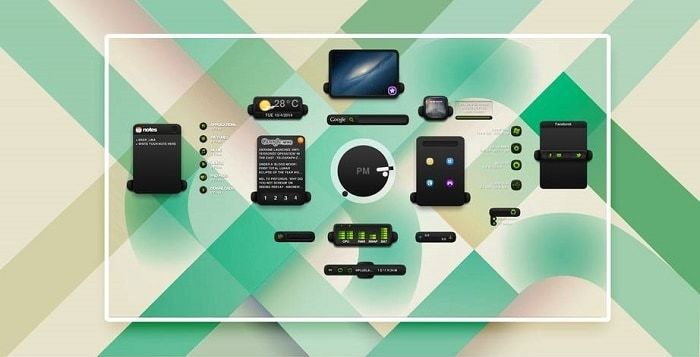 Eker Lina is another beautiful rainmeter skin which offers everything you wish your desktop to be. The interface is filled with small informative modules that resemble the UI of iOS. It feels like you are using an iPhone on your Windows Operating System. You can customize the sub-modules as per your requirement and also add or remove system shortcuts. Apart from system shortcuts, Eker Lina can provide massive informative content like Date & Time, RSS feeds, Drive partitions, and weather forecast. To download this enchanting rainmeter skin — Click Here.
#11. T-R-A-N-S-F-O-R-M-E-X Mod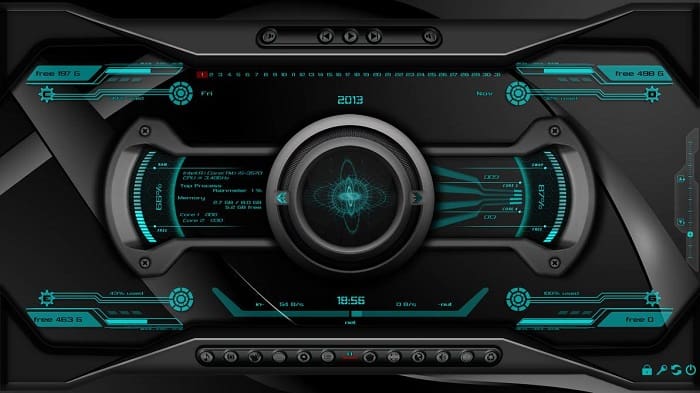 It is an updated version of the real T-R-A-N-S-F-O-R-M-E-X Mod with more sub-modules in it. You should know that Rainmeter powers all these skins and so you should install a Rainmeter application on your desktop to run these skins on your computer. T-R-A-N-S-F-O-R-M-E-X Mod features all the necessary information like RAM usage, Memory, Date & Time, Disk partitions, and other system shortcuts. It is a perfect rainmeter skin which will surely drive your friend curious. To download this amusing skin, Click Here.
Also, download Pokemon Go apk.
#12. July Flat'ish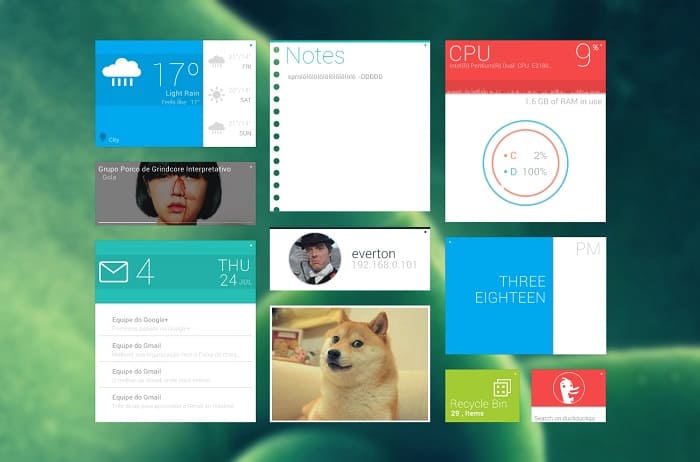 July Flat'ish is genuinely an underrated rainmeter skin. It won't take away the natural charm of your stock Windows operating system but add a little to it. July Flat' ish features relevant information like Date & Time, Temperature, CPU usage, Memory, Mail, and other shortcuts as per your requirements. It is perfect for people who do not like to mess with their computer but add a sense of smartness to it. You can download July Flat'ish from here.
#13. Before DAWN RM BAR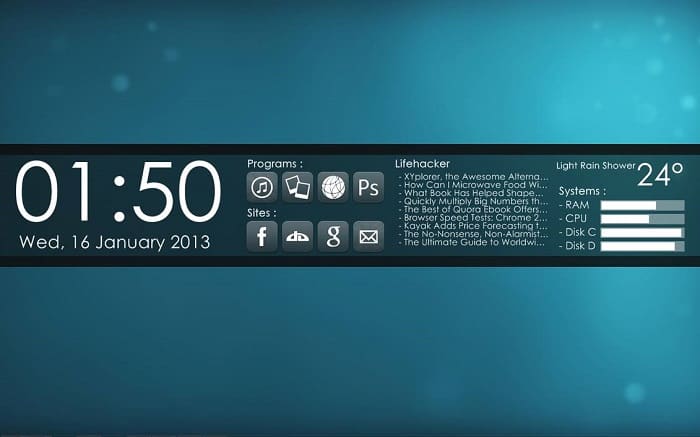 Before Dawn is one of the most decent and straightforward rainmeter skin, I came across. You are not required to make any changes in the settings manually, as everything is automated. Just download it, and the next moment it will appear all the necessary information like date & time, system application's shortcuts, temperature, and current weather. Dawn RM BAR is perfect for you if you like your system to be decent and straightforward. Download Before Dawn by clicking here.
You may also like to check these new anime streaming websites.
#14. Razor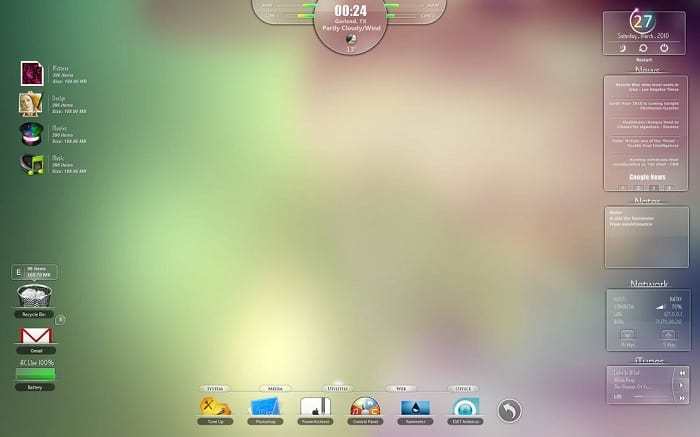 Razor is a super cool rainmeter skin that is compatible with almost all the Windows Operating System. The thing you should know before installing it is that the wallpaper you choose for your desktop will influence the look of this theme, so you must give a check on the wallpaper you use. The skin features sub-modules, which include tabs like Time & Date, Temperature, Weather, Mail, Disk partitions, and al the other system shortcuts. If you are trying new and different rainmeter skins, then Razor is worthy of being on your list. Use this link to Download Razor.
#15. Honeycomb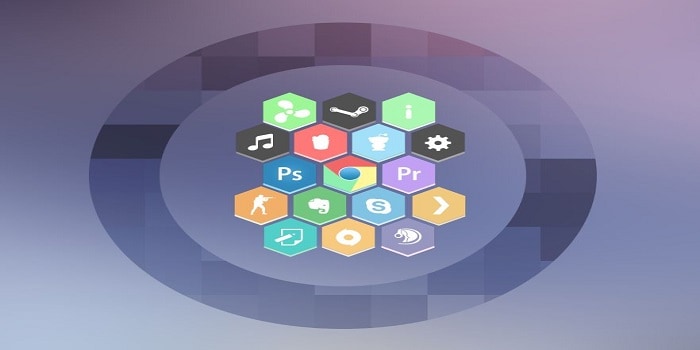 HoneyComb is a rainmeter system launcher or skin and is the most popular launcher of rainmeter. HoneyComb features applications in polygon shapes on your desktop. It will drop a fantastic look on your desktop if you place it in the right position. Also, the polygons together project information like a honeycomb. You can download this rainmeter skin using this link.
#16. MNML UI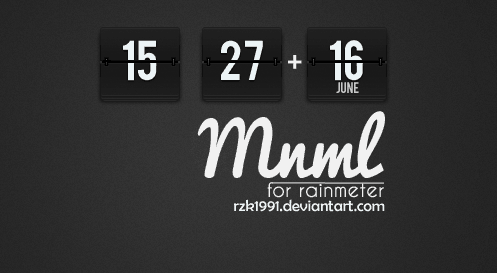 MNML UI rainmeter skin totally differs from most of the skins which scatter the space with submodules. This skin won't ruin your area with unnecessary widgets. It is a perfect rainmeter theme for the people who do not give weight to the fancy and vibrant skin. MNML UI offers a peaceful environment and features date and time in a clean way with no added widgets to distract you and ruin the simplicity. I really enjoy these types of skins, which project simple and easy formats — download MNML UI by clicking on this link.
You Might Also Like Grammarly Premium Free Trial.
#17. WISP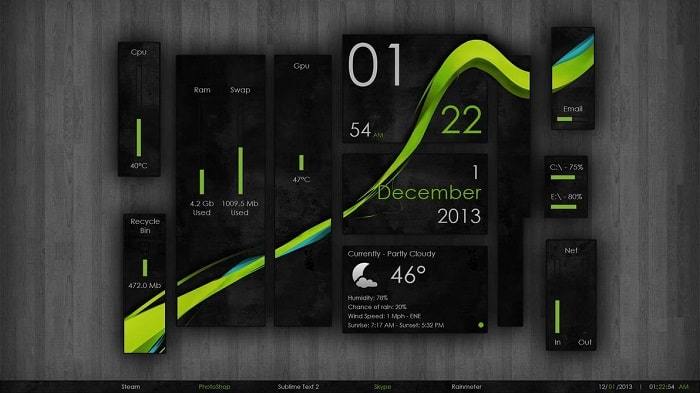 Wisp is another rainmeter skin that will drive you towards a different experience. The sub-modules are so adaptive that it feels like they are the right part of the wallpaper of the desktop. The right choice of wallpaper will project Wisp as an excellent rainmeter skin. Unlike other messy skins, this does not cluster all the widgets but draws a decent pattern by projecting necessary information like Date & Time, Temperature, Ram & Memory usage, and Disk partitions. If you want to download Wisp, then click here.
#18. FLAT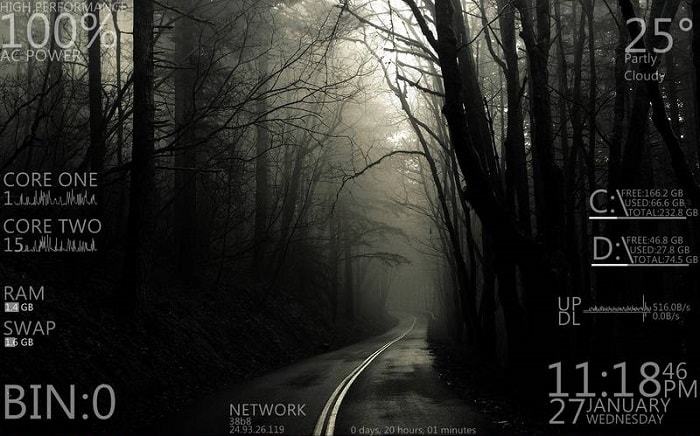 Flat represents the minimalism type of rainmeter skin but also delivers a premium look on your desktop. You can switch to dark or vibrant versions according to the wallpaper you are using. This classic rainmeter skin is capable of displaying relevant information like date & time, temperature, CPU usage, RAM, Disk partitions, and other system application shortcuts (according to your requirement). Apart from all these features, you can also monitor your battery level & recycle bin. If you want to download Flat skin, then click here.
#19. Speed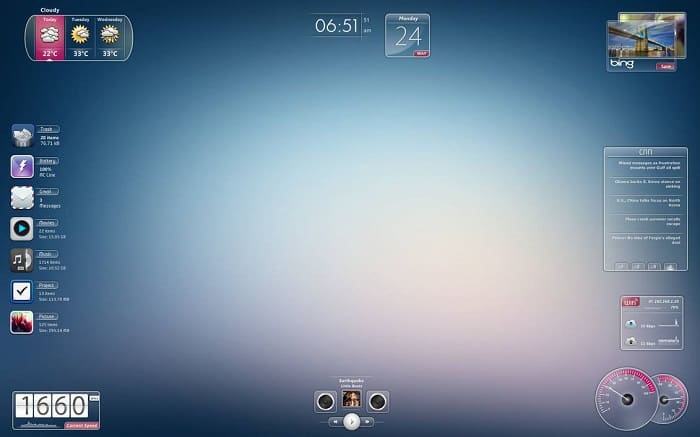 As the name resembles, this rainmeter skin is lightweight and sturdy. Speed projects all the necessary information like date & time, search engine, CPU plus RAM usage, temperature, weather forecast, music, RSS feeds, and other system shortcuts. The overall look is based on the transparent and glossy texture, which makes it a decent and premium choice. If you are interested in something reliable and fast, then speed is the skin you are looking for. Download it from here.
#20. LIMIT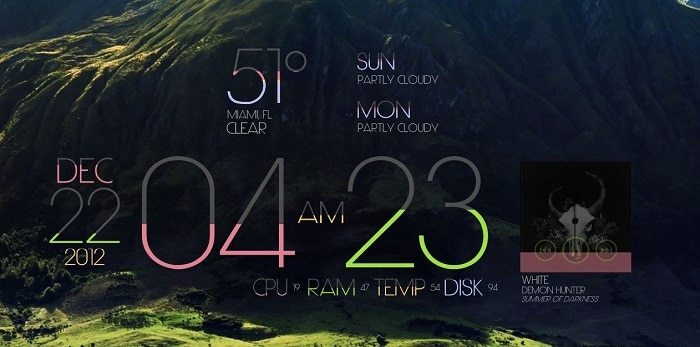 The limit is another exciting rainmeter skin that is certainly compatible with almost all the versions of the Windows operating system. It displays the necessary information by big and bright fonts. It projects the accurate data in a brilliant way that is by filling up the text with color (check the screenshot for a better view). Limit displays date & time, CPU usage, Disks, Temperatur, RAM, and also a music module. If you want to project yourself as an intellectual, then Limit rainmeter skin will undoubtedly help you do that. To download this smart rainmeter skin, click here – Get it now.
Recommended Read: How to Enable Whatsapp Fingerprint Lock?
#21. Minimalist 2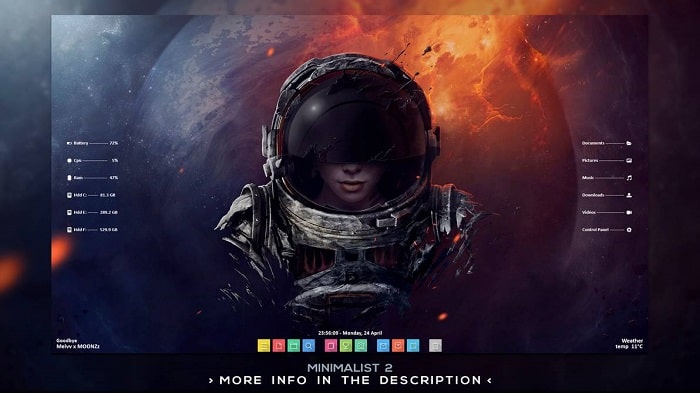 Minimalist 2 will inevitably change the definition of skins or themes because it drops a real feel to your desktop. As the name suggests, it does not scatter tons of widgets and ruin your experience but minimizes the stuff and leaves you with a lot of space. It does project all the information in a small structure, which is stated on both the left and right sides of the screen. The report includes CPU plus RAM usage, Memory, Temperature, Date & Time, Disk partitions, and other system shortcuts. The best thing about Minimalist 2 is that the widgets are fully customizable. You can download it by clicking on this link.
#22. Simple Media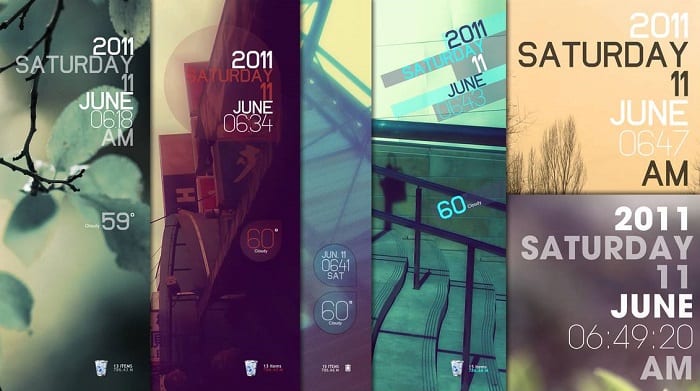 As the name says, Simple Media is a mere rainmeter theme that displays everything in a tidy formation. It is one of the most simple and basic formatted rainmeter skins you can find on the internet. Simple Media projects date & time, temperature, weather forecast, recycle bin, and other necessary information plus system shortcuts. It is totally different from the complex skins which scatter the information on the screen and drop a chaotic look on your machine. To download Simple Media, simply click here.
#23. Neon Space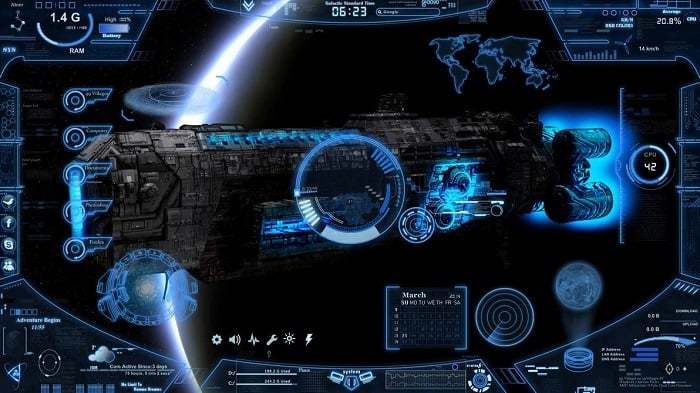 I can assure you that it is impossible to resist the classic and futuristic tone of Neon Space rainmeter skin. Neon Space will absolutely transform your desktop to futuristic technology. It might seem complicated, but believe me, it is certainly not. Neon Space is capable of projecting information like the weather forecast, RAM/CPU usage, Date & Time, and it also displays a holographic structure that shows irrelevant information but surely looks incredible. If you are into digital work like graphic designing or something like that, then Neon Space will totally reflect you as a professional. To download it — Use this link.
#24. Elegance 2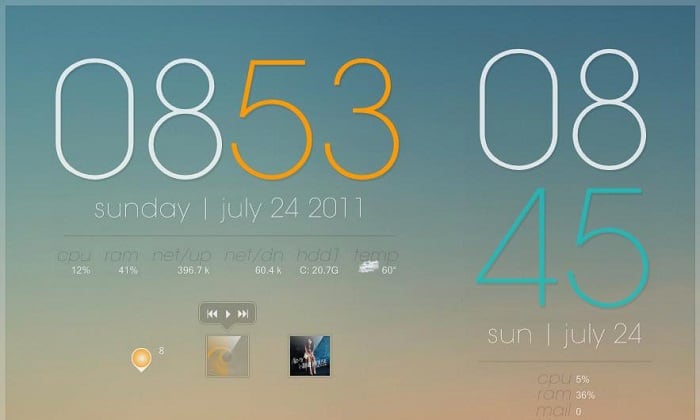 Elegance 2 totally demonstrates the meaning of its name and features minimalism. If you are not a fan of fancy arts or vibrant colors, then Elegance 2 might be the skin you're searching for. Apart from the elegant design, it is superbly lightweight and fast in routine use. The font is pretty nostalgic, as it is the same font that was used in an old update of Android 3.9. It features all the necessary information like date & time, temperature, CPU & RAM usage, media player, Disk partitions, and other system shortcuts (as per your choice). If you are struggling to download this rainmeter skin then click here.
#25. Circle Launcher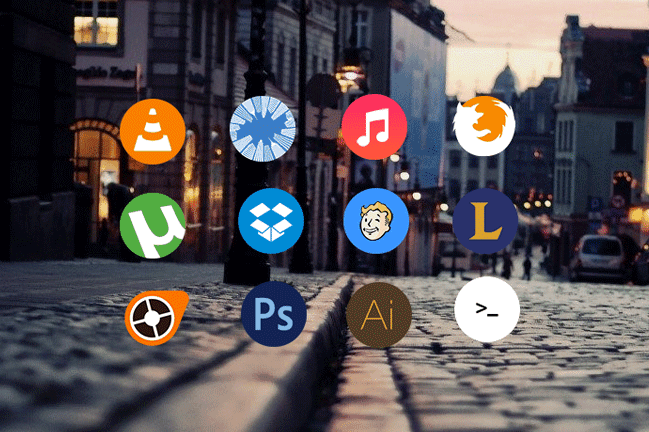 I am using Circle Launcher right now on my desktop, and it is pretty cool and features a handful of features. It is basically not skin but an awesome widget. As per the name, it projects certain applications (as per your choice) on the desktop in a piece of circulatory formation. There are about 150 application icons available on its system, which you can set up on your screen. If you want some applications on your fingertips, then Circle Launcher is undoubtedly the best rainmeter skin for you. Click on this link to download Circle Launcher.
So these were some of the best rainmeter skins we handpicked, especially for you.
Is It Safe to Use Third-Party Skins?
Rainmeter is a verified system program. It is serving people to customize their machine since 2001, and that is enough to subject it as a reliable and trustworthy source to customize your computer or laptop. When it comes to using or activating custom skins, then you should be very careful of the cause it is coming from. The mentioned skins are totally safe, and you can use it without a doubt on the source as it 100% safe and secure. If you want more rainmeter skins, then you can rely on Devinart.com as only verified developers are allowed to post custom skins.
Rainmeter is an application program or says a system software that enables you to customize your desktop to another level with the help of third-party skins. I have listed some potential alternatives to Rainmeter below.
#1. Open Hardware Monitor
Striking a tough competition to Rainmeter, Open Hardware Monitor (OHM) enables you to display information like temperature sensors, fan speeds, voltages, load and clock speeds, with an optional graph.
#2. HWinFO
It is capable of displaying hardware information, but like Rainmeter, it is not capable of customizing your desktop. Though you can give it a try!
#3. Conky
Conky is another free system program that is lightweight and is capable of displaying any kind of information.
#4. XWidget
XWidget is another desktop customization program that allows you to display certain information according to your choice. It is light in weight and runs pretty fast. Also, easy to install and operate even for a 12-year-old kid. I know these alternatives are not as good as Rainmeter, but they are worth trying.
If you are starting up with customizing your desktop, then always choose files and programs which are verified or coming from a verified source. Rainmeter is serving people customize since 2001 and still has the charm in it. Also, do not fall for the chaotic skins as those will inevitably cause lag or glitch to your user experience.
Today, I shared some of the best rainmeter skins which are safe and unique and handpicked, especially for people like you "Choosy" or say people who want the best of everything. Also, it is not possible to run these skins without installing the official Rainmeter application. I hope this comprehensive piece of knowledge helped and satisfied all your queries or doubts regarding the subject.
But in any case, I missed something, then please comment below, and I or someone from our team will positively respond to it with the best possible reply in no big time. Which is your favorite Rainmeter theme? Also, share this article with your friends and let them enjoy customizing their machine too.