Grammarly Cost (Pricing Plans) in 2023
For the monthly subscription plan, you need to pay $29.95/per month for Grammarly Premium and $19.98 per month for the quarterly subscription plan, which comes out to $59.95 per quarter. And if you decide to go for a yearly payment, the cost is $11.66/month, which equals $139.95 for the year.
Hi there, If you are here to know how much Grammarly costs, then you are at the right place. Earlier, we also shared a detailed Grammarly review, and this post is regarding the pricing plans of Grammarly Premium. You can scroll down this web page or click here for the subscription plans of Grammarly Premium.
Now, let's start this short Grammarly Premium review with a detailed guide on how much Grammarly premium costs.
*Note: You can also try Grammarly free version to experience clear, effective, mistake-free writing.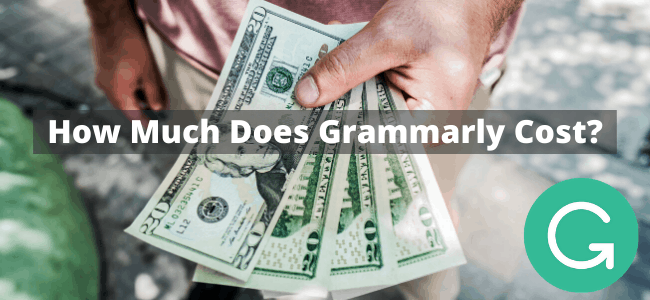 Why Use Grammarly Premium?
We might have come across many mistakes that we commit at the time of drafting any document, mail, story, etc. These mistakes could be either grammatical mistakes, spelling mistakes, or punctuation mistakes. And we might end up losing a job, contract, and most importantly, respect.
We usually ask our peers and seniors to reduce our mistakes and draft an error-free document or email. Seniors may ask you to read it twice or thrice before sharing it with anyone. Peers may ask you to go and check for some online tools available to check your grammar and punctuation.
All these solutions are secondary. You must indeed read the drafted text twice or thrice before sending it, but you might end up sending an erroneous draft only. To avoid these mistakes, we would recommend you start using Grammarly.
Want to make sure that your content goes without any errors? Do you want your receiver to read it easily? Then, Grammarly can be a perfect tool for you to stay away from any embarrassing erroneous mistakes.
At the same time, you might ask us whether Grammarly is the most accurate Grammar checking tool. And is it worth paying for its premium membership? So, let's find out.
Please note we have focused more on the premium version of Grammarly rather than the free version. So, the information that we have jotted down here belongs to the premium version of Grammarly. However, we do have a portion of this draft that speaks about the Grammarly-free version. Still, the rest of the information talks about the functionality and advantages of using the premium version of Grammarly.
Also, check these best Grammarly alternatives.
What is Grammarly? And what exactly does it do?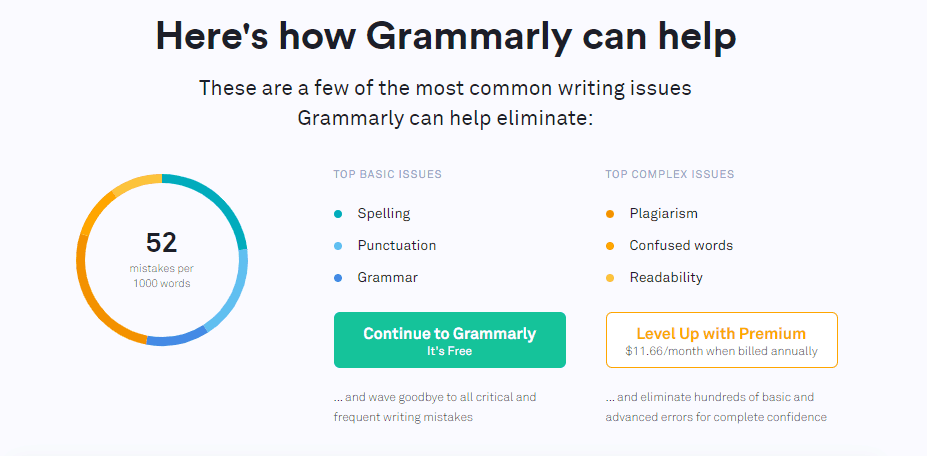 Grammarly is a writing tool that helps you check for several types of errors you might end up creating while drafting any document, mail, story, etc. If your concern is what kinds of errors it cover and solves, then we have an answer to it.
Get Grammarly at $11.66 per month.
1. It helps you in fixing grammatical and punctuation errors.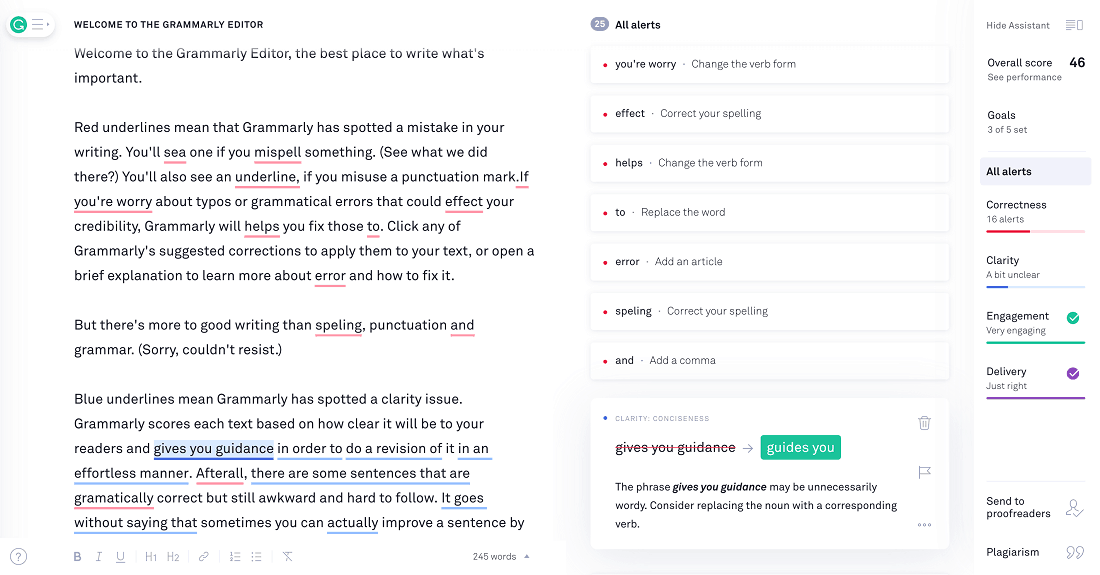 When you make any grammatical or punctuation mistakes in your write-up, Grammarly helps you detect those mistakes. The detection level might be basic to advanced. But, along with the detection, it gives you suggestions and guidelines on how you can solve your errors. And make your document error-free.
2. Grammarly helps you in detecting spelling errors.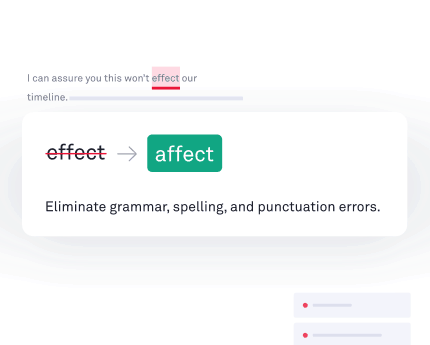 British English, American English, Canadian English, and Australian English. So many languages with just a minor change in spelling. For example, 'colour' in British English and 'color' in American English.
And we are sure; you might end up misspelling any such words at the time of drafting. Grammarly has four different options w.r.t. Languages that we mentioned above, and with its help, you can solve any spelling error you might have made in your document.
3. Inbuilt plagiarism checker helps you write fresh content.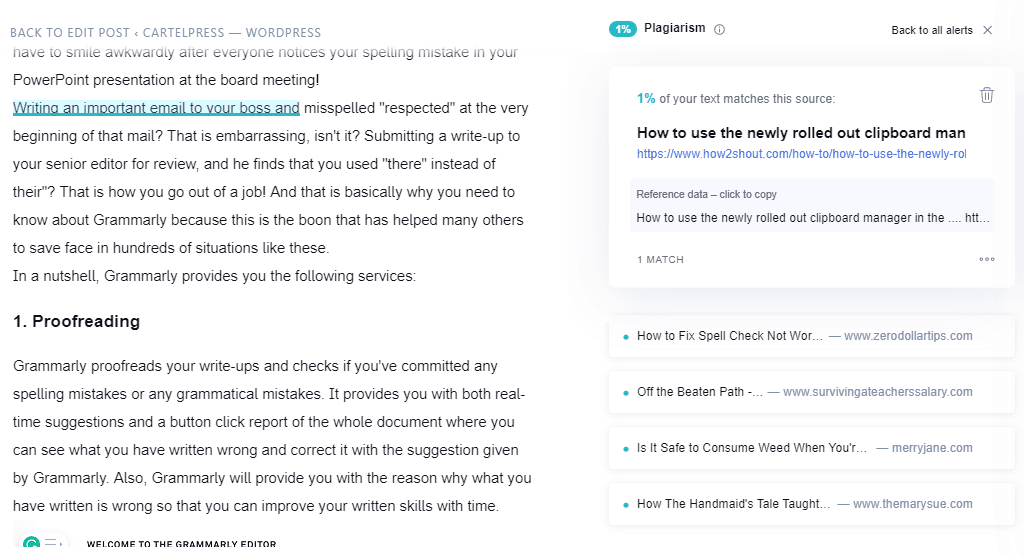 Thousands of content are getting published every day on the world wide web (www). And it becomes next to impossible for any human to check those published drafts and compare them with the draft created by them to check whether it is plagiarized or not.
Grammarly becomes a handy tool to check for plagiarism by comparing it with millions of web pages spread across the world wide web (www).
4. It helps you improve your writing skills.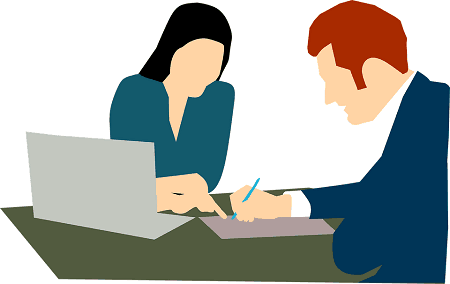 Grammarly can help you incline your genre-specific content to improve the readability score of your content. Also, it checks your sentence length and helps you with suggestions where you can improve and reduce or increase the sentence length—thus helping you adapt to the style of writing to engage with your niche-specific audience.
Now that you know the functionalities provided by Grammarly, it is necessary to know who can be benefited from the usage of Grammarly.
Who can use Grammarly in their day-to-day activities?
It is common and obvious that Grammarly could be beneficial to someone who is continuously attached to content. From someone who often creates content to someone who is not very often in English writing.
Regular users of Grammarly are,
Bloggers
Content Writers
Content Marketers
Copywriters
Content Managers
Authors
Academic Teachers
Business professionals who create presentations, reports, emails, etc., daily.
And last but not least, students.
Grammarly has become a handy tool for new writers and professionals who are naive in English writing. It helps them to adapt to the changing needs and align them with the requirements.
With Grammarly, bloggers make sure that their content is spelled correctly, not plagiarized, free from any punctuation errors, and get a good readability score overall.
The premium version becomes useful for students when they have a bunch of work and need to check for spelling errors.
Knowing the usage and benefits of Grammarly, it's time to understand the various subscription plans available for Grammarly and how much you need to pay. This section will take you through each of its subscriptions and the benefits you may get if you subscribe.
You may also like to check these best sports streaming sites and manga sites.
How much do you need to pay for the Grammarly premium subscription?
There are three types of subscriptions available to us.
1. Free Membership
For free membership, you can register using your email address and start using it online. It helps you to solve your grammatical mistakes and checks your spelling. For example, it might suggest an alternative word you can use in place of any word you might have used in your draft.
This subscription comes for free, and you don't have to bear a single penny for it. But you don't have any chance to check for plagiarism, readability score, etc., with this plan.
2. Grammarly Premium Subscription
Critical grammar check, spell check, plagiarism check, readability score, genre-specific content check, vocabulary enhancement suggestions, etc., are some of the features you get once you subscribe to the premium plan of Grammarly.
Pricing for the plan is decided according to the kind of installment you choose to pay.
How much does Grammarly cost in 2023?
For the monthly subscription plan, you need to pay $29.95/month for Grammarly Premium. $19.98/month for the quarterly subscription plan, which comes out to $59.95 for a quarter. And if you decide to go for a yearly payment, then the cost is $11.66/month, which sums out to $139.95 for the year.
As per one research, premium members end up getting better results than those with free membership.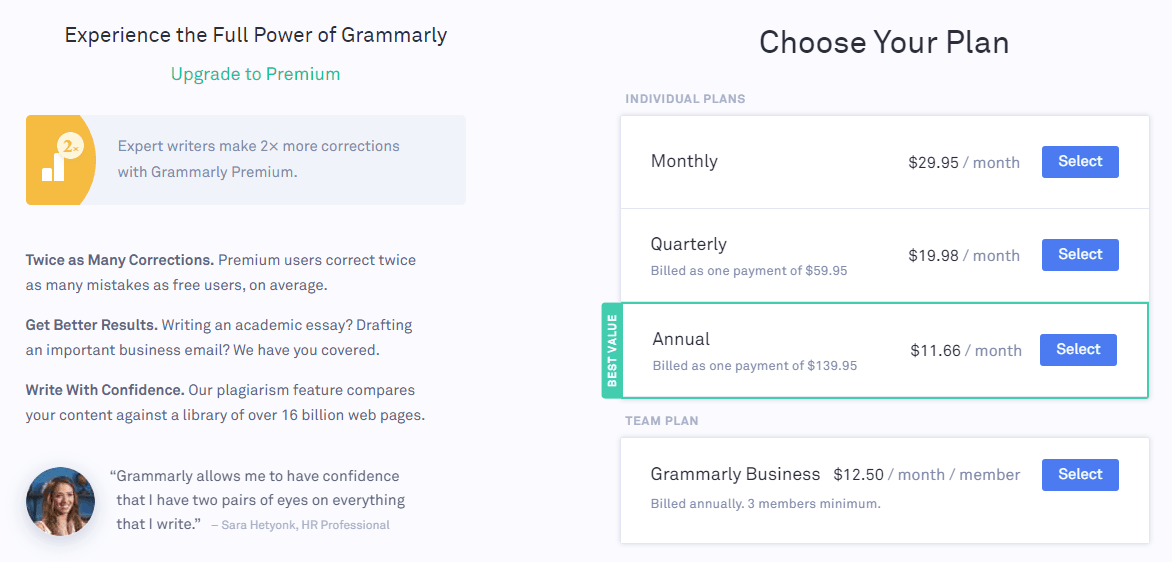 76% of the users have a great experience in creating content with the premium membership.

99% of the students have excelled in their writeups.

85% of users have become more influential in their writing skills.
3. Grammarly Business Subscription Cost
This plan is usually meant for more prominent multi-national organizations and start-ups with employee bandwidth, say, 150+. There are two plans available in Grammarly Business that can enhance the written content of your employees and provide an advanced feedback system for your entire team.
Here are the cost pricing plans for Grammarly Business:
Business Plan – In this plan, you can have 149 members using membership benefits. The organization needs to bear $12.50/member/month.
Enterprise Plan – In this plan, an unlimited number of users can utilize the benefits of Grammarly Business. The Grammarly authorities decide no specific amount for this plan. You may get in touch with the Grammarly team for the discussion.
Confusion persists on whether we should take a free subscription or go for the premium one. So let us make it easy for you.
Grammarly Free vs. Premium vs. Business
The free version gives grammar check and spells check facilities, which become handy for bloggers and writers running on a low budget.
Those who want to avoid paying additional for the tools that help them to detect plagiarism in their content can opt for the premium membership of Grammarly. It comes with a plagiarism checker with a readability scorer that can enhance their writing skills.
A business plan is required for all organizations that need a tool that can help their writers spell and check grammar. But make sure you invest in this plan if you have at least 100+ employees working in your organization.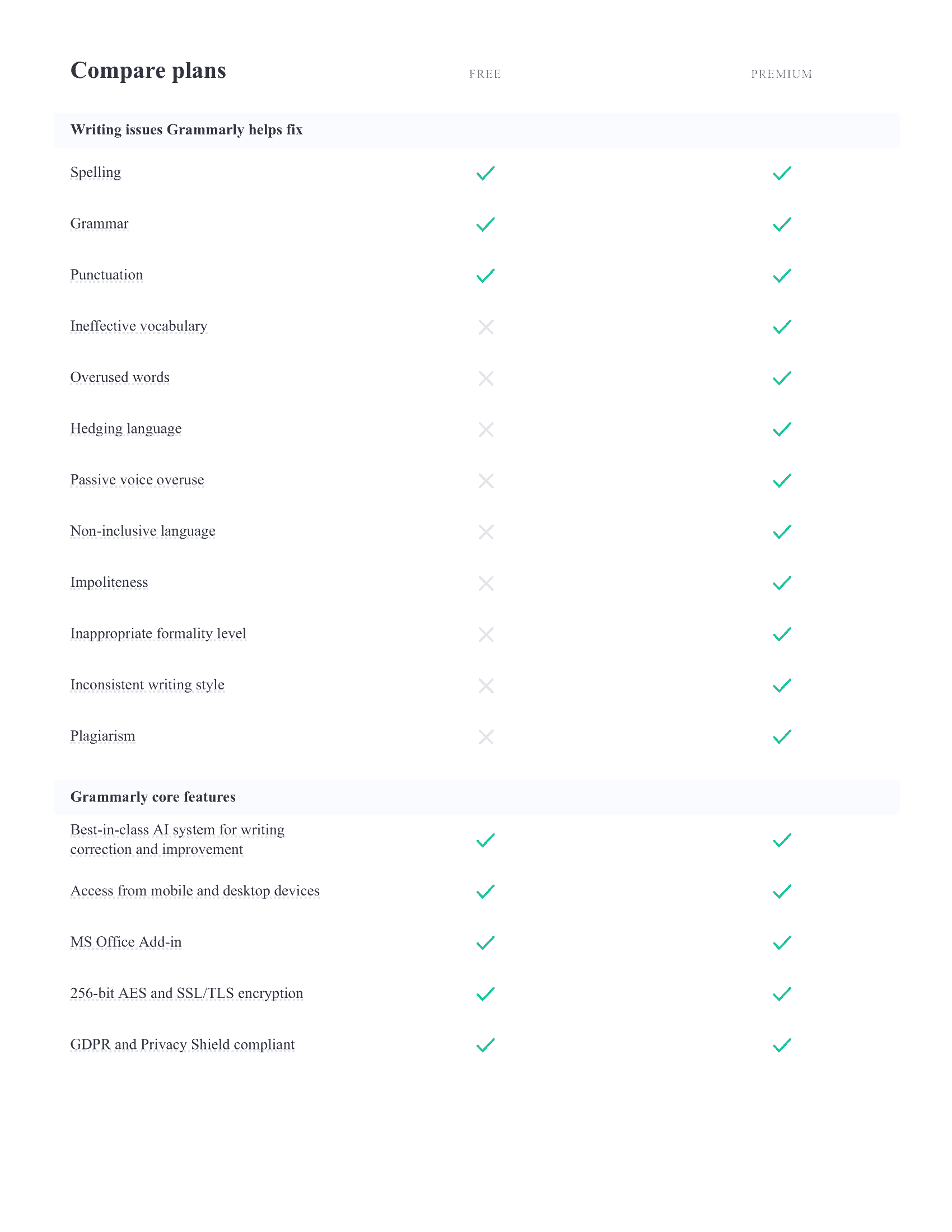 All of us might have heard a question about Grammarly, whether it is effective or not. Whether it proofreads your content well?
Right?
Let us head over to its discussion.
Can we trust Grammarly? Is it a reliable grammar checker?
You don't always need to draft your content in American English. But, of course, you might have to create content in British English too. Right?
Being a native American English speaker, how would you check whether your content sounds correct and whether there are no spelling mistakes in your content? For example, 'Colour' is spelled correctly, 'realise' is spelled correctly.
You need a weapon in such a situation that can help you rectify your errors in a fast manner. Grammarly becomes a sharp weapon to solve all your grammatical, punctuation, and spelling mistakes. In addition, it creates audience-specific content for you that you can publish online for others to read.
I trust Grammarly more than I do myself. For me, Grammarly is one of the most reliable grammar checker tools available right now.
The Bottom Line
Thus, treat Grammarly as your closest mate that helps your content to be free from any errors that can sustain your reputation in this competitive and fast-moving world.
For me, Grammarly is the most reliable grammar checker tool, and it is worth every single penny. I use it daily to proofread my content, and it helps me improve my writing skills day by day.
However, the cost pricing of Grammarly Premium is $29.95 per month, which is higher than its alternative tools but trust me, you will not regret