Are you searching for a Twitch logs checker? Do you want to know how to check Twitch chat logs? Great, you're on the right page. In this article, we will share a quick guide on how to stalk someone's Twitch chat logs. I hope this guide will help you for sure.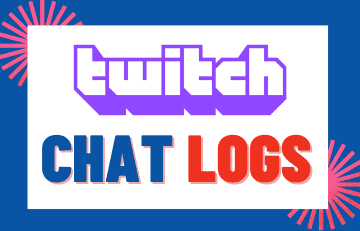 With over 26 million daily active users, Twitch is, without a doubt, a popular platform among gaming enthusiasts and gamers. It lets users connect with their favorite streamers through chat logs. Therefore, if you want to watch how your audience reacts to your stream, keeping an eye on your chat logs can be a great idea.
In this article, we are going to share a detailed guide on how to check someone's Twitch logs easily. So, without any further ado, let's get started:
How to check someone's Twitch logs?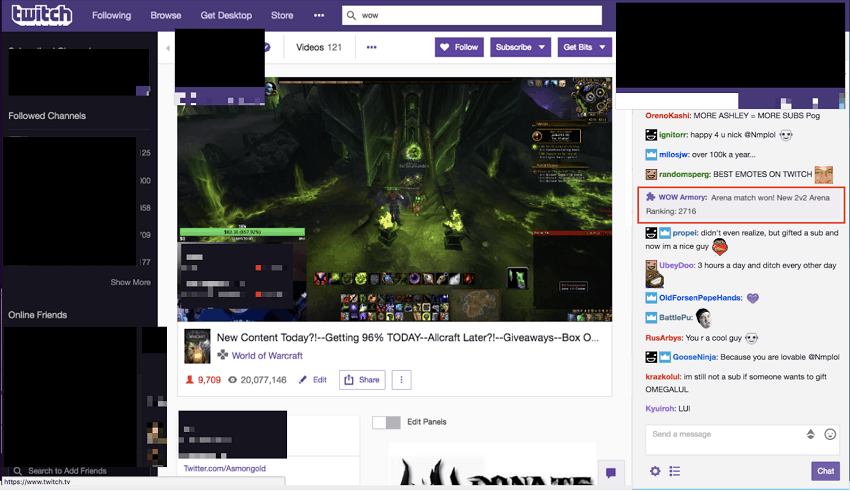 It wasn't easy to check Twitch logs in the past, but things have changed recently. Now, there are multiple methods that you can follow to check someone's Twitch chat logs.
Here I am going to share the best methods, so stay tuned until you find the one that suits you.
Read | How To Delete Snapchat Account? [The QUICK Guide]
Using the user search command, check Twitch logs:
If you want to read chat logs for a specific user, this method is going to be the best shot for you. This method includes using the user search command feature provided by Twitch that lets you access a bunch of useful data about that specific user.
This data includes details such as:
The number of messages/comments that the user has left on your channel
On which date did that user create their account
How many times that user has been banned from your channel
How many times did that user time out in your chat?
Comments left by your moderator about that specific user
What type of comments/messages has the user left on your channel?
Also, executing this method is pretty straightforward. You just need to type /user followed by the user's username, and Twitch will give you access to the details mentioned above.
However, this method doesn't let you access the comments deleted by moderators. This is the only shortcoming of this method, but since it is pretty easy to execute, I suggest you give it a try before heading towards any other techniques mentioned in this article.
Review VODs
Recently, Twitch introduced a chat recording feature to VODs, making it very easy to see comments from users on your past streams. Here you can see all comments, even the ones that moderators have removed.
You can use the user search command method to see the timestamp at which the moderator punishes a particular user. Then, you can go to that timestamp to review that user's chat and re-evaluate whether you want to hold that ban or uplift that.
However, the biggest problem with this method is that all the recordings are only available for two weeks. That means you cannot rewatch your stream recording once you past two weeks from the day that stream was recorded.
Another issue is that if you cannot find the exact timestamp, you will have to go through the entire video to see the time of that comment.
Read | 11 Best ChatStep Alternatives (Similar Sites & Apps)
Check Twitch logs using a third-party program:
Since the above two official techniques are not enough to serve purposes, many streamers prefer using third-party tools to monitor chats. These third-party programs not only let you see deleted and removed chats but also let you store chat logs so that you can review them in the long term.
One of the most popular tools for this is Chatty. Chatty is an open-source java-based chat software that features tons of functions to help streamers and moderators monitor comments left on a stream.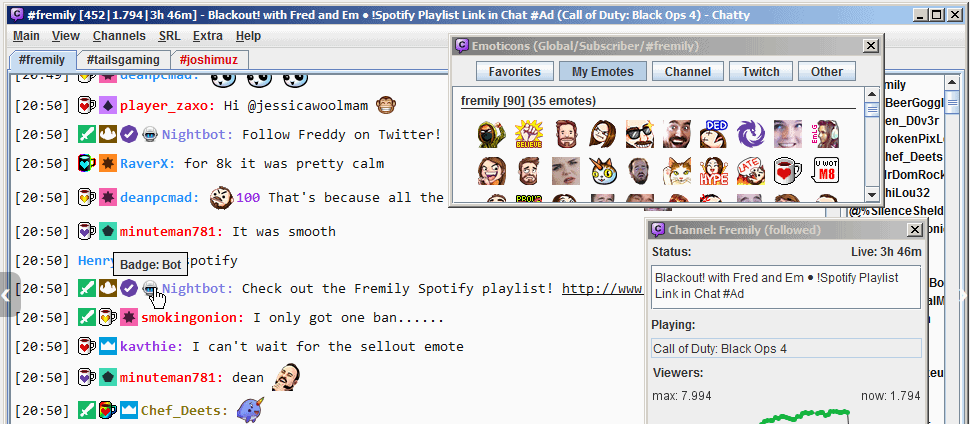 The program is quite popular and features a pretty clean user interface. Unfortunately, the user interface seems inspired by IRC clients, and therefore, there is a slight learning curve that you have to go through. However, once you get used to it, it can be the best choice for you.
Do note that, by default, Chatty doesn't log your chats, and after some time, it will delete older messages. But you can configure settings as per your requirements. Along with that, you can use Chatty to ban or timeout users, view the latest copy of each user, run commercials, set the stream title, monitor real-time viewers, and a lot more.
Using a Chatbot Check Twitch logs
Setting up a chatbot is another easy way to quickly monitor someone's chat log. If you are not aware of chatbots, then the automated software helps you moderate your chat in multiple ways. Additionally, many chatbots allow you to add additional functionality such as song requests, giveaways, timers, and more.
One of my all-time favorite chatbots for Twitch is Nightbot. Nightbot lets you spam filters automatically with the help of their prevalent spam detection algorithm. Further, you can set up dynamic responses with the help of the command function to answer recurrent questions or share promotional links.

However, the best function of Nightbot is chat logs. This function offers you fully searchable chat logs and explains why and when a message was deleted, or the user was banned. Therefore, if you are planning to take your Twitch channel to the next level or if you want to keep an eye on chat logs, deploying a chatbot should be a great idea.
Read | 36 Best Manga Sites (FREE) To Read Manga Online
Access Twitch logs via Moderator view
Twitch channel moderators hold access to individual users' chat logs, but for that, you have to enter the Moderator View option. To enter Mod View, you will have to click on the sword icon from the lower right part of your display screen.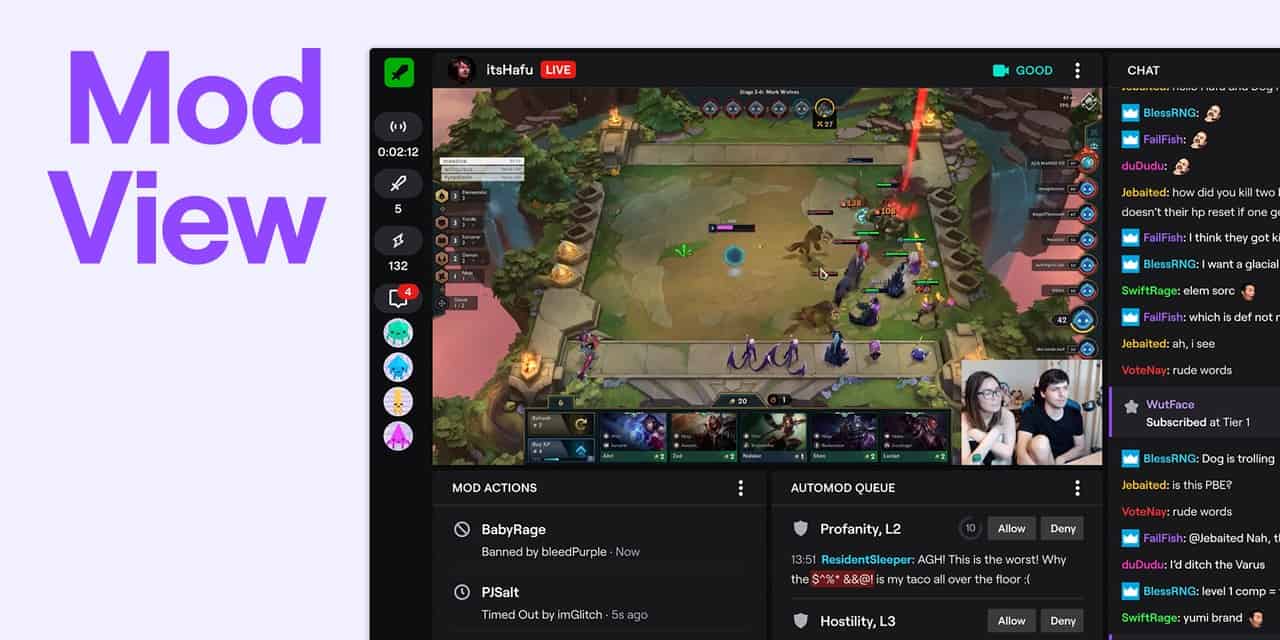 Image Source: Twitch Blog
Once you've got into the Moderator View, you just have to click on a user's name, and it will bring the entire chat logs on your screen. Here, you can scroll down to read their older messages and other things. Additionally, you get your hands on other helpful information, such as how many times that user has been banned or timed out from your channel.
You can also find out comments left by other moderators regarding the ban, timeout, or report of the user. This will help you to reconsider the ban for that particular user.
By Downloading Twitch Chat Logs
Third-party programs such as Chatty and many other chatbots allow you to store Twitch logs locally so that you can review them later. Even for this purpose, I recommend using Chatty as I am using that, and it works well for me. However, you can find the other Chatty alternatives on the internet if you want to.
However, the best thing I liked about storing chat logs offline is that it helps you bypass the in-software limits and lets you hold the record of as many chats as you want. This is really a great thing if your streams receive a large number of viewers. Also, Chatty shows you emotes, badges, username colors, and other things to make it easily readable and understandable.
However, as I said, there are so many similar tools and chatbots you can find on the internet that serve a similar purpose. Therefore, I suggest you research the tool that works best for your needs and if you are confused, go with Chatty.
How to see chat logs for other channels?
In the past, there was a website called OverRustle Logs that used to keep a database of chats from all channels, except private ones. That was a great way to check someone's chat logs, even as a viewer. However, doing so goes against the data sharing rules of Twitch, and therefore, in May 2020, Twitch's legal department took down OverRustle Logs.
Since then, there has been no way any viewer can stalk other users' chat logs. Only the streamer and channel moderators are allowed to see chat logs.
Read | Grammarly Free Trial (11 Legit Ways) Premium FREE Trial
The bottom line
So, this was a detailed guide on how to check Twitch chat logs of someone else.
Reviewing Twitch methods is a great way to know your audience's interest, maintain bans records, and improve your channel overall. If you are a moderator or a streamer, then it becomes extremely easy to keep track of chat logs.
However, there is no possible way to see Twitch chat logs as a viewer as the only reliable source, OverRustle Logs, has been taken down officially. If you found a way that lets you see someone's chat logs as a viewer, then do let us know about that in the comment section below. We will try to include that in this article so that our other readers can benefit from it.
With that said, here I am wrapping up this article. I hope it helped you find out the best way to check someone's Twitch logs. If you have any questions or suggestions, feel free to share them with us in the comment section below. Our team will try to respond ASAP.