Are you looking for the best Rabb.it alternatives? Do you want some new and updated sites like Rabbit? Well, I know that Rabb.it website is down now, but there are many users who still want to use it. So, today, I am here with the 30 most popular alternative sites like Rabbit, which will surely fulfill all your desires for those loyal users of the Rabbit website. Let's scroll down this page to see fresh Rabbit alternatives.
Over the last few years, one thing that has undergone a significant transformation is entertainment and, more importantly, how we consume it. Today, video streaming is no longer a term but a prime requirement. Video streaming apps have now seemed to replace television sets, wherein anyone with an internet connection can enjoy it. One major factor that can be attributed to this is the availability of faster internet services.
People in many countries seem to have migrated straight to smartphones skipping desktops and laptops in between. It further gained momentum with some fantastic apps that contributed to this value addition. These on-demand programming apps have added more convenience. These apps make sharing content in various forms much more accessible and enjoyable.
What is Rabb.It?
Rabb.it (Rabbit) has been a popular platform for video streaming until it shut down back in 2019. The users had their share of benefits with its video streaming services. It was a web-based group chat app that allowed the users to share anything that they can play on a web browser.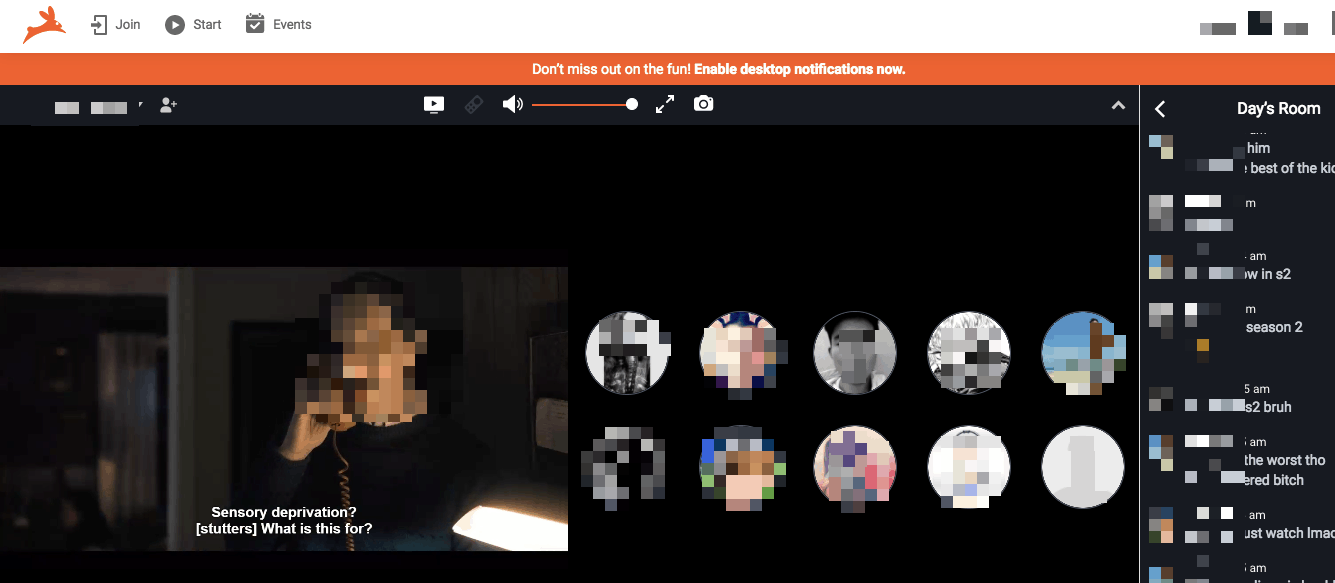 This multiplatform video-sharing tool supports sharing favorite YouTube videos, and content from Netflix, enjoying live conversations with friends, and even creating chat rooms. All these services were free of charge. This premium video streaming service came to an abrupt halt on July 31, 2019, when Kast acquired its software stack and patents.
The original app was a web-based group chat platform with a video stream. As a virtual instance of Chrome or Opera, it allows sharing the video feed from Netflix, Hulu, and YouTube or similar platforms. The tool was available as a Chrome extension, iOS app, and Android app. As a Chrome extension, you can chat, make video and voice calls, and share photos with it.
Is Rabbit legal and safe?
People have different views about the legal status of this platform. At the outset, sharing your device's screen is a matter of personal choice, and by no standards can it be considered a forceful act. Hence, Rabb.it is legitimate, as you were merely sharing your screen with others.
However, when it comes to sharing copyrighted content like that from Netflix, you come under restrictions related to screening sharing. If you go on to share the screen using Rabbit, it is illegal from all aspects.
As far as the safety issues are concerned, screen sharing is only possible with your permission. Therefore, till the time you play safe, the platform is secure for you. You can select the connected devices, and is different from an open link server that connects you to all the available devices.
However, you do not have any safeguard against connected devices. With the screen sharing mode on, you cannot restrict views. The other connected devices can sneak into your device easily.
Do you want to know is Grammarly safe or not? You must read this Grammarly review.
30 Best Alternative Sites Like Rabbit In 2023 (updated & tested list):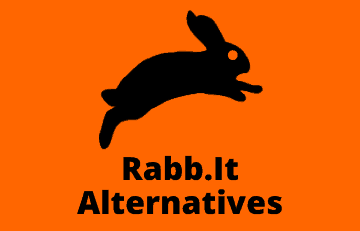 It was one of the many apps that allow group videos and text chat along with video streaming. While the users are still missing its service and looking for alternatives, we have arranged for you an assortment of the best alternatives to Rabbit. Try these, and don't let the joy of staying connected with your friends online get interrupted.
With this, you can sync your videos and related content with your friends. There is a restriction regarding the videos that you can watch; however, it supports popular platforms like Facebook, Amazon Prime, Vimeo, YouTube, and Dailymotion.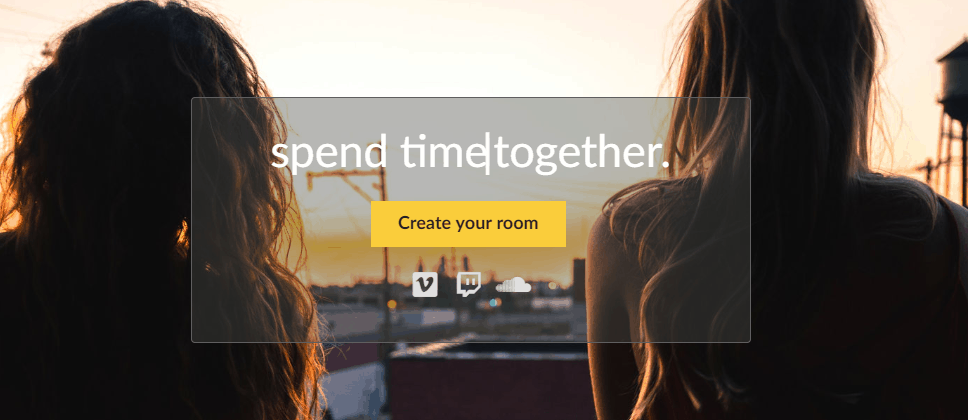 What differentiates it from Rabb.it is that all users in the chat room can perform video searches and play them. Also, you cannot access third-party content platforms like Netflix or Hulu. Nevertheless, you have access to an extensive library of free videos from the supported platforms.
It offers webcam support, lets you organize content into playlists, and can even shop on Watch2gether.
Recommended Reads:
#2. Sync-Tube.de – Website Like Rabbit
Another good alternative to the Rabbit website is Sync Tube. It is a straightforward platform for creating chat rooms, chatting with friends, and manage permissions as you watch YouTube videos along with them. Here you can either create rooms or browse to find one of your choices.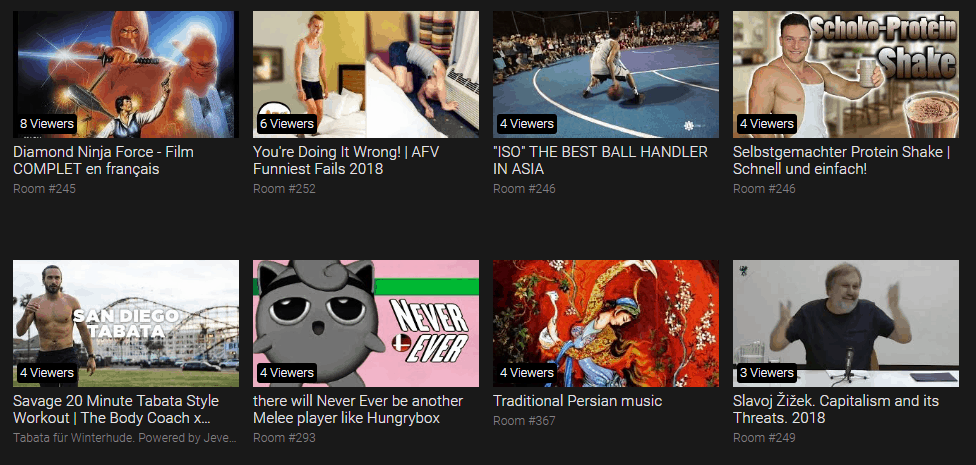 It lets you sync your favorite videos with friends wherever they are. The platform is convenient, with minimal features that are easy to use. However, many may find it a limitation that the user on this platform is only restricted to sharing YouTube videos.
If you wish to watch videos in privacy, then this is the app. It has added privacy features; for instance, when you register, you automatically get a room created, and by default, it is a private one. Now, you can invite your friends using the invite function on the right hand of the screen. You have the choice to make this public as well.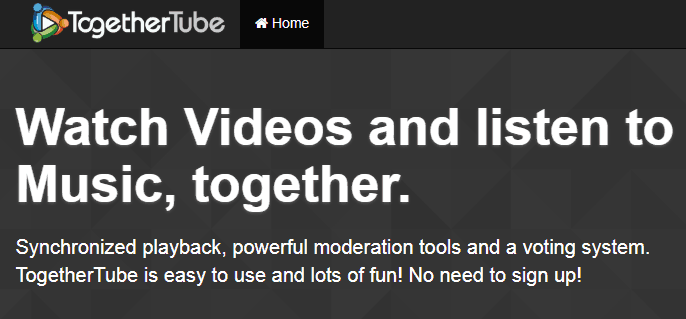 It is the ideal app for those who prefer private rooms, although a few public rooms are also available for users. One can download browser extensions for this platform. A unique feature of this platform is the user status feature. Also, there is a bar that displays the video status you are watching. It indicates YouTube buffering and also notifies the lag if any.
Consider it as amongst the best choice you have as a replacement for Rabb.it. It has some fantastic features for the users. With it, you can watch videos together with friends in a seamless manner. Here you will find an integration of different video streaming platforms like Vimeo, YouTube, and Dailymotion.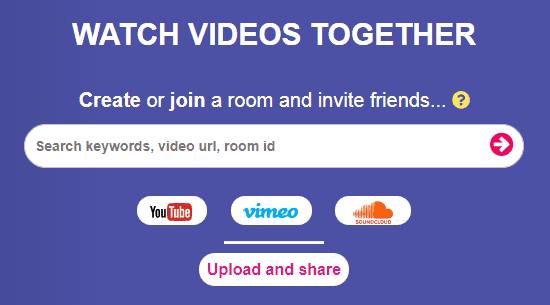 The users can play the videos directly on this website. The other members in your room can also watch the videos in sync with your playlist. Moreover, you can share URLs from other sites as well. You can enjoy video content together. The interactivity of this platform is excellent and comes with emoji support for a chat. However, webcam and audio support are missing here.
As an alternative site to Rabb.it, it serves the purpose quite well. It is simple to use the extension with which you can watch shows and movies from Netflix along with your friends at the same time. Then there is a chat room where you catch up with your friends and discuss a film or two. If text chat is not your type, then this app's video or voice call feature is equally amazing. Get ready for a virtual watch party with this app.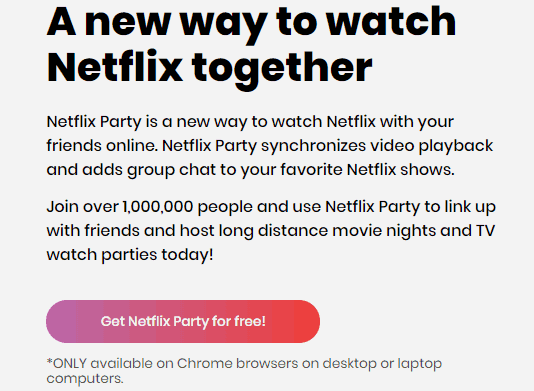 However, since the person controlling the party is streaming his Netflix account with others, there might get a bit of lag, but that should not be a concern.
This app is also in the race to be amongst the alternatives to Rabb.it. While using this app, you can quickly create a chat room and invite your friends and family. Moreover, you can sync YouTube videos with them and create playlists for convenience. This platform's interface is easy to use for all, and you can create chat rooms and join your friends' chat rooms without creating an account of your own on this website.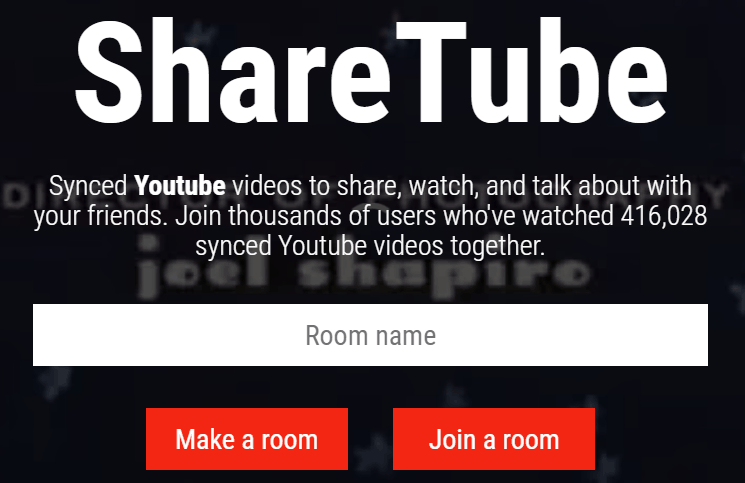 However, again, this will work only on YouTube. You will need to enter the URL of the YouTube video for syncing it with friends. It also offers you the option of group chat, and the overall experience of video watching is superb.
It is a virtual computing platform that enables users to collaborate seamlessly in real time. It comes with apps, including a browser, a media player, and an application that supports presentations. Furthermore, with a preinstalled app called Sketch, you can collaborate on painting and drawing objects together. It also comes with its app store. You can easily download new content or uninstall unwanted apps here.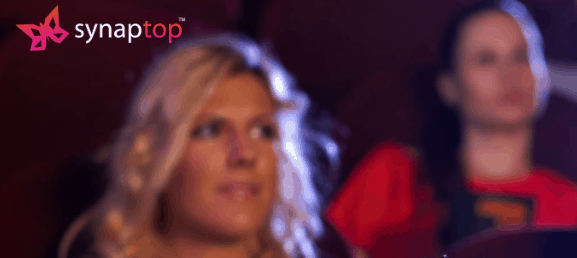 In terms of functionality, this platform exceeds all others on the list. Apart from inviting friends to use and collaborate with the apps, you can also make internet-based calls through them. Video chatting, document uploads, or media are other options offered by this platform.
Here is a unique entry to this list that lets you co-play the downloaded content on your device. It works on all major operating systems; therefore, compatibility is not an issue here. It allows you to play offline media using media players and broadcast in a private room with your friends and family. This platform's primary purpose is to let the users sync the media player across devices, and it is good at it.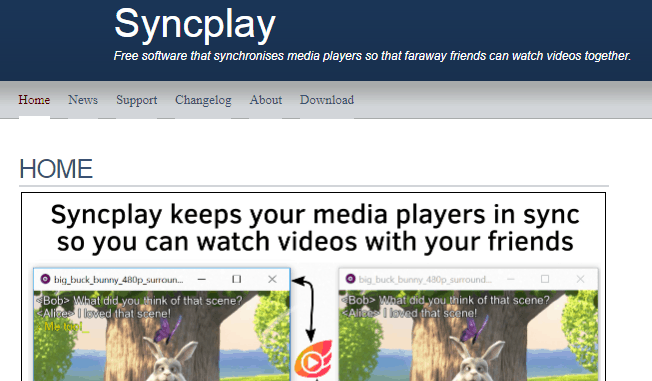 It does not support features like chat or audio/video messages. This app's overall performance is pretty good, although the absence of interactive features is its drawback.
It is the company that acquired Rabb.it and therefore is the most suitable alternative right now. While looking for sites like Rabbit and Kast cannot go without a mention. Have a blast with friends as you share movies, TV shows, games, and more with 100+ people. You can create a private room here on this platform from mobile, desktop, or web.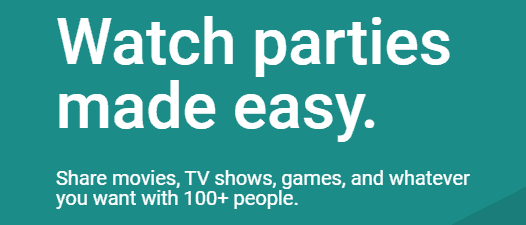 Real-time video sharing is quick and comes loaded with several features. Apart from watching movies and TV shows, the highlight of playing games in real-time with your friends is incredible. It works on popular operating systems and impresses the user with its interactive features.
This is another video streaming and sharing website that is similar to Rabb.it. Although it lets you interact with your friends with the chat feature, it does not support live audio. The focus on this website is on three aspects of user experience. The first is to offer a real-time experience without any lag, the second is live interaction on webcam, and thirdly, support for maximum video streaming services available presently.

It supports Netflix, Amazon Prime, YouTube, and other similar streaming content providers. It also offers you a Chrome extension that lets you stream videos from any website. Consider Twoseven as a worthy alternative website like rabb.it.
The last entry to this list is no less in any measure. It is a site that is dedicated solely to streaming and watching content related to Anime. It lets you create private rooms, and then you can share them amongst friends and family. With it, you also access the anime library, where you can pick your favorite content and watch it right away. It is a useful feature of this platform.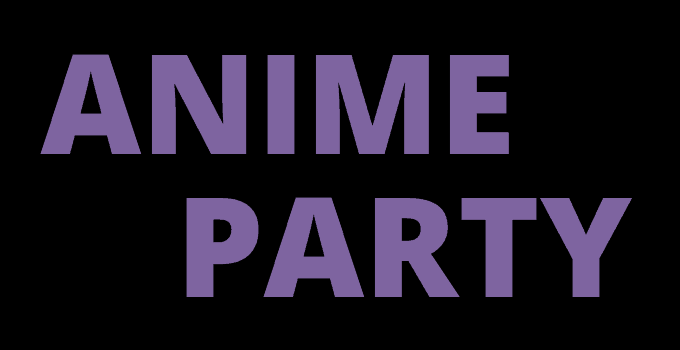 It also has a group chat feature and also has a sync playback feature. The streaming function on this platform is hassle-free.
The next website on our list is GetMetaStream, which is also quite popular among people. Like Rabbit, it also lets you watch movies and videos with friends and family, even if they are far away from you. Not only that, you can even stream music together.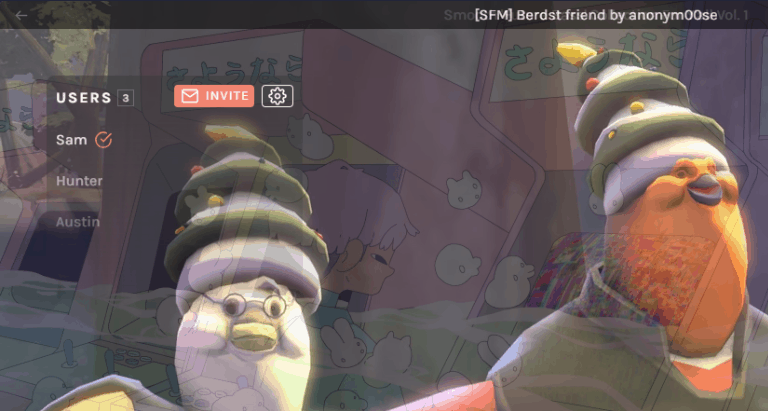 The best thing about GetMetaStream is that it supports many popular platforms that include YouTube, Twitch, Netflix, Hulu, and many others. Therefore, if you are looking for a good Rabbit alternative, then GetMetaStream can be the right choice for you.
The following Rabbit alternative on our list is AndChill.tv. It is an excellent website with plenty of awesome features. Some of the notable features of this website are that it is entirely free, you don't need to create an account to stream or watch, and the user interface is pretty clean and perfectly balanced. It gives a feel of watching movies in theaters.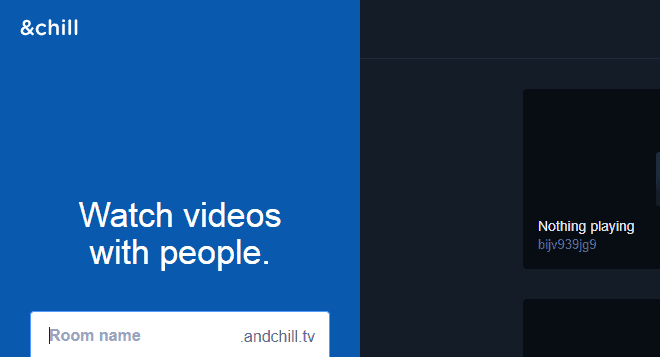 However, the sad part is that it only supports YouTube and Twitch platforms. Therefore, it is not a good option for all kinds of people. Another issue that I have noticed that it doesn't work properly on older browsers. So, make sure you are using your browser's latest released version.
Kosmi.io is an excellent platform where you can virtually hang out with your friends and family. The best thing is that you don't need to sign up or install it to use it. You can do all the things such as sharing your screen or browser's tab with others, watch local synced videos, and watch YouTube synced videos.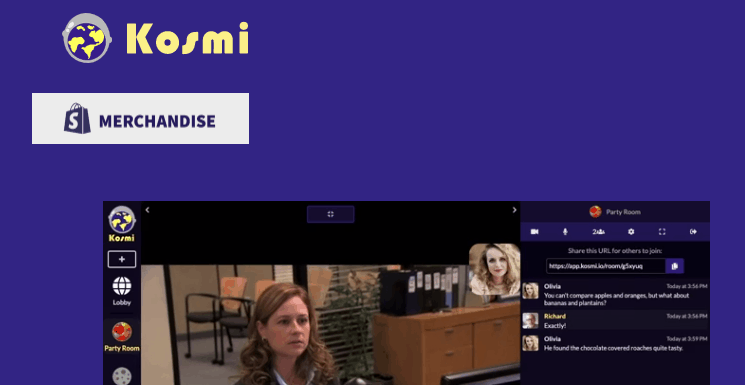 Not only that, but you can also play NES and SNES emulator multiplayer games and other table games with your friends. Overall, this is an excellent option for people looking for Rabbit alternatives.
Tutturu is another excellent shared browsing service that lets people enjoy watching things and surf the web online with far-out friends. To create a room, you have to sign up with a free account, and then, you will be able to make a room and invite friends.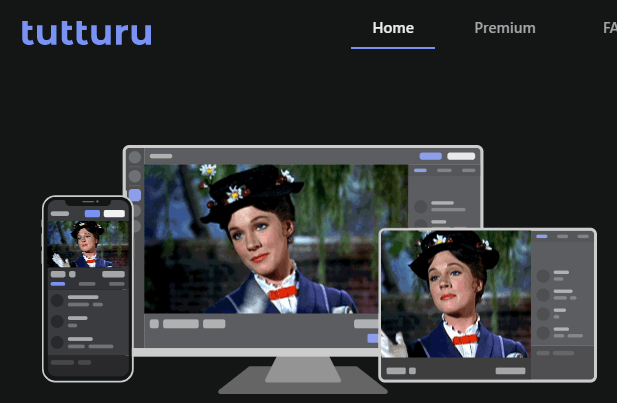 Once you join a room, you can communicate with friends using the audio and text chat options. Although Tutturu is free, it features a premium subscription that offers some additional benefits for the host. The premium plan just costs $5/month. However, viewers never need a subscription to join a room.
Rave works perfectly fine with a bunch of platforms, including Netflix, Reddit, YouTube, GDrive, and more. You can use Rave to watch videos, movies and even to stream music with your friends who are far away. While connected with your friends, you can communicate with them using voice, text, and video messages.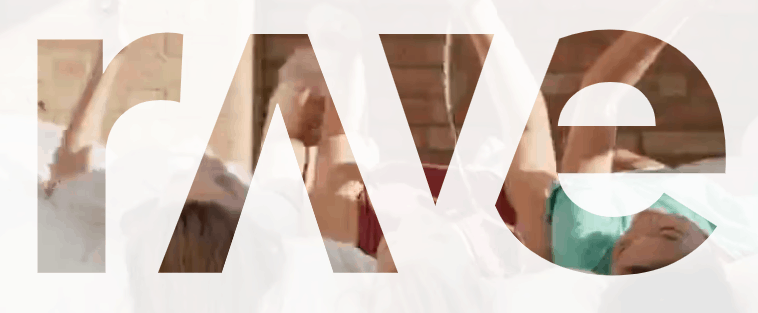 The best thing about Rave is that it is freely available for almost all types of digital devices. Even for Android and iOS, they have separate apps that can be downloaded directly from Play Store or Rave's official website.
The next Rabbit alternative is not a web-based tool. It is a smartphone-based tool that has its native app available for both Android and iOS devices. Even though it is not a web-based tool, it replicates almost all the features that Rabbit offers.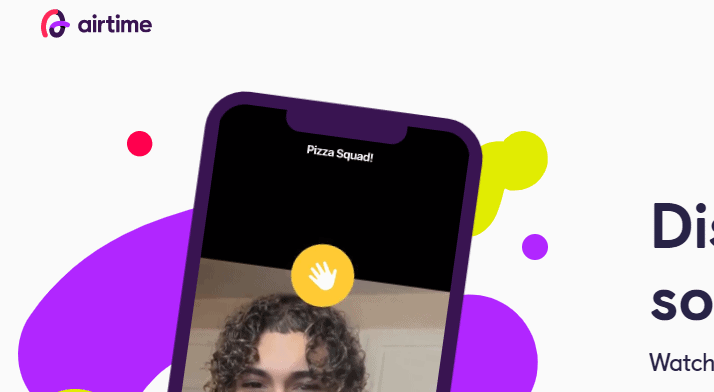 The app lets you watch videos together, stream music, set up group video and audio calls, and much other stuff. The thing is that the app only works with YouTube videos and Spotify music. You cannot stream Netflix or Hulu, which is a major downside of the app.
Invited.tv came into existence as an alternative website like Rabbit. Although they are a newcomer in the industry, they have successfully managed to impress the old Rabbit users. Like Rabbit, it also lets you create rooms where you can invite people for free.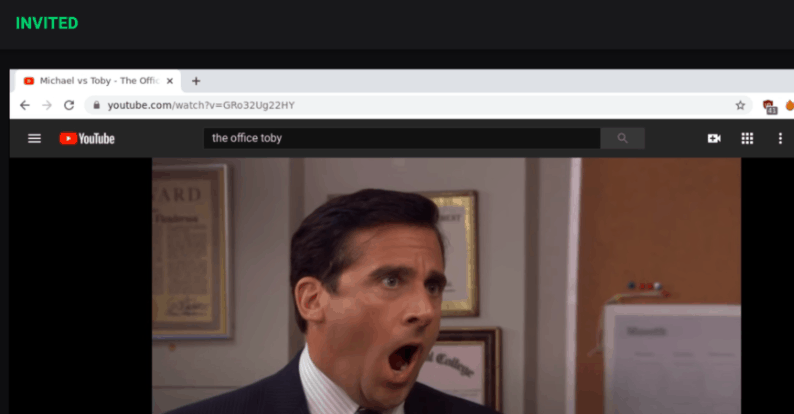 After joining a room, people can participate in group conversations, watch synced videos, and even surf the web. It supports a bunch of popular platforms such as Crunchyroll, YouTube, and Spotify. Along with the free to use plan, they also feature two paid plans that offer some additional features.
The next website on our list is Caracal.club, which lets you access a web browser in a virtual machine. You can use it to watch online videos and surf the web with your friends and loved ones. It supports almost all major streaming platforms, including Netflix, Hulu, Amazon Prime, YouTube, CrunchyRoll, etc.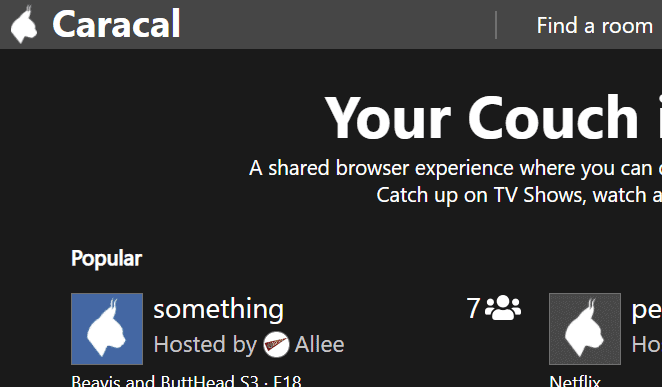 It features a limited number of free rooms, but you may need to wait in the queue to access them. If you don't want to wait, then you can opt for its premium membership, which costs just $5/month.
I recently came across ParsecGaming, and this cloud-based tool fascinated me purely. It let you access a cloud computer remotely with incredibly low latency. You can use it to watch videos, listen to music, and work together on a project.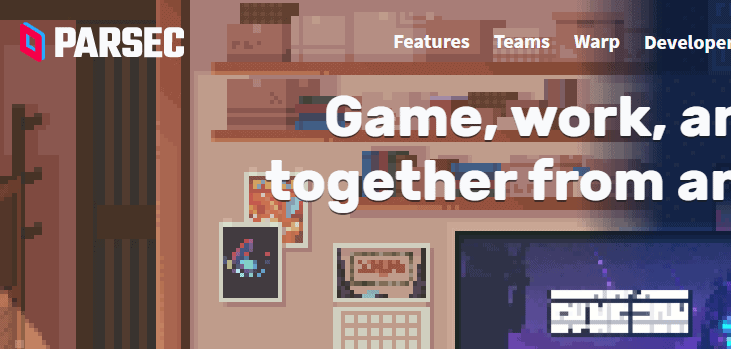 Not only that, but you can also use it to stream live games and play local multiplayer games with your friends. To sum up, I want to say that ParsecGaming is the perfect alternative to Rabb.it.
SyncLounge is an excellent tool that you can use to stream sync content with multiple people. It is a cloud-based tool, and therefore, you can access it using almost any digital device. You can use it to stream many popular platforms, including Netflix, Hulu, Amazon Prime, YouTube, and others.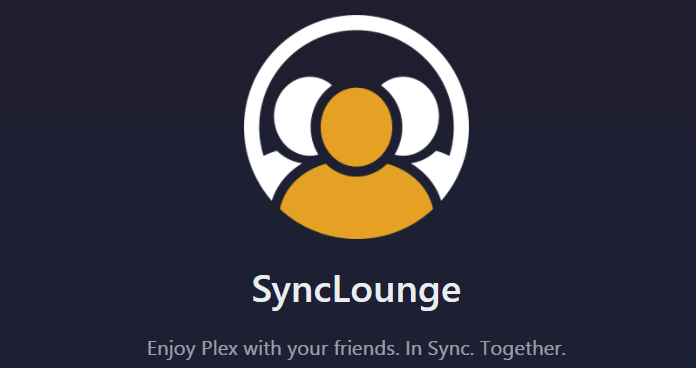 All the media that you stream will play using the SyncLounge player. This player comes with a bunch of excellent features that can enhance your overall experience. You can also communicate with the members in your room using text chat, voice messages, and video messages. You must visit this website if you're looking for some best sites like Rabbit.
With LetsGaze, you can watch synced videos and movies with your family and friends who are distant from you. Not only that, but you can also communicate with them through text messages, audio, and video calls. The best thing is that it is entirely free. You don't have to pay a single buck from your pocket to use it.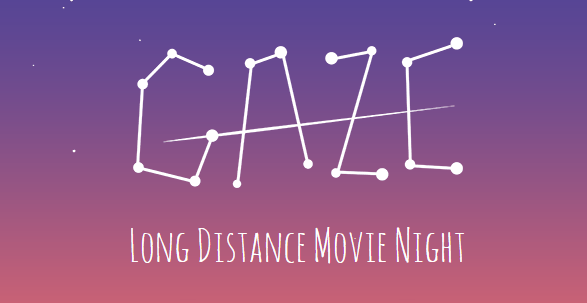 However, it doesn't support any other platform except YouTube, which seems to be the major drawback of this tool. But you can stream locally stored videos, which can be a lifesaver if you want to watch movies. Since the tool is entirely free, I don't have much to complain about it. Try this Rabbit alternative website and forget the original Rabb.it website.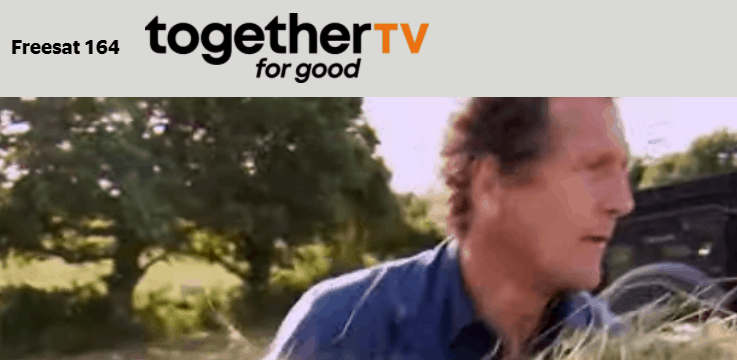 Together.TV is one of the few platforms that let users stream content from paid streaming websites such as Hulu, Netflix, and Amazon Prime. Like others, it also allows you to create rooms where you can invite other people and enjoy videos together. You can chat with people through text messages and audio chat. However, the video chat feature is still unavailable with this service. This is one of the best solutions if you're struggling to find some best sites like Rabbit to watch movies.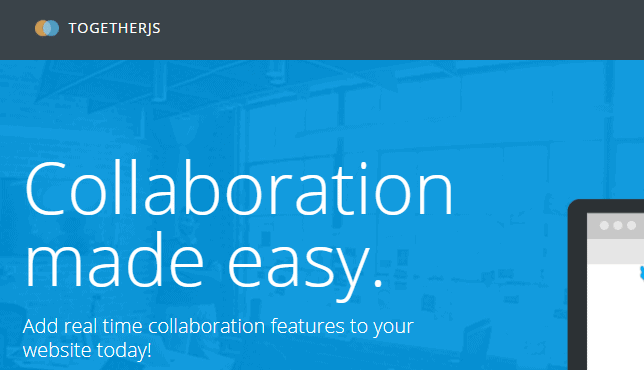 TogetherJS is an excellent JavaScript library that adds real-time collaboration features to your website. I know you might be thinking that why I am telling you about this tool. Well, that is because this tool also lets you enjoy YouTube videos with your friend. But you cannot watch the premium platform's content using this tool. The embedded chat system supports audio chatting and text chatting. The user interface of this tool is pretty simple and elegant. If you're searching for some best sites like Rabbit, then you must try this alternative website.
TeamFlix is a prevalent tool that lets people watch movies together with their friends and family. It is a web-based service that does not force you to create an account. Yes, you read it right. You can use TeamFlix fully without even making a free account.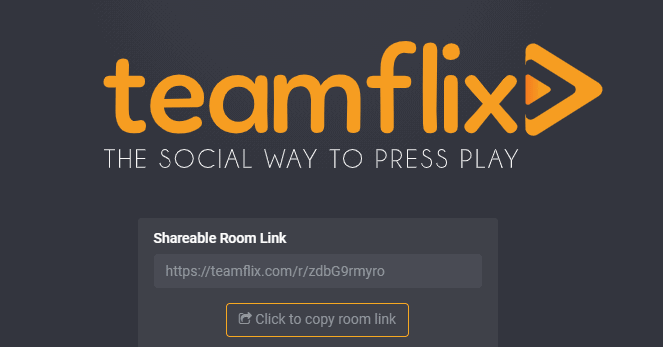 You just need to visit their website, and there you will get a link that you need to share with your friends, and that's it. All the people who participated in the room can enjoy the synced content together. The best thing about this service is that it supports some major streaming platforms such as YouTube, Vimeo, Netflix, Reddit, etc.
Sync-Video is an interactive cloud-based application that lets users enjoy watching YouTube and Vimeo videos online with friends who are far. This tool can help you connect with your friends and family members, and you can enjoy watching videos together.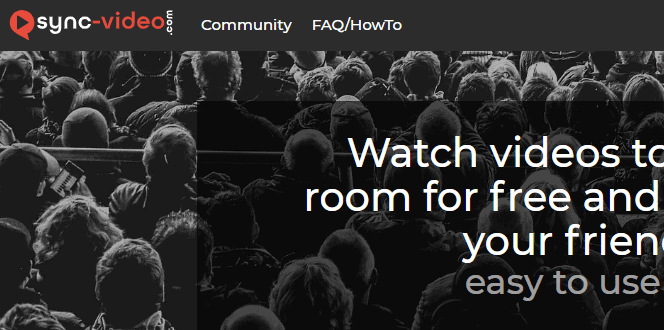 To communicate with the room members, you can use the text and voice chat feature. Unfortunately, this tool does not support any premium content streaming platform. Therefore, you can only watch YouTube videos with your friends. Overall, this is one of the best sites like Rabb.it on this list.
#27. Explorii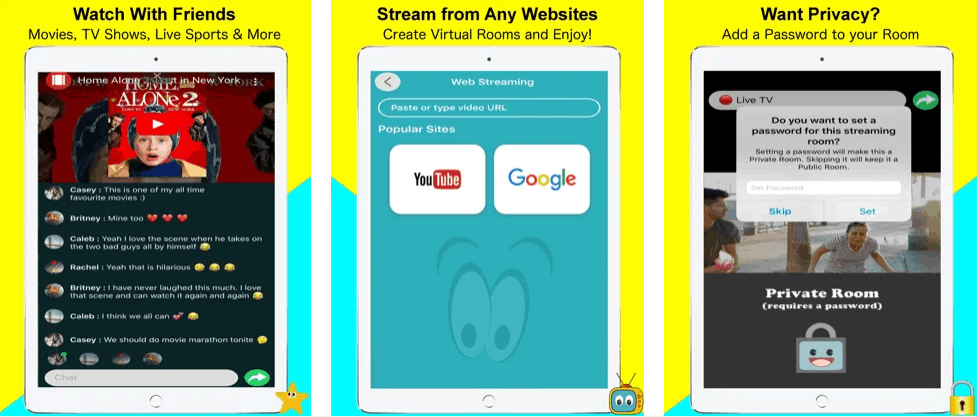 Unlike others, Explorii is a mobile-based application that shares identical features with Rabbit. You can use it to create a room with your friends and watch movies and other videos online together. Along with that, you can also make group video calls, free phone calls over the internet, free instant messaging, and so on. Overall, Explorii is an excellent social networking app that you can use as a Rabbit alternative.
#28. SimulChat.com (Inactive)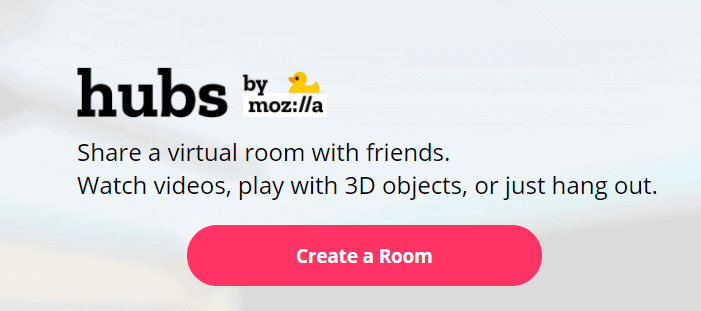 Hubs by Mozilla is a VR-Friendly platform that has been designed for communicating and collaborating privately. It allows you to create virtual rooms with friends where you can watch videos, play games, or even just hang out. Unlike others, this tool supports almost every single streaming platform such as Netflix, Hulu, YouTube, etc. You can also share content using these rooms just by dragging and dropping files. To communicate with people, you can either use text messages or a voice chat feature.
*Note: Please don't use these Rabbit alternatives for watching Netflix shows. We don't promote piracy.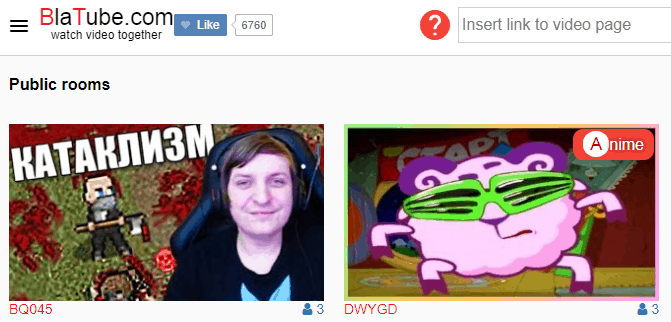 BlaTube is another web-based platform that allows its users to watch movies and videos along with their friends. You can use this tool to enjoy your favorite content with your friends who are far from you. The key feature of this tool is that it gives a perfect synchronization of video among all users. It also supports voice, video, and audio chat options that can be used to communicate with room participants. The user interface of the website is also immaculate and elegant. You must check out this website if you're one of those who are searching for sites like Rabbit.
How do you feel about these best Rabb.it alternatives that we shared here in this article? Do share your thoughts with us in the comment section. I hope you guys will surely like the efforts that we made in finding these best working sites like Rabbit, or you can say Rabbit Alternatives. Please share this article with your friends and relatives so that they can also make use of this list.
You can also let us know other alternatives to the Rabb.it website by using the comment section below. I will add your shared website to this article if it deserves it.