If you're searching for the best photo viewer for Windows PC, then you're on the right page. Here in this article, I've made a list of 11 best photo viewer software for Windows 10, 8.1, 8, and 7. Check out the list below.
The photo viewer software is essential for every Windows device. Best Photo viewers help in viewing pictures in multiple formats, ways, and forms. You can choose to check an image in full-screen and rename, edit, and delete the images. Not every photo viewer is the same, and different users require different photo viewers as per their needs.
Here is the list of best 11 best photo viewers for windows 10 PC in 2020: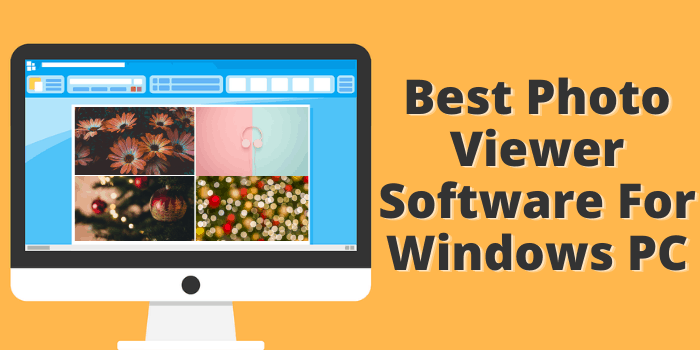 Today, let us take a look at the 11 best photo viewers for Windows 10 that we could find. The software has been handpicked based on the features, user-friendly interface, and compatibility they show. Let us check them all out and pick the best one for you. You may also like to check out these best PC cleaner tools for Windows PC.

We start with the basics, Microsoft Photos. Microsoft has been at our service with several of its products for years now. The Microsoft Photos is no different; in fact, this one comes preloaded on our computers and laptops if you have windows 10. The software can allow you to make your images smaller so you can scroll down quickly. You can do basic editing such as cropping, rotating, brightening, or color correction on this platform.
You can fix red eyes and other such glitches and lock an image of they are private to you. The interface and the layout are very sophisticated and not over the top, making it easy to use. Lastly, the software arranges all the pictures based on the date, keeping the oldest at the back and the newest on the front and making it very easy to locate images.

Almost all of us have used Google Photos on our smartphones, and you can use it on Windows 10 too. You will be happy to know a version of Google photos exists that is compatible with Windows 10. You can log in with the same email id, and you can use it simultaneously from your phone and computer. You will see the images that your phone has backed up, and you can back up photos from your computer.
The application organizes your pictures on multiple bases, date, place, people, size, and much more, making it easy to scout a picture as you need. The software allows you to watch a memory of what you did last year, or the year after, or even before, on a particular date. Lastly, you can check the collage and videos the application makes for you with a bunch of pictures from the same date.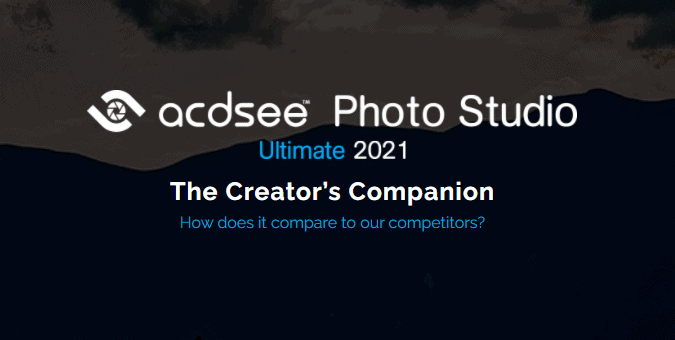 ACDSee is a versatile and sophisticated tool to possess; calling it just an image viewer would be an understatement. The photo viewer can convert massive files into other formats for easy viewing and transportation. The software is completely customizable, and you can customize it as your need. You can send photos from your phone to the software studio wirelessly and share files conveniently.
You can edit your pictures by cropping, fixing a light, and erasing fragments from the picture. You can additionally check files from zip folders without having to extract the file's contents. The software allows you to backup the images on your device over Drive or cloud storage space. Lastly, the application will enable you to sort pictures based on dates so you can trace a picture quickly. Also, download the IDM optimizer.

XnView is not just a cute looking application; it is also an excellent application for when you need to view pictures. You can create folders and subfolders in this software, where you can store images based on that. You can also sort images based on date, making it convenient to filter out images as per need. The tool also allows you to edit your photo by shifting contrast, light, and brightness.
You can also crop and rotate your images through this tool. The amount of formats this tool can handle is fantastic and allows a horizon of pictures. Lastly, you can create slideshows of the images you choose through this tool.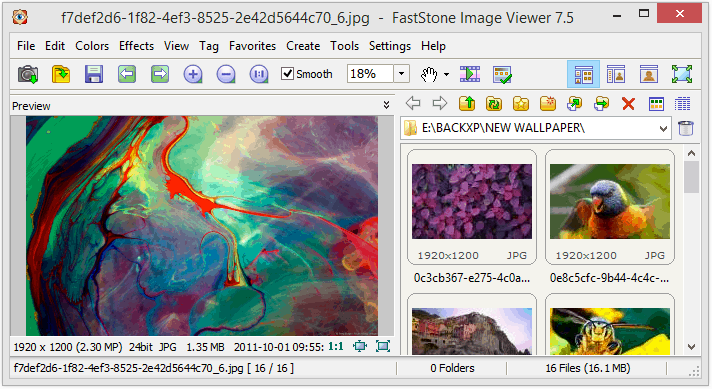 No matter how well we speak of this best photo viewer, it will not be enough. The FastStone Image Viewer has been loved by many and correctly so. You can view pictures in complete high definition and magnify the images in HD. The magnifier is customizable, which means you can determine the magnification size and range. The photo browser is fast and swift.
The tool allows one to create slideshows and add transition effects and music to the slideshows. You can edit the images with filters, cropping, and rotating tools and add special effects. The tool allows you to drag and drop images in a directory. Lastly, you can compare two images side by side on this software.

ImageGlass is undoubtedly one of the most sophisticated, simple, yet power-packed image viewer seen by us. The software is customizable to a great extend, meaning you can customize and personalize the software as your heart desires. The fast and smooth interface makes browsing images easy, and you can swiftly shift from one idea to another.
The software supports more than 70 different file formats; you can easily view almost every kind without worrying about its design. Lastly, the software is an open-source image viewer, so you can view and use this tool for any purpose you may have.

Talking about open source image viewer, Nomacs is another software that is highly recommended. Nomacs is capable of supporting several formats of images and can easily let you view almost every photo. The viewer also allows access to additional information such as thumbnails, metadata, etc.
You can watch images from zip files or word documents without having to extract them. You can switch between files, pictures, and folders without a hassle. Lastly, you can add notes to the image and add filters within the folders too. Also, try these best beat making software for PC.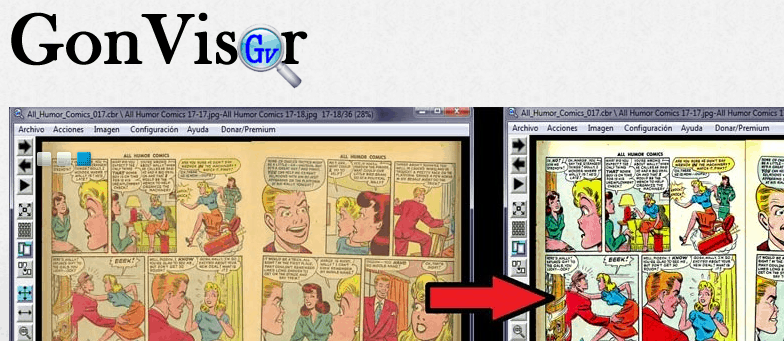 GonVisor is a customized Photo viewer for Microsoft Windows; the features make it very appealing and exciting. First and foremost, the software can function in several languages, including Dutch, Spanish, English, German, and many more. The tool has a smooth interface and is very convenient to use. You can enhance images and edit them as per your liking and preference.
You can sort images based on date and add descriptions to images as per your liking. The software also comes with a quick view option, which allows you to preview images. The editing features include screen sizing, cropping, and rotating images. Lastly, you can read comics on this tool easily.

Most of us love to keep our pictures organized, and if you want to do it easily through a photo viewer, then Photo Mechanic is for you. The software is efficient and effectively sorts out pictures in different folders and files as per your need. You can copy images from a memory card and edit them much faster than other image viewers.
You can copy, resize, add a description, comment, and watermark on images in groups. You can additionally geo-tag pictures based on the GPS tracking log as saved by you. Lastly, you can synchronize photos from multiple cameras and add metadata to the images.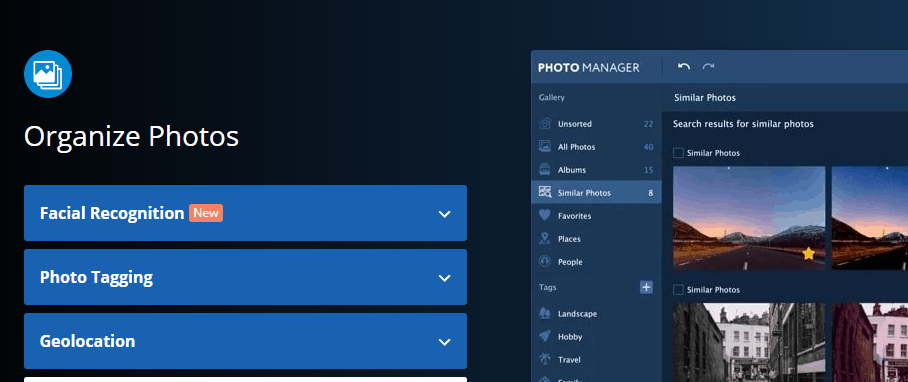 Movavi is a great software that enables you to manage photo collections digitally. You can flip, crop, rotate, enhance, color correct, and add other edits to your pictures individually or in batches. You can add tags and descriptions to your image files and save them; you can find them later using the same. The software can additionally group images that look similar to you.
You can watch these images in full-screen mode and several major file formats. The tool can detect faces and can categorize pictures based on look. Lastly, the device creates albums and collages that you can later review and decide to keep or not.
Do you want to know how old is your computer? Check out this guide.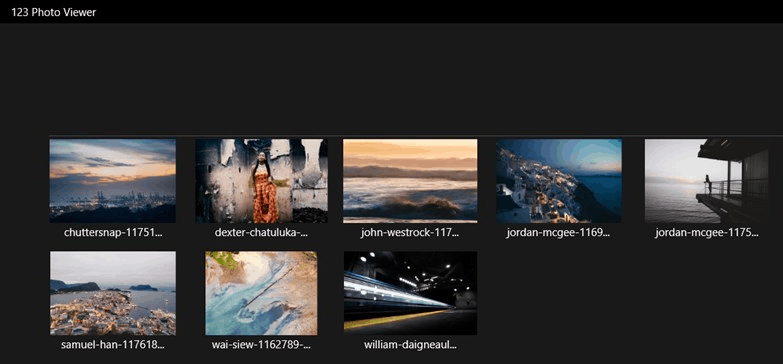 We end our list with one of the most famous image viewers of our time, 123 Photo Viewer. The key feature of this software is that it allows users to view animations and normal images. It magnifies images without pixelating the images and disrupting the quality of the images. The delete key featured in this software allows one to delete images in bulk.
You can change the format and rename images in bulks with the help of this software. Lastly, you can use several editing features such as color correction, enhancement, contrast setting, crop, rotate, and much more through this tool. It is an ideal tool and can be used by even a toddler.
The bottom line
Photographs are portals to our memories; it is a boon of technology that allows us to freeze time. We cherish and relive our memorable days through photographs, and such important things deserve to be treated with respect and care.
All these photo viewing tools help in doing just that. The tools correctly serve the need of a user and treat each photograph as it should be treated.
We hope this article came in handy to you when you were looking for some of the best photo viewer software that will do justice to your pictures. We hope you keep making more memories and live your best life to create some more amazing captures.
If you have any doubt running in your mind, ask us using the comment section below. I or someone from the CartelPress team will surely help you by reverting you back.