Do you love playing Clash Royale League (CRL)? Are you looking for some best clash royale decks of 2023 so that you can destroy the most number of towers? Well, here in this article, we have compiled a list from pros that claim that these clash royale decks are most popular and strongest in their experience and uses.
In the Clash Royale League, we all came across some top-class strategic play. In the game, you have eight cards to choose with which you have to attack your opponents in a real-time situation. The task here is to destroy the enemy towers and protect yours. The one who destroys the most number of towers in 3 minutes stands to emerge as the winner of the game. A good player has to make several smart decisions during the match; hence the cards you choose play an essential role in your performance in the game.
Here is the list of 11 strongest and best clash royale decks as of this year (2023):
Here we bring you the 11 best Clash Royale Decks for improving your game. We will also guide you regarding its proper use so that you emerge on the top in every game that you play. Here's our list:
1. Golem Deck
Here you have a simple plan. You have to build up a big Golem push, and that is something that your opponent cannot defend. However, it is a little challenging. Once you drop this Golem, you are done on elixir, and you may get a beating from the opponent. In this scenario, you have two options. One is to let them take your tower, and the second is to focus on your own while defending their push.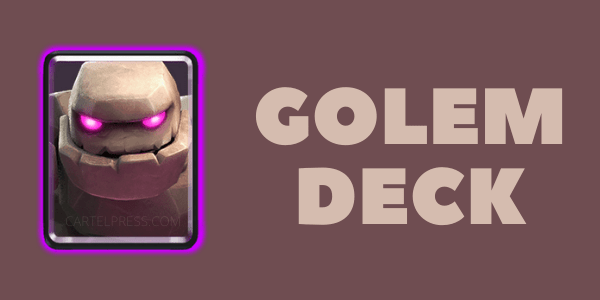 It calls for some quick and correct decisions as your opponent attacks you. If they drop a small push, it is easy, and you can counter it with a Mega Minion or a tornado to make your opponent roll down. You can make a smart decision to sacrifice your tower health for an elixir advantage. It will let you play a massive Golem push safely. You may also like to check these best GBA games.
This Golem Beatdown deck has three spells. Here you plan the Golem before double elixir time. It forces the opponent to defend themselves against the solo Golem. Alternatively, your opponents may create an offensive push. With this deck, you have to defend and make a few intelligent moves.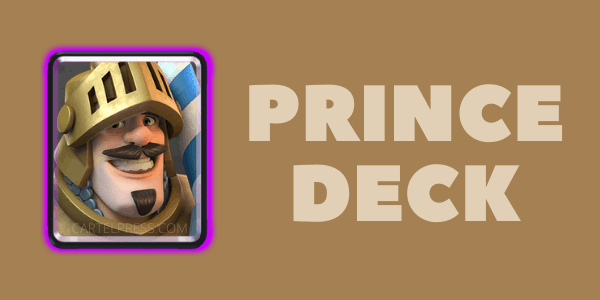 Many consider it the most fearsome tank in Clash Royale decks. The prince and the baby dragon pairing slow the Golem to have excellent support on-air as well as the ground. The prince serves as the protector for the Golem, and it helps well against the ground units.
The player can use the lightning to clear the path for the golem in defense of the troops and the buildings. Overall, it packs quite a punch in the game. This deck aims to ward off a lot many things in the game. Also, check these best Games Like Mass Effect.
3. Mortar Deck
You will find this deck in the top 100 on the ladder in Clash Royale. The deck is versatile in several ways. Its bait elements are goblins, bats, and rascals. These can be used as baits to log and surprise the enemy. When it comes to counter-attack, these goblins and bats are incredibly useful and let the player put pressure on the two opposing towers. With the offensive mortars, you can defend the battlefield with the help of a long-range of the dart goblin.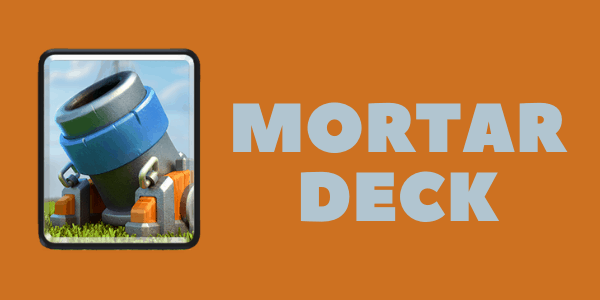 In many aspects consider, the mortar deck similar to the X-bow deck, at least in principle. Protecting the mortar is vital as it lets you attack the enemy continuously. Since mortar is cheaper than X-Bow, you can make your protection stronger with it. You may also like to check how to fix Err_Cache_Miss Error?
4. Night Witch Deck
This combination of Night Witch and Golems has nothing unique about it, but it is the Clone spell that makes all the difference. As your opponent gets exhausted due to a strong attack using Night Witch and Golem, a rapid Clone spell is all it takes to finish the job quickly and accurately.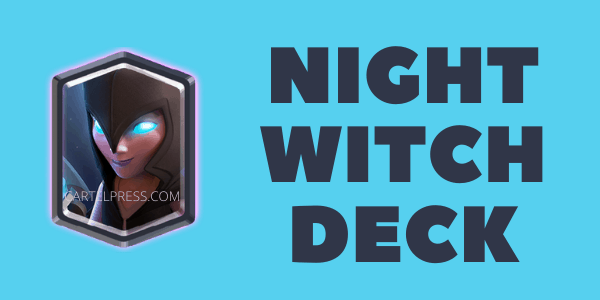 With Col Adrian's Night, Witch / Golen has the unique addition of the Clone spell, and that is significant for the game. Similar to other slow-paced Clash Royale decks, the strategy is to gain an elixir advantage using Elixir Pumps. You can surprise your opponents with more high-value troops, and it becomes too much for them to handle.
Together with the strong Night Witch Golem push and with support from Lumberjack, the spell does it work quite well. However, you have to bait your opponent's spells before you start with your Clone spell. Also, read this Grammarly review.
5. TSM VULKan – Graveyard Control Deck
It can be considered a set of cards that are genuinely well balanced. It has a tombstone that offers strong defense, whereas Valkyrie and Mega Minion are aggressive enough to destroy any opponent. It is a deck commonly used by the pros. The deck has everything that a player needs to stay on the winning side in the game.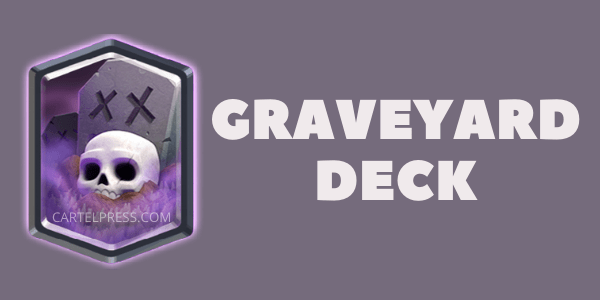 This Clash Royale deck has the combination of spells: Poison and Tornado, and that's what makes his deck genuinely stand out. Poison works well in dealing with hordes of troops, and along with the power of Tornado, very few cards stand a chance against this combination.
With the Ice Wizard, you gain access to greater control by slowing down the attackers. Then are the Graveyard and Cannon Cart cards that can be devastating for the opponents. Using this deck of cards demands patience as a player, use it wisely with a cool head. Also, read this mspy review.
6. Royal Giant Deck
It remains one of the easiest decks to play in the game. It brings you a solid defense both in the air and on the ground. If you leave apart the worries like Pekka, Golem, and Hog Rider, then shutting down X-bows and Mortars is like a breeze.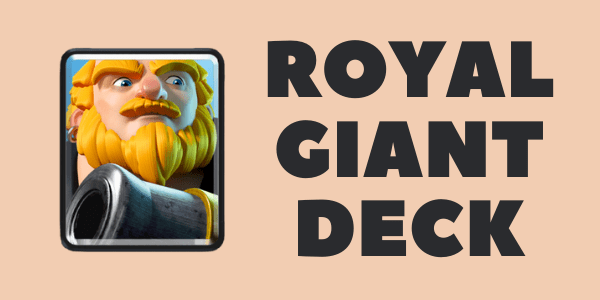 You can club your Royal Giant with Guards to protect him from the deadly blade of Pekka. Also, you should space out your units to avoid the Lightning Poison Value. For Versus Golem, deal it with a Royal Giant at the bridge in the opposite lane. It is vital here to protect your furnace so that it is available for the next push.
Also, do not play with your lightning before hitting these: Hog, Musketeer, Cannon, Princess tower, and Ice Golem. You can opt to replace Electro Wizard with Archers or Musketeer. Also, check out these best PS3 emulators for PC.
7. Hog Rider Deck
It remains your primary condition and a vital source of damage. You should use it along with Ice Golem to deal with a Hound Golem. You can do this in the opposite lane. You can also use it as a counter push alongside Skeletons, Firecracker, or with almost anything that remains with you at this stage. No matter how much you try to recycle him, it will be challenging to get a hog hit in 2x or 3x elixir.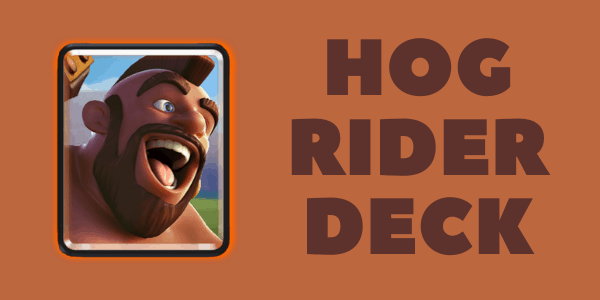 The Hog Rider is a fast and robust troop and costs you only four elixirs. It remains the popular way to cycle through your deck and, therefore, try using this card as often as possible. However, it requires a specific supporting cast. The musketeer and cannon provide you with affordable and reliable defense in case there is an offensive push.
With this clash royale deck, you have to play fast, and if you manage to think quick and efficient, then it will be the most reliable deck. Also, check out these best games like Skyrim.
8. Spell Bait Deck
It is one of the best meta decks available right now. For the players who like to exert a control on the battlefield by creating diversions and destroying the enemy towers, this deck suits the best. The strategy here with this deck is simple; it is a control deck to the core. It aims to counter the opponents' threats efficiently and to build small counter-attacks that chip away their arena towers.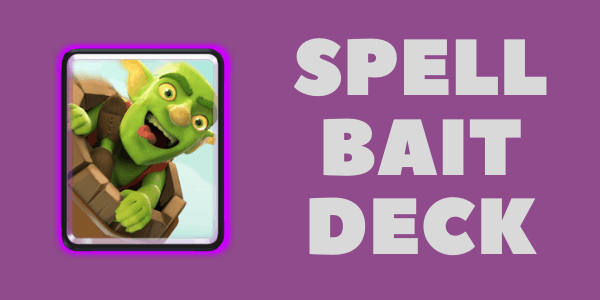 The deck has its share of spell bait cards, and these prove to be very useful as well. However, these can be countered by the Log or similar spells. When the opponents only have one or two spells in their deck, you can easily overpower them with your answers. Also, check out these best total war games.
9. Spawner Deck
This deck is about buildings like the furnace, goblin hit, barbarian hut, and tombstone. It spawns the troops, and as a result, it puts pressure on the opponents, and if you have the right strategy during the match, you will win in the end.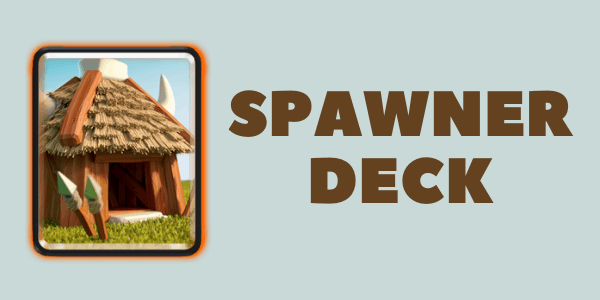 You can opt to surround these spawning cards with troops that can also spawn similar to the witch and night witch. You can use the lightning spell or fireball to improve the performance of this deck even further. The wizard or the executioner is the right choice. The deck keeps your opponent occupied continuously with the incoming troops. It is all a matter of one single mistake of your opponent, and the game is over. Also, check these best PS4 RPGs.
10. Giant Witch Deck
This deck is a good beatdown deck; it deals with the damage along with the Giant Witch and the Miner. Be alert while playing, and the Giant and the witch will work together like Jordan and Pippen. It will give you enough time to build up some elixir.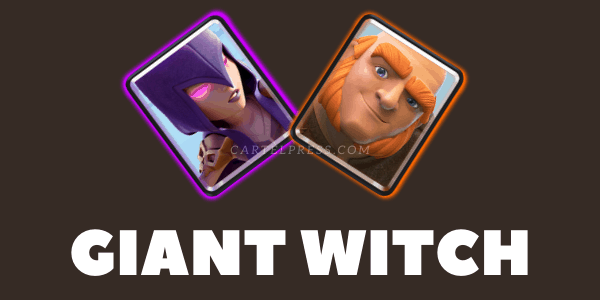 The strategy here is to chip away at the opponent's tower with the Miner Ice Spirit or Minion combo until 2x elixir. You can make a small Giant Witch during a 1x elixir. However, with a 2x elixir, the push is much significant.
When 2x elixir comes, start with a Giant behind your Crown Tower. Put a Witch behind and add Miner to the mix once the Giant is tanking. You may add the Ice Spirit and the Minions to the push. You may also like to check these best N64 Emulators.
11. X-Bow Deck
Consider it as one of the most difficult decks to play as it demands an excellent defense, and you need to recycle continuously. It also involves struggling against a few matchups, and a different strategy is required for each. It is best to play passively here till you find what deck your opponent is using.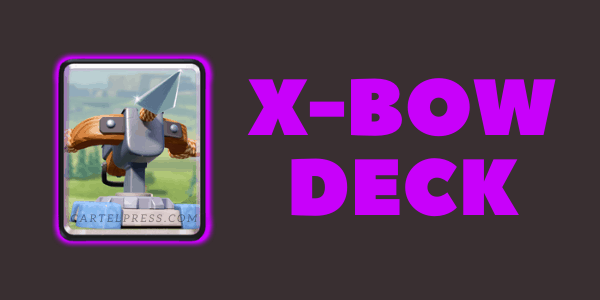 If you chose to be defensive, the exception remains against Lava Hound and Golem. It is best to keep the pressure on X-bow in the opposite lane when they drop their tank in the back. Here you just have to ensure that you don't over-commit as you go about defending your X-bow. It will let you have enough to protect their push. Just be a little careful as you play your Ice Golem. You can also replace the Log by Snowball. Also, try this warframe tier list.
The Bottom Line
The truth is that there are no best clash royale decks. All that you have to do is to find the right deck for you by raising the level of your cards. However, we compiled the list for you of the 11 best Clash Royale decks and strategies. These clash royale decks are used by several good players and will work for you as well. I hope you will like this article for sure. If you face any problem while using these clash royale decks builder, please let us know using the comment section below. Keep visiting CartelPress.com