Are you looking for the best sites like Alibaba? If yes, then you have landed on the right page. Here we are going to review the 11 best Alibaba alternatives. So, without any further ado, let's get started.
11 Alternative Sites Like Alibaba (Online B2B Marketplaces) 2021: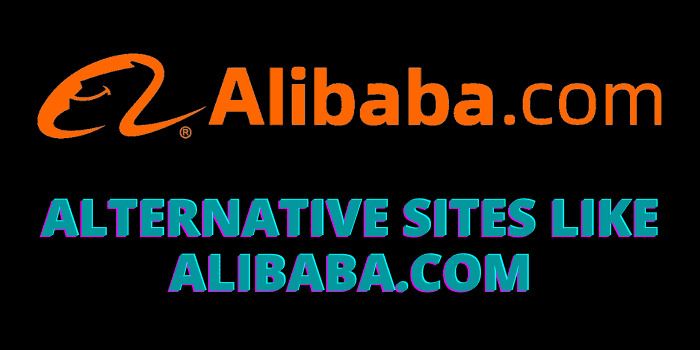 When Alibaba was launched back in 1999, nobody had thought that this Chinese startup would ever become the world's number one leading supplier. But Alibaba took the world by storm and gained a lot of popularity.
Even though the platform is so popular and very well regarded, that doesn't mean that it is suitable for everyone. Due to covid, the majority of suppliers have increased cost while not providing much value.
Therefore, if you are looking for B2B marketplaces to source inventory for your eCommerce store and if Alibaba is not your primary choice, then this article is going to be very helpful for you. Below we will share the list of 11 best sites like Alibaba that can help you source products for your inventory.
So, here we go:
Read | 10 Best Textsheet Alternatives (Sites Like Texsheet)
Made-in-China is one of the best websites like Alibaba or you can say the #1 alternative to Alibaba.com. We all know how beneficial the Chinese market can be for businesses running eCommerce stores. That is because the Chinese market offers the cheapest and value-for-money products that you can sell at a high margin.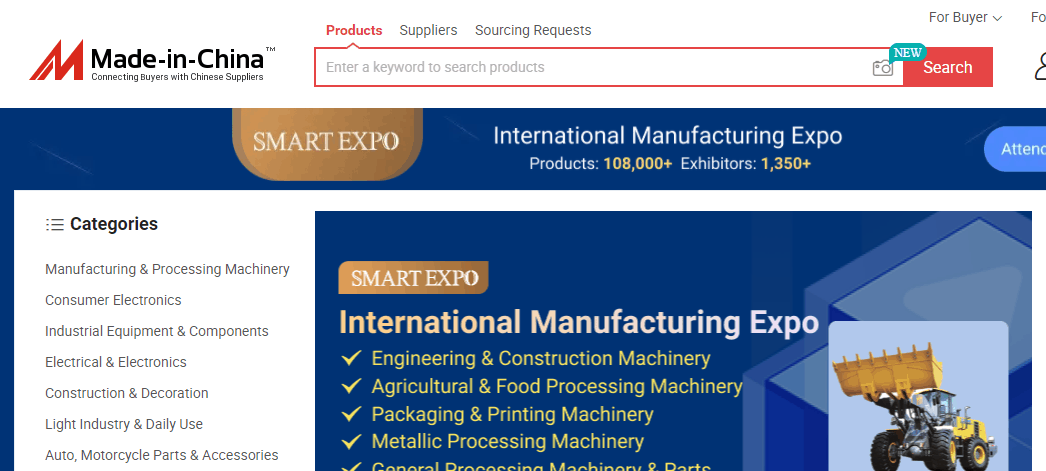 Made-in-China is the platform that facilitates Chinese sellers and worldwide buyers to connect and work in a friendly environment at the global level. Here you can find authentic information about a wide range of Chinese products, their suppliers, manufacturers.
The platform also lets you initiate a conversation directly with the suppliers. It is a multi-linguistic B2B platform that supports ten different languages. It makes the platform readily available for worldwide importers.
Global Sources is another China-based business-to-business wholesale marketplace that was established back in 1970. This platform helps to connect worldwide buyers to verified product suppliers from China and other Asian countries.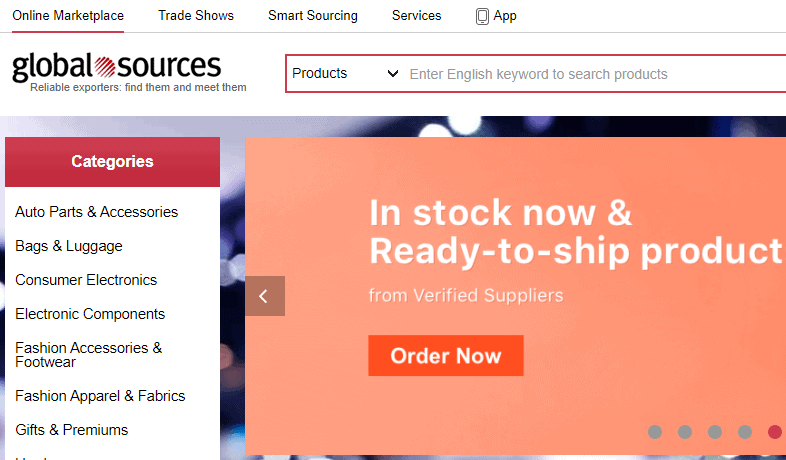 The best thing about the platform is that it features a wide range of product categories. You can connect with suppliers delivering auto parts and accessories, fashion accessories and apparel, hardware, electronics, and much other stuff. Here you can find products much cheaper than other marketplaces.
According to the reports, the platform boasts over 1.5 million worldwide buyers and importers. This platform is well known for gathering complete information about the companies and suppliers before listing products. Therefore, you can consider Global Sources as a trustworthy and reliable B2B platform.
Read | Kodi Alternatives: 10 Best Sites Like Kodi To Try
DHGate.com is a very popular Chinese B2B and B2Cservice on our list. It started in 2006, and right now, it boasts over 26 million worldwide enterprises and individual buyers with over 22 million listed products. The platform also has a massive over 2.2 million globally registered sellers.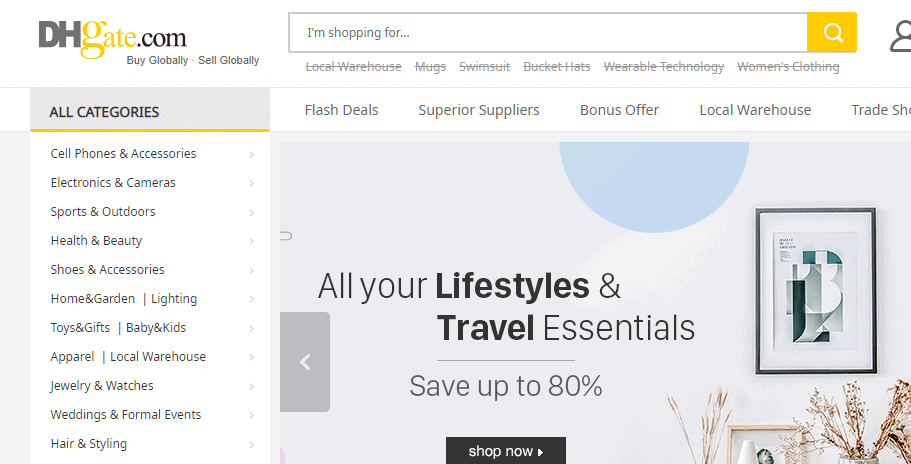 The website has a multilingual user interface and supports ten different languages. You can access the website in English, French, Italian, German, Arabic, Portuguese, Turkish, Korean, Russian, and Spanish. The multilingual feature basically opens the door for worldwide buyers. On top of that, they feature a dropshipping option as well.
The only downside of the website is that the website appears a bit sluggish. It does have a very intuitive UI, but the site breaks badly at a few points. But considering other features of the website, UI should not be a deal-breaker.
1688 is a directory of Chinese suppliers where you can get the details of all the reliable and verified Chinese suppliers, their products, and other essential information. The platform is also a baby product of Alibaba Group, but 1688 is more dedicated to catering to the local Chinese market and manufacturers than global importers.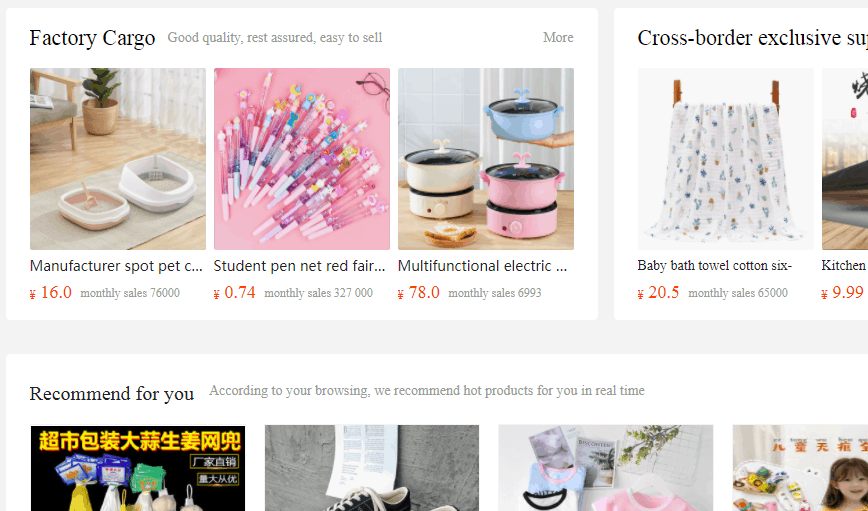 However, it is not a good Alibaba alternative for everyone. That is because 1688 mainly serves in China only, and their shipping facilities are only confined to China. Their website is only available in the Chinese language, and their support staff hardly understand other languages. Therefore, if you want to import goods from 1688, you will have to connect with other agencies and hire a middleman to help you communicate.
On top of that, you will be required to have a license issued by the Chinese government. But if you are from China, then 1688 can be the best alternative to Alibaba for you. That is because you can get products at a much lower price and that too without worrying about import duties and other stuff.
AliExpress is another platform that is associated with the Alibaba group. Unlike others, it is a B2C platform that primarily aims to facilitate Chinese companies to showcase their products to the world market. So that Chinese sellers can sell directly to foreign customers without the need of a middleman.
Yet, if you are a small eCommerce store owner, you can consider AliExpress as a worthy alternative for sourcing products for your eCommerce store. That is because, at AliExpress, you can get so many high-quality products at much cheaper pricing than some of your local suppliers.
However, one of the most interesting things that I got to know about AliExpress is that it does not allow native Chinese users to buy products from their website. Also, only China-based sellers are allowed to open a store on the platform.
Read | Grammarly Free Trial (11 Legit Ways) Premium FREE Trial
Wholesale Central is an entirely B2B platform directory that majorly serves US buyers. However, since it is a directory, it is not a criterion that you must have to be a US citizen, but the majority of suppliers and manufacturers on their platform prefer to deal in the US market. Therefore, it can be a good choice if you are a US citizen.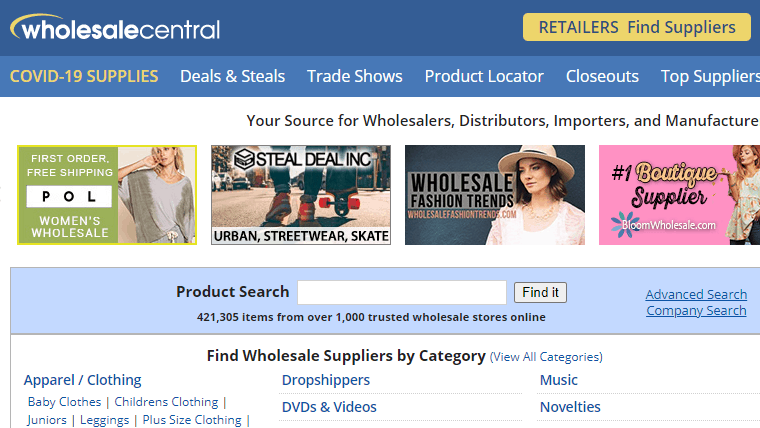 That said, this platform doesn't feature detailed product pages like other platforms on this list. Instead, when you click on the profile of a supplier, you will be redirected to the suppliers' website directly. That means there will be no intermediary between you and the supplier, and therefore, you can get products at affordable pricing.
However, it is the biggest downside of the platform as well. Even though the platform claims that it personally screens and verifies each supplier, you must proceed with caution. That is because in case if some issue arises, then you will have to sort it out yourself. The website would not help you with anything.
Read | 11 Best Sites Like Putlocker FREE Alternative Websites
If you are from India and looking for an Alibaba alternative, then IndiaMart can be a worthy option for you. IndiaMart is an Indian platform that offers both B2B and B2C trading services. The company was founded in 1999, and since then, it has managed to gather over 6.4 million local suppliers.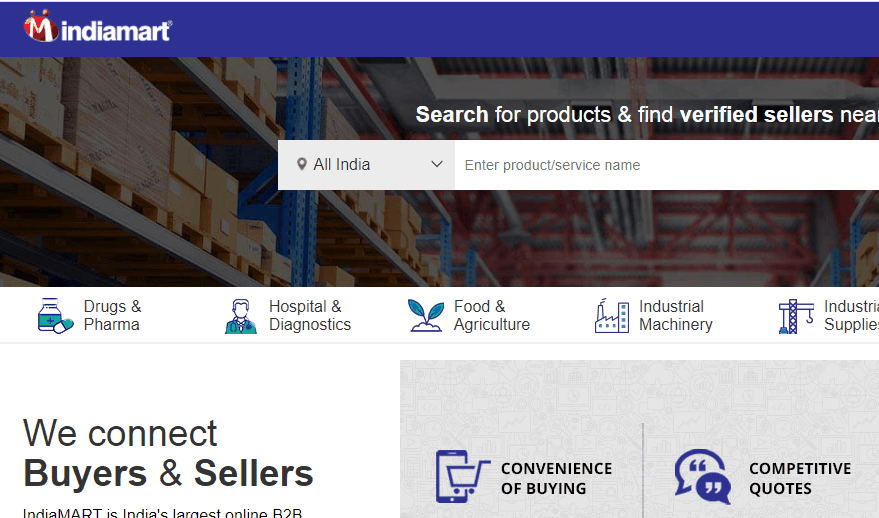 The platform allows you to filter suppliers nearer to your location, making it very convenient for you to connect with them. However, the platform only focuses on the Indian market, and therefore, if you are not from India, it is not an option for you.
Although the platform doesn't show detailed product details as Alibaba does, you still get enough information about the sellers and the product. Further, you can visit the supplier's website for detailed information about products.
eWorldTrade is a very popular online B2B marketplace. It is a global platform that mainly targets small to medium-scale businesses that need supplies for their stores.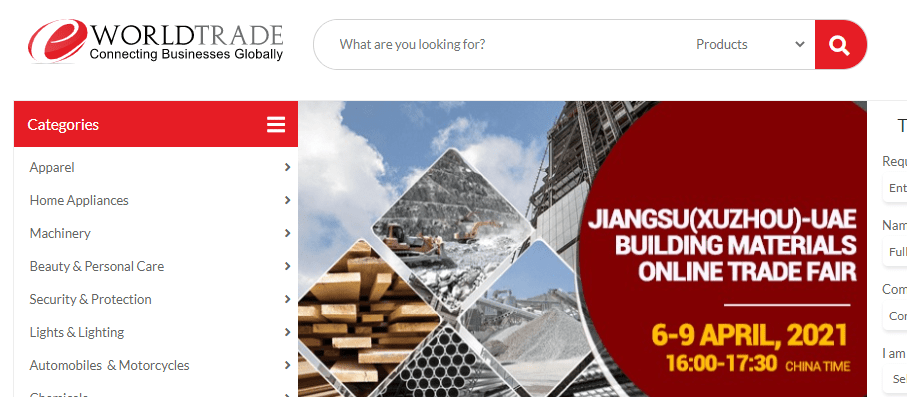 The platform has a very diverse product category, and they have millions of products in their catalog. The platform claims to offer transparent service and offer a safe, reliable, and fast trading experience.
However, a major drawback of the platform is that it doesn't let you see the product's pricing, even after registering on the platform. You need to request the supplier to share details about pricing and minimum order requirements.
Read | 15 Best Adult Chat Room Apps and Websites [Updated]
ExportHub is another B2B trading portal that aims to make international product trading much more convenient and comfortable. Even though the platform has worldwide users, the majority of the suppliers and buyers are from India, Hong Kong, China, Russia, and Australia.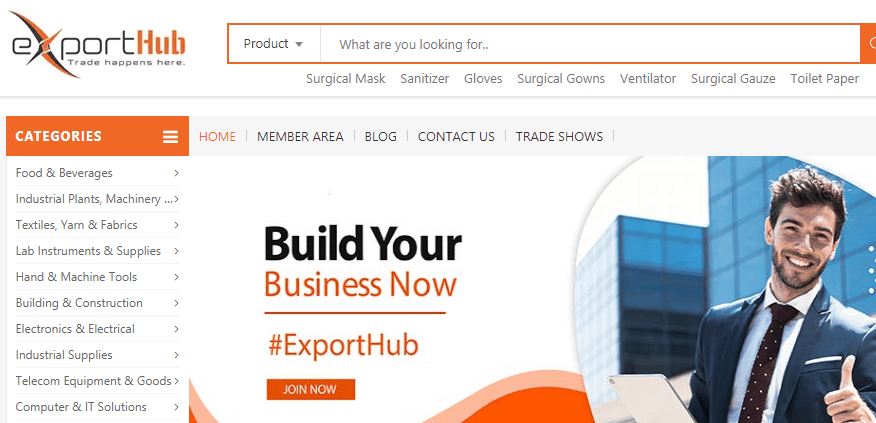 ExportHub lets its users deal in a vast category of products. However, the most popular categories on this platform are apparel, electronics and gadgets, chemicals, construction materials, and industrial machinery. The platform aims to offer high-quality service, and therefore, they run several product tests to ensure product quality.
The only drawback of the platform is its website. The design and layout look a bit crowded and sluggish. Still, you can get sufficient information about the products and the suppliers.
FGMarket can be an excellent solution for US buyers who want to import floral and gift-related items. Even FG on its name stands for Floral and Gifts. However, they do have a few other products in their catalog.

Unlike selling specific products, this Alibaba alternative directly connects buyers with the sellers. Basically, you can consider FGMarket as a directory of US-based suppliers.
FGMarket only allows US-based suppliers on their list. Therefore, if you are not from the US, it might not be a good platform. The only drawback of the platform is that their staff is a bit inexperienced.
Read | 7 Sites Like Grammarly – Best Free Grammarly Alternatives
The last alternative to Alibaba on our list is LeelineSourcing. LeelineSourcing is not a B2B or B2C platform; instead, it is a highly regarded Chinese sourcing agent. This platform basically checks your requirements and, according to that, connects you with the best Chinese suppliers.

LeelineSourcing is in the industry for over a decade now, and they are experts in sourcing products for different types of clients. Obviously, they will not do it for free, and they will charge a commission for it. But still, you will get products at a much lower price than the market.
On top of that, they will take care of everything, including the delivery, product quality, pricing, etc. therefore, if you are a beginner who has just started his/her eCommerce store, I highly recommend you trying LeelineSourcing.
The bottom line
So, these were some of the best sites like Alibaba available as of today.
Alibaba is one of the largest B2B platforms available on the internet that you can use to source products for your eCommerce or local store. But it is not the only platform, and you don't have to rely on it entirely. There are many other sites like Alibaba that offer high-quality products at a much lower price.
Obviously, not all of them are best and worth spending your precious time, and therefore, we decided to create this list for you. All the sites mentioned on this list have good reputations and years of experience.
With that said, here is the time to wrap up this article. If you have any questions, feel free to shoot them in the comment section below. Our team will try to answer all your queries ASAP.