Do you want to spice up your boring life? If yes, then you have landed on the right page. Here I am going to talk about the 15 best adult chat room apps and websites. These websites may come in handy to kill your boredom. Not only that, but you can also make some new friends. So without any further ado, let's get started.
15 Most Popular and Best Adult Chat Rooms in 2022: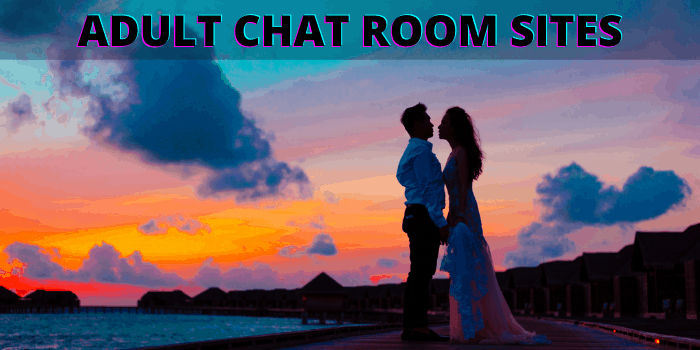 Not everyone is so social in real life. Most introverted people like me feel very anxious and awkward while meeting new people, but we can handle our anxiety behavior on the internet. Therefore, we prefer using talking over texts rather than meeting in real life.
If you are also an introvert but willing to get a hot fling, this article is going to be very helpful for you. This list of best adult chat room apps and websites contains some of the most well-known chatting platforms and some lesser-known sites that have much potential to stand among others.
Read | 11 Best Adult Mobile Games For Android (Kids Not Allowed)
#1. ChatRandom
Developed in 2011, ChatRandom is a freemium online chatting platform where you can connect with strangers across the globe and have a text or cam-to-cam chat with them. The best thing is that it doesn't force you to create an account. You can access most of its features just by visiting their website without signing up.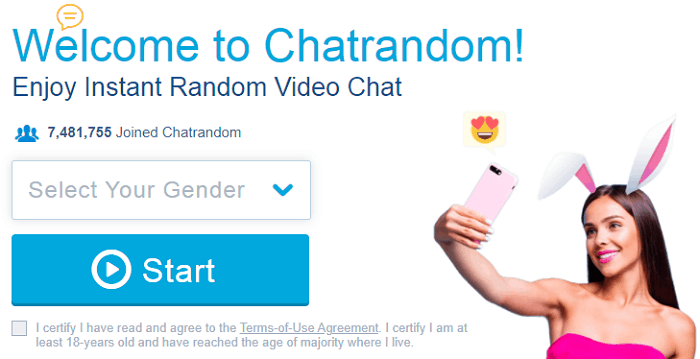 This adult chat room app basically offers a free roulette-type chatting experience, and as per reports, they attract over 35,000 daily online users from different chat rooms. To enjoy the platform's features, you just have to visit their website, and you will be instantly connected with a stranger to chat.
However, as I told you, it is a freemium platform; access to some features like filtering chatters by their gender or removing ads require you to join the platform and opt for a membership. It charges $4.99/week for this upgrade. Apart from the web-based platform, ChatRandom has a dedicated app for Android.
Website: Chatrandom.com
App: Click Here
#2. DirtyRoulette
DirtyRoulette is another freemium adult online chatting platform where users can connect and have dirty talks and sexting with them. Users can choose whether they want to go with text-based chat or cam-to-cam video chat.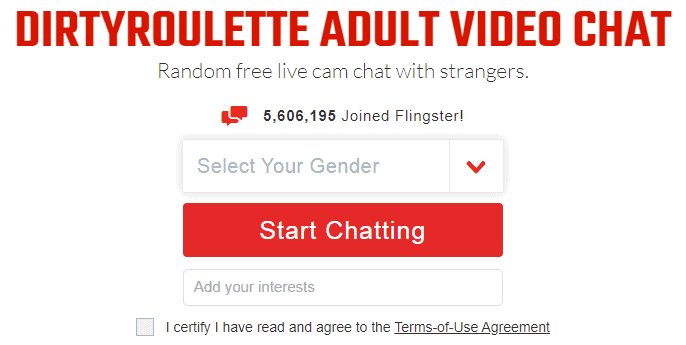 On DirtyRoulette, you can connect with strangers without even creating an account, making it an excellent choice for people who are concerned about their privacy. However, it does support a paid membership option that lets you remove advertisements, go to all-female chat rooms, and let you enter paid private shows.
According to the website, they have more than five million registered users, and thousands of unregistered users visit the website on a daily basis. However, the only shortcoming of the platform is that it is heavily crowded with men, and therefore, you would see many men stroking their private part on video chat.
Website: DirtyRoulette.com
App Link: Download
Read | 30 Best Manga of All Time (Most Popular) [Updated]
#3. Omegle
Omegle is one of the most popular online adult chat room websites available. YouTubers prominently use it to grab content for their YouTube channel by doing pranks or other different things. But Omegle is far more than what we see on YouTube.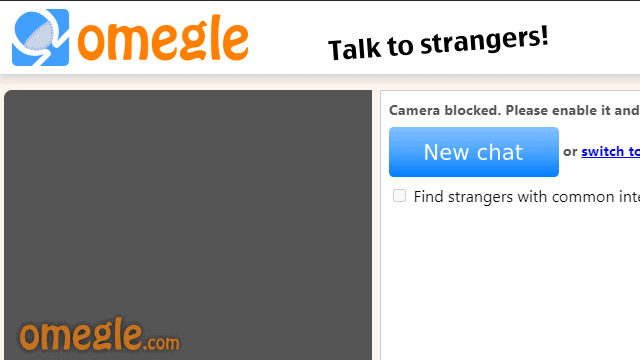 Omegle is an unmoderated adult chat room website where you can choose between one-to-one cam video chat and anonymous texting. If you are a camera-shy person, then you can select the texting option.
Since it is unmoderated and the platform is male-dominated, you are more likely to see guys holding their genitals. Therefore, if you plan to meet some females to talk to, you are going to have a tough time on Omegle.
Website: Omegle.com
App: Download
#4. iHeartGuys
Even though most adult chat room apps and websites mentioned here are male-dominated, if you are primarily looking to see or chat with gay models, iHeartGuys could be your perfect pick.

Male models primarily use this platform for live streaming purposes. The best thing is that you can join their live streaming without even registering on the platform. Although the platform promotes itself as a gay adult community, anybody with any sexual orientation can join it easily.
The good thing about the platform is that it features many chat rooms, and you can join them by registering yourself on the platform. Also, after registering, you can enable the one-to-one video chat as well.
Website: iHeartGuys.com
App: NA
#5. SlutRoulette
Like iHeartGuys, SlutRoulette is the platform where you can see female models waiting for random users to chat with. According to their website, they have over 1000 models available at any time you visit this website.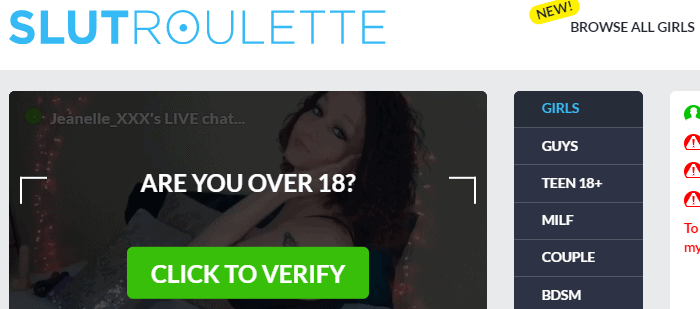 The platform is around for over a decade now, and the service they offer is really very impressive. Unlike other adult chat room websites, SlutRoulette has lots of girls, and the best thing is, you can join their live stream without even registering on the website.
However, to unlock some features like joining filtered chat rooms, you need to register for an account. The platform features a bunch of chat rooms like BBW, college girls, smoking, and more.
Website: SlutRoulette.com
App: NA
Read | 36 Best Manga Sites (FREE) To Read Manga Online
#6. StripChat
StripChat is another adult chat room platform full of female strippers, models, and amateur babes. Anybody can join the platform and connect with these female streamers. The platform looks like a replica of real-life strip clubs.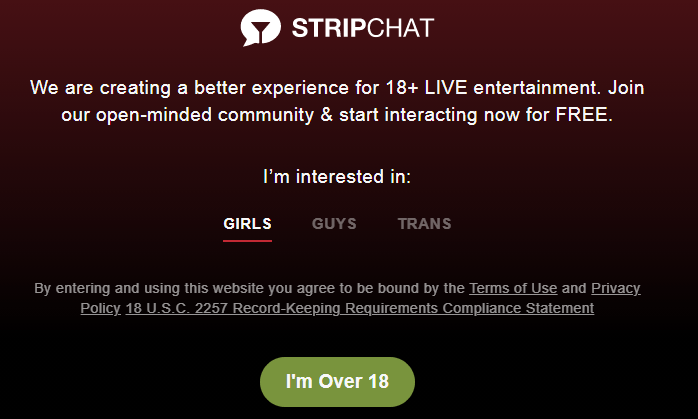 The platform features a bunch of different categories such as Petite, Athletic, BBW, and Curvy. Not only that, but users can also filter the performers according to their age and other fetish tags such as group sex, BDSM, adult toys, and anal.
You can continuously find free live streams to join; therefore, you don't have to spend bucks to have fun. However, if you register, you will get the ability to interact with other members and streamers.
Website: Stripchat.com
App: Click Me
#7. Adult Friend Finder
Adult Friend Finder is not basically a chat room. Instead, it is an entirely online adult dating platform where you can chat with strangers and meet them in real life. The best thing about AFF is that it helps you to find people from nearby locations.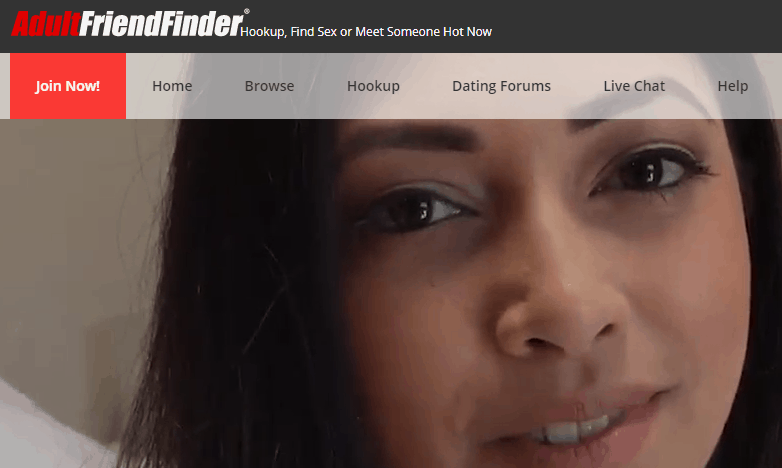 AFF boasts around 100 million users that increases the overall chances of getting a partner quickly. However, you need to create an account on the platform in order to interact with other users.
Even though AFF features a free membership plan, free users get minimal access to the features. even free users will not be allowed to reply to messages. Therefore, it becomes a must to opt for a premium membership plan.
Website: AdultFriendFinder.com
App Link: Download Here
Read | 11 Best Music Streaming Sites – Online Free Platforms
#8. Ashley Madison
Ashley Madison is another adult dating platform that can be used for sexting. Like AFF, it also allows you to find strangers nearby, connect with them and even go on a date with them. Users primarily use Ashley Madison for casual hookups, and therefore, you can go kinky on the platform without any hesitations.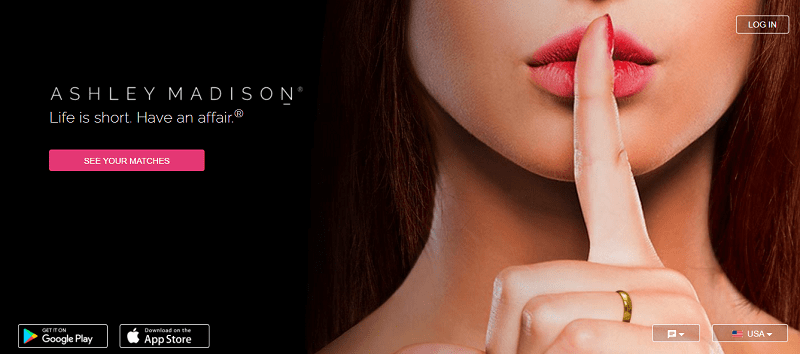 According to their official reports, Ashley Madison has over 80 million active users. Ashley Madison primarily promotes itself as a platform for affairs. Therefore, a significant majority of its audience ranges between the age group of 30-40.
Like any other adult dating platform, the platform is overly populated with male users, but male to female ratio is not that bad either. The platform has approximately 30% of female users, which is great if we compare it with other adult dating platforms.
Website: AshleyMadison.com
#9. Joingy
Joingy is another roulette-type adult chatting platform where you can interact with strangers and talk with them. Users can choose between the live cam-to-cam video chat option and the text-based chat option.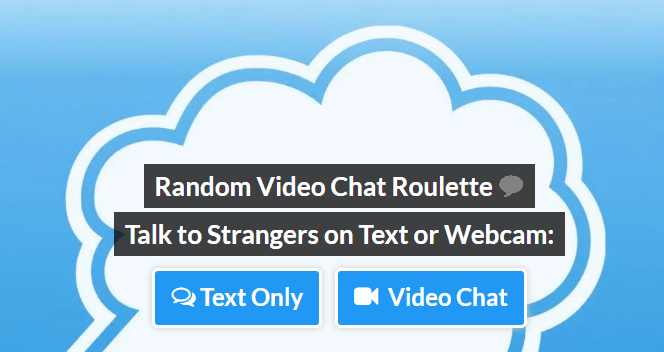 Even though both the options are great, the platform is unmoderated, and due to that, on the video chat option, you may encounter stuff that is NSFW. Therefore, be aware of your surroundings before going for the video chat option.
The platform features a bunch of separate chat rooms such as adult chat, teen chat, LGBT chat, and single chat sections. However, to join these chat rooms, you must be required to opt for a free membership account.
Website: Joingy.com
App: Android
#10. WhoaGirls
WhoaGirls is one more adult video chat platform where you can get lots of active girls looking for guys to interact and talk with. It has many chat room options available, and it is considered one of the best platforms for adult chat rooms.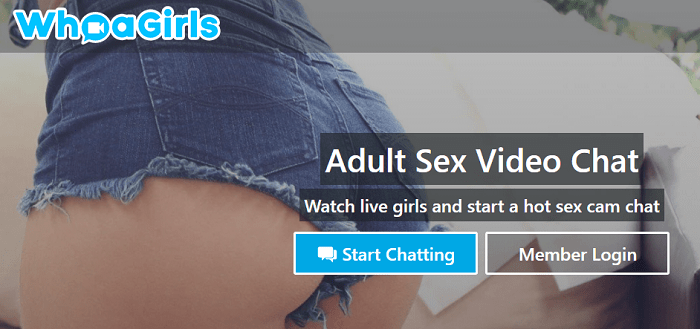 The platform gives easy access to all the users to connect with performers and other members. Also, the platform has many users and performers that help make new connections within a few seconds. That means you don't have to wait a lot if you don't like somebody you're talking to.
The thing that helps the platform to stand against others is the performers it has. A significant majority of performers at WhoaGirls are very interactive and enjoy talking to viewers. It is the main reason the platform is growing at a rapid pace.
Website: WhoaGirls.com
App: NA
Read | Grammarly Free Trial (11 Legit Ways) Premium FREE Trial
#11. SnapSext
As the name says everything, SnapSext is an adult chatting platform where you can connect with strangers and talk dirty with them. The platform is very much popular because of its matching algorithm.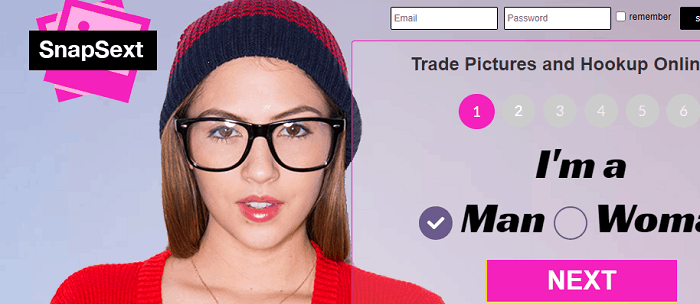 SnapSext has a pervasive user database that makes it very easy to find matches. However, if you have any problem finding a match, you can use the search option that will let you thoroughly search partners with similar likings and preferences.
Not only that, but there are so many different public groups and private chat rooms available where you can join and make new friends. You can find rooms according to your kinks and fetishes to make your chat experience more enjoyable. Overall, if you want to experience sexting, I highly recommend you to visit the SnapSext platform.
Website: SnapSext.com
App: Android
#12. Arousr
Arousr works similar to SnapSext, but the only difference is that, unlike SnapSext's monthly payment option, Arousr uses the credit system. However, Arousr is not like any other peer-to-peer chatting site. Instead, it uses chat hosts that manage all its users and talks with them.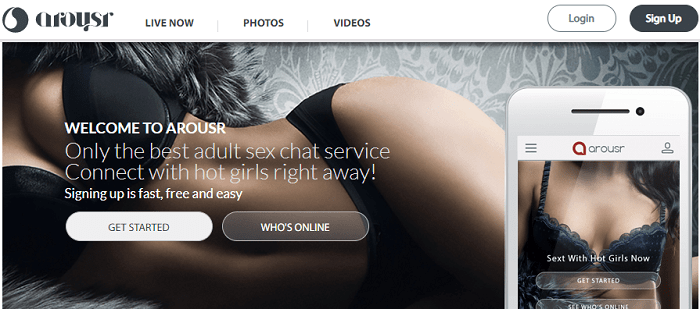 These chat hosts are professional female sexters, and they know what they are doing and what users are looking for. Therefore, they can take your sexting experience to a new level. Initially, the chat starts with a text-based conversation, but you can anytime request pictures and videos. But for that, you will have to use your credits.
Even though Arousr is an entirely paid platform, it allows new users to try its platform for free. For that, Arousr offers 100 free credits whenever a new user verifies his account. New users can use these credits to experience the platform, and once it expires, they have to refill these credits by making a purchase.
Website: Arousr.com
App: NA
#13. Flingster
Flingster is another highly regarded free video and text chat platform. Like ChatRandom and DirtyRoulette, Flingster also offers a roulette-type chatting experience where you can connect with strangers in no time.

Their website has over 5.5 million registered Flingsters, and let me tell you that thousands of users access the platform without even registering. The website even claims that they always have at least 150k active online members, which is enormous.
Apart from the free access, Flingster does feature a premium membership plan as well. It is priced at $6.99 a month, but it unlocks a broad range of features. For example, you get the ability to filter connections according to their gender and location. Premium users can also access the AR face filters to take their excitement to a new level.
Website: Flingster.com
App: NA
Read | 15 Best Torrent Sites (FREE) Unblocked Torrenting List
#14. MeetMe
Initially launched as a dating platform, MeetMe has totally transformed itself into an online chatting platform. Even though it still has some dating app features, it is now primarily used as a social media chat room.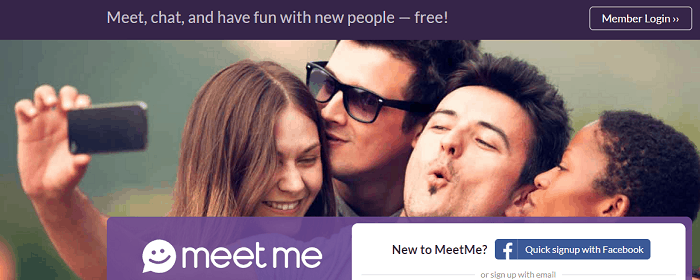 The platform boasts over 100 million downloads on Play Store, making it an excellent choice for people who want to meet strangers and make new friends. The app features many filters that can help you find both local people and people across the globe.
Even though the app offers a free account, it comes with lots of limitations. But buying coins can actually unlock new possibilities for you and help you get more recognition among other users. Not only that, but the app also lets you earn some coins that you can later redeem in real money.
Website: MeetMe.com
#15. LewdChat
The last adult chat room app on our list is LewdChat. It is a discord-type platform where you can join different channels and communicate with strangers. The best thing is that if you find somebody is interested in talking to you, you can shift from group messages to personal texts very quickly.

Even though it doesn't have a massive userbase like others, you will still get a lot of people to talk with. However, the platform's user interface seems a bit dead, and it looks highly inspired by Discord. Therefore, initially, it might feel a bit confusing, but you will get used to it with time.
Do note that it is not a video chat platform. It only supports text-based conversations. So if you are looking for an adult video chat room app, it is not an option for you.
Website: LewdChat.com
App: NA
Final Words
So, these were some of the most popular and best adult chat room apps and websites.
While creating this list, we tested all of the platforms mentioned above. However, we didn't exactly spend 100s of hours on each platform. We tested the platform for some time, read user reviews, compare it with others, and then created this list.
That said, here is the time to wrap up the article. I hope it helped you to find the best adult chat room for you. If you have any questions, feel free to shoot them in the comment section below. Our team will try to answer each of them ASAP.