If you are looking for the best Kodi alternatives (Websites Like Kodi.tv), then you are on the right page. In this article, I've listed the 10 most popular Kodi alternative sites to fulfill your needs.
What is Kodi.tv?

Kodi is an astounding tool to stream movies, web series, TV shows, live TV, etc. in one place. It is open-source software that comes in really handy while consuming online & offline content.
The support for third-party add-ons makes it more versatile to use for anyone. However, you need technical knowledge to operate Kodi with ease.
Do you want a better viewing and management experience for streaming?
If you're not a geek and want hustle free online streaming just like Kodi, you're at the right place!
We've compiled a list of 10 best Kodi Alternatives that you can use in 2023.
Here Are 10 Best Kodi Alternatives of 2023: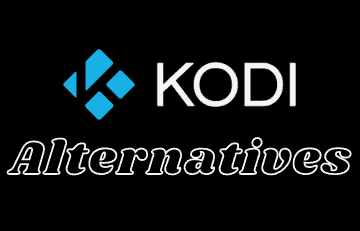 Mentioned below is the list of 10 best alternatives for Kodi to try in 2020. Go through them thoroughly and choose the best option according to your requirements.
Plex is certainly the best Kodi alternative that will find out. You get the best possible streaming experience with a plethora of features loaded in it. It is perfect for consuming content on different devices for client-server architecture. Being low powered, you can use Plex on various devices for negligible power required for it.

Plex offers you an amazing theatre application to manage your library with an easy to use interface. Like Kodi, you can browse through many channels to stream using filters like technology, news, etc.
You can opt for Plex's premium version to access additional features like movie trailers, wireless syncing, etc. It is available to use on Windows, Mac, Linux, iOS, Android, Android TV, Roku, Chromecast, etc.
You may also like to check these best sites like Grammarly.
#2. Open Source Media Center (OSMC.tv)
OSMC or Open Source Media Center is one of the best Kodi alternatives in the market. It is based on the same Kodi project. However, it comes with a better user interface that works flawlessly in TVs.

Being open-source like Kodi, the interface looks similar to that of Kodi. However, the elements are well polished and look better.
Another great part about OSMC is that you can use certain Kodi add-on on OSMC too. Additionally, it offers an exclusive app store for amazing add-ons for the platform.
It is capable of playing almost all the media formats available across the world. This will ultimately help you in playing files from various formats with ease.
You can optimize the media library according to your preferences. Along with that, you can browse through movie posters and other informative content that OSMC curates from the web.
Download OSMC from here!
#3. JRiver Media Center
Another great alternative to Kodi is JRiver Media Center. It is an amazing alternative If you are looking for an application that can be run smoothly on larger screens.

You organize your local media library, including TV shows, images, movies, music, etc. with ease. Are you addicted to the tabbed layout of Kodi? Well, JRiver Media Center organizes the library in similar patterns.
It brings along some amazing add-ons for scheduling, managing, and downloading data. The application supports YouTube, BBC, RadioTunes, and whatnot. However, you don't get a versatile choice of add-ons like Kodi.
JRiver allows you to uploaded unlimited music on their cloud-based serves. Then, you can play them from any device you want.
Download the JRiver Media Center from here!
You might also like to check these best sites like Rabbit.
#4. Emby.media
If you don't like Plex's media approach, Emby could be the best Kodi alternative you need. Emby is an open-source streaming app with a client-server approach.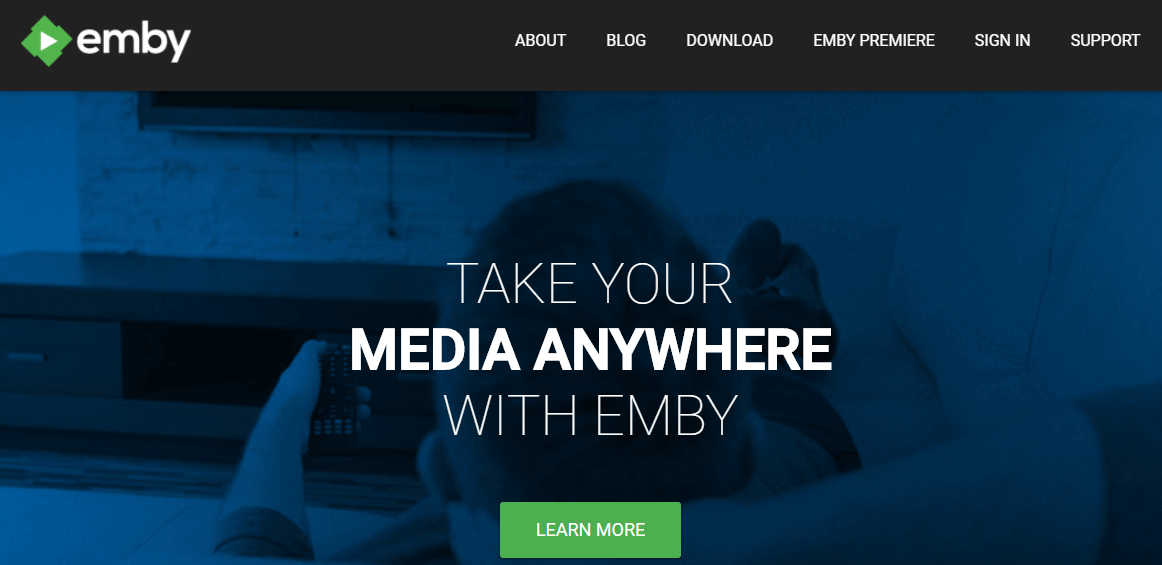 Streaming local media via Emby on different devices can be done in a couple of seconds with ease. Also, you can take advantage of the live TV feature available on your fingertips.
Not just that, Emby offers you parental controls, subtitle search, metadata editing, and whatnot. Did you fail to play a certain file? Well, not anymore! Emby will transcode the file and help you to play it on different devices with ease.
Emby comes with a Kodi add-on for extra support to manage the library. You can opt for the premium version of Emby to unlock additional features like backup and restore of server, cinema mode, etc.
Check out Emby from here!
Jellyfin.org is relatively new to the market. However, the amazing features and easy to use interface made it to our list. Jellyfin.org is an open-source app just like Kodi.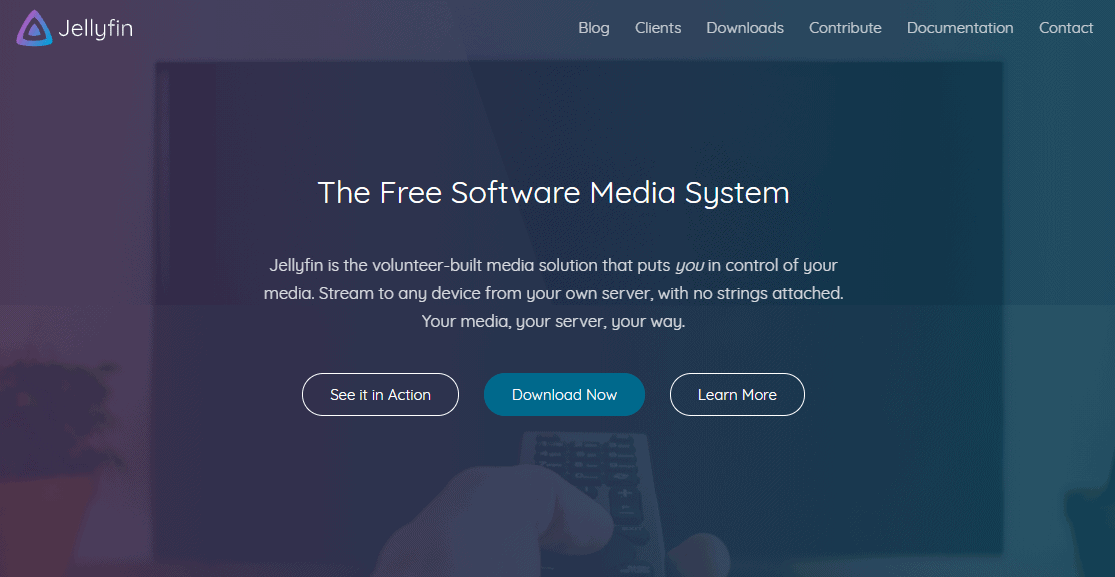 Thus, it got popular with ease amongst Kodi users looking for an alternative. The USP of Jellyfin is that you can manage your local library and host the server for the same simultaneously.
The user interface is pretty clean with minimal design elements, dark mode, and easy navigation. Not just that, you get a plethora of features to enhance your streaming experience. This includes full-screen navigation controls, subtitles with search, fast forwards, and whatnot.
Jellyfin.org is capable of streaming live TV too. You can record your favorite TV shows and series with ease using their TV functionality. Also, check out these best TextSheet alternatives.
#6. Stremio.com
The next Kodi alternative on our list is Stremio, which is an enhanced version of Kodi. However, you don't have to arrange the library manually. Stremio does it all automatically!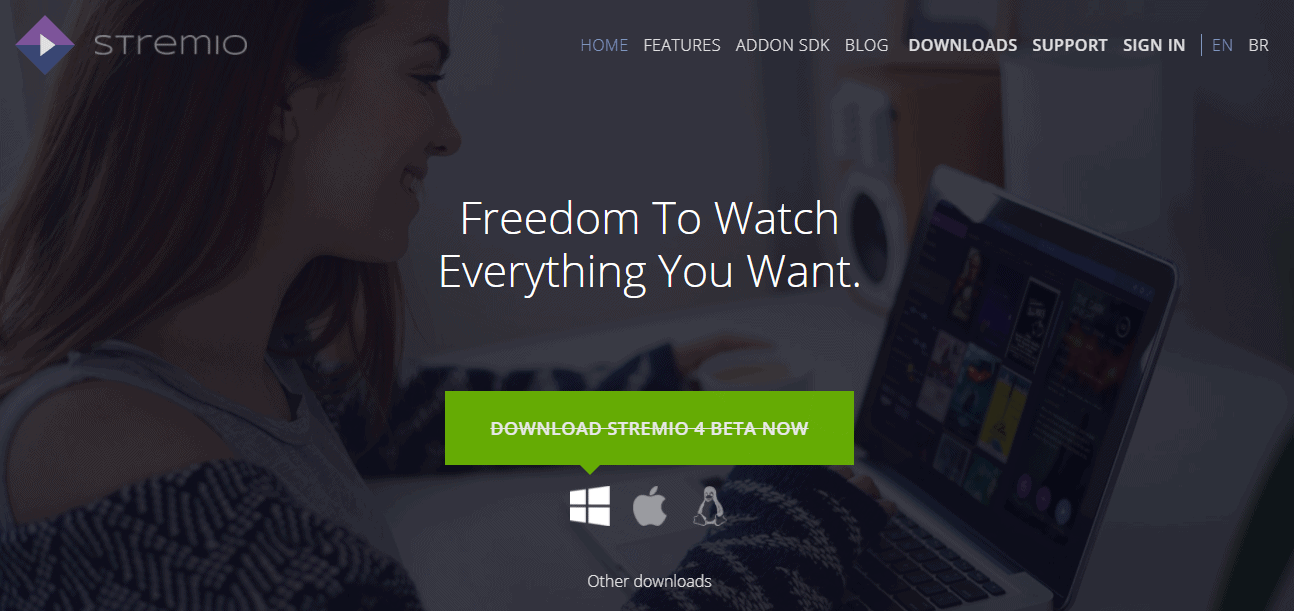 The best movies, TV shows, web series, YouTube channels, etc. will be listed for you based on your usage. Also, you create your library manually to stream your favorite content.
Stremio supports content from paid services as well as free streaming portals. Also, you can check out the seeders for almost every piece of content you stream. Not just that, you can try out the add-ons for various additional channels and portals. This includes Twitch, Vimeo, Popcorn Time, etc.
The best part is that Stremio notifies you every time a new episode is added to your favorite show. The modern interface, versatile platform options, and automatic add-ons make it a perfect choice. Overall, it is the best option if you are looking for good Kodi alternatives.
Check out Stremio from here!
#7. MediaPortal 2
MediaPortal 2, as the name suggests, is an amazing media player specifically made to improve the hardware in use. It can improve the performance of hardware components such as a Blu-ray player. DVD, etc.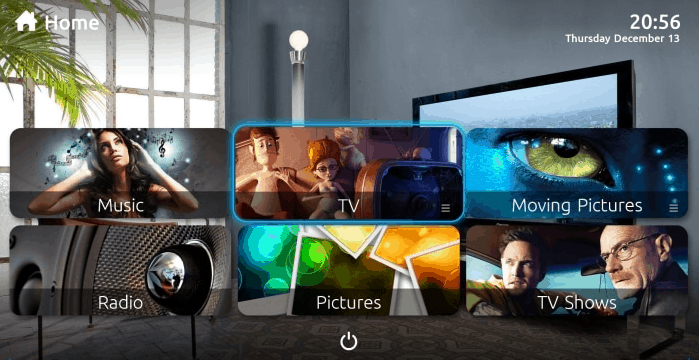 The information on movies and shows that you play through these devices can be curated from IMDb with ease. Also, you can save this data for further usage.
For the best Kodi alternatives, you must be looking for add-ons, just like Kodi. Well, MediaPortal 2 has got some amazing plugins to listen to the radio, news, etc.
All this media streaming can be controlled with ease over WiFi without any additional requirements. The only drawback of using MediaPortal 2 is that you can run in on Windows devices only.
Check out MediaPortal 2 from here!
You might also like to try these similar sites like Afdah.
Universal Media Server is the best choice if you are looking for an easy to use media player that is compatible with all devices. With an amazingly well designed minimal user interface, you can start streaming in a couple of minutes. With a versatile streaming format options for video and audio, the software can't get better.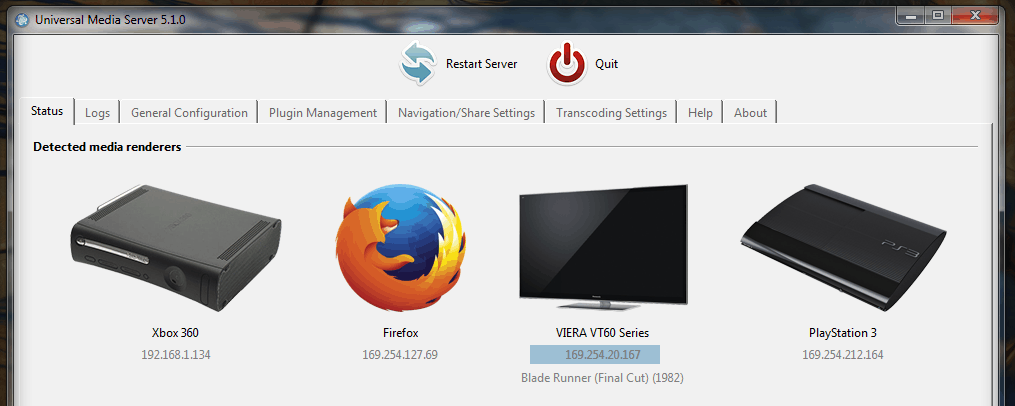 Well, it does get better! You can get the support for bit-rate adjustments, network speed analysis, and a customized web interface. This will give you complete support for almost all the devices you have.
Any device that runs on Java can run Universal Media Center with ease. To make it work on operating systems like Windows, you just need to install Java separately.
Check Universal Media Center from here!
Inspired by Plex, Serviio is one of the best Kodi alternatives that you can use in 2020. You can stream movies, TV shows, web series, music, games, etc. with ease. All this content can be streamed simultaneously on multiple devices like smartphones, PC, Xbox, Blu-ray, etc.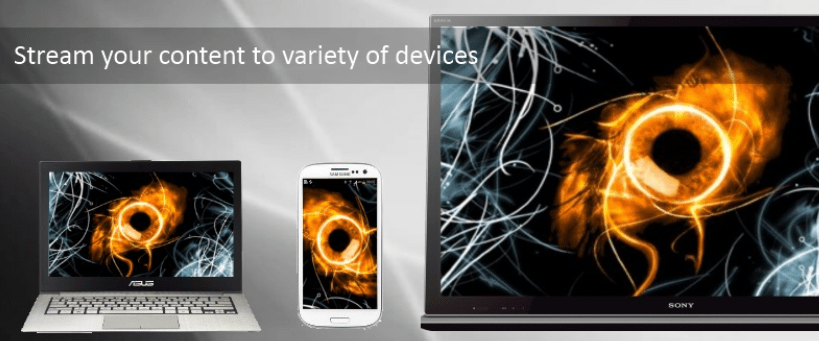 For multi-purpose usage and multi-device support, there is no better option than Serviio. It is because Serviio supports almost all the operating systems like Windows, Linux, Mac, etc.
The video and audio quality can be changed easily depending on the device you are using right now. Along with that, you can browse content from RSS feed, local media, including video and audio, and a webpage as well.
Isn't that amazing?
Also, try these games like Skyrim.
#10. Splash 2.0
Splash 2.0 is the last but not the least option. It has been in the marketing competing brilliantly for quite a few years now. However, the second generation of software is way better than the first one.

It is a free Kodi alternative equipped with battery optimization tools. You can stream videos in HD for free on different devices after converting the quality accordingly.
Although the user interface is pretty easy to use, you can customize it easily with various themes. Along with that, Smart Sleek allows you to play the videos from where you left them the last time. That's what makes the second generation better in its ways.
The only drawback of Splash 2.0 is that it is not available for Mac devices. Apart from that, it is an amazing alternate to Kodi.
Check out Splash 2.0 from here!
Final Verdict: Best Kodi Alternatives
Do you want a replacement for Kodi?
Do you want to try a new media player for free?
Well, the list of 10 best Kodi Alternatives mentioned above has pretty much everything that you would need.
Which one did you choose?
Which is your favorite media player for streaming?
Did we miss your favorite one?
Do comment your thoughts in the comment section below. For more awesome content, keep following CartelPress.com!