If you're an avid Sims 4 player, and now you're much bored and looking for some fun Sims 4 challenges to kill your boredom, then you're on the right page. I've listed more than 20 Challenges for the Sims 4 game. Scroll down this page to check out the list.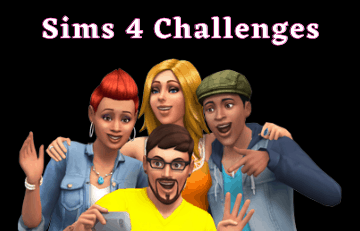 People of the 21st century get easily bored. There is so much to do, yet people are constantly hunting for new and better means of entertainment. In this scenario, putting up challenges for one another is a quick escape from boredom and is quite viral and trendy.
Sims 4 members have been making fan-made games or challenges since the series began in 2001. Sims 4 Challenges are a nice way to change up regular gameplay; instead of simply making a Sim and leading a normal life, you can play under a series of rules and goals and attempt and accomplish a specific result.
Best Sims 4 Challenges List You Must Try in 2023: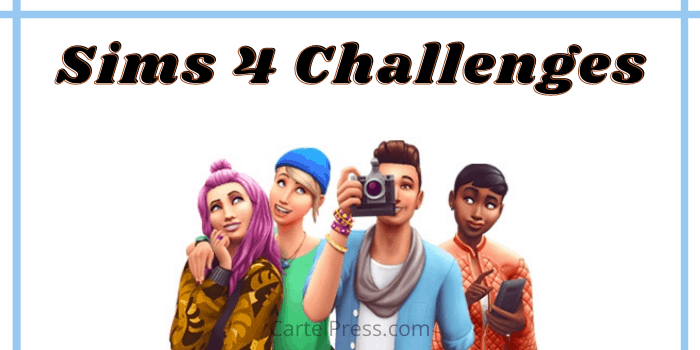 The Sims 4 has been a popular life simulation game for years, and one of the reasons for its continued success is the wide range of challenges that players can undertake. These challenges range from creating a legacy family and building a successful business to surviving on a deserted island and achieving a specific career goal.
Certain Sims 4 challenges are more challenging than others, but they are fun to incorporate a more traditional style of play in the sandbox game The Sims. Players have been meeting various obstacles for The Sims 4 since the day it was launched.
With so many challenges available, it can be hard to decide which one to tackle next. That's why we've put together a comprehensive list of Sims 4 challenges for 2023, including both legacy and other types of challenges, all of which are free and updated for the current year. Whether you're a seasoned Sims player looking for a new challenge or a beginner just starting out, there's sure to be a challenge on this list that will pique your interest and provide hours of gameplay.
Here are some of the funniest and most entertaining challenges for the Sims 4; try them if you're bored with the normal mobile or PC game and shuffle things up in your life!
1. Asylum Challenge
In this task, you must build an eight-sim household, every Sim must have a crazy attribute, and anything else must be random. Then, all you have to do is control one Sim and let the other sims do whatever they want.
The goal is to end this sims ambition to prove that they can leave the asylum. However, there are limits to what you can have in your home.
For example, you can only have five beds, but there are eight sims. You should only have one toilet. There are limits to the house!
Follow this link for the Rules.
You may also like to check these best Sims 4 Mods.
2. One Room, One Week, One Theme Challenge
Created by Rosemow at The Sims Forums, this challenge is slightly different from the others, but it also makes a lot of imagination!
Every week at The Sims 4 Forums, Rosemow updates the thread with the weekly challenge.
Rooms can be shared with the Sims 4 Gallery for other players to use and use in their games.
Many of the previous themes have been: A Fruity Bathroom, A National Holiday Theme Room, A Music Room, A Guest Lounge, A Health Room, Grandma's Home, and more!
To date, there have been over 118 weekly challenges!
You can follow this link to visit the challenge thread.
3. Prison Challenge
In the prison challenge, the character is arrested for a crime that they didn't really commit. You have to spend 12 hours a day in a prison cell from 9 a.m. to 9 p.m.
You have seven other inmates around you that you are not allowed to monitor or command. So now the trick is to escape prison for a crime you never committed!
Visit this page for Rules and Regulations.
4. Hotel Challenge
In the hotel challenge, the Sim can set up a hotel on their lot and lock up various sims in the room. You're going to roll a die to randomize the case for the sim day.
Events may be making allies, making enemies, waving with various sims, and even murdering them. It might get wild. You're also going to throw a die and figure out whether a player will stay in your hotel or run out.
For rules, you can view this page.
5. 100 Baby Challenge
What this challenge demand is to have as 100 children in a few generations as possible!
Once you have a child with a Sim, you can't have a child with the same Sim again. No cheating is allowed, but you can age your baby right away. Of course, you're going to have to give birth to a girl to continue the legacy.
The youngest girl born to the founder still has a legacy when the founder becomes an elder and can't give birth. If you don't have a girl, you lose!
This is a funny and stupid challenge that a lot of people love to play.
For rules, you can check out this page.
You might also like to check out this list of the best games for android under 10 mb.
6. 100 Heartbreak Challenge
This challenge is great for any player who needs a little spice of drama and not a simple, sober life. In the 100 heartbreak challenge, you're going to put your Sim on a long life span and try to break 100 sim hearts in your lifetime.
You can't marry any of the sims, try a baby, and follow a few other rules. Nevertheless, this could have been an enjoyable one, and many people enjoyed it too!
For rules, you can read this page.
7. Big Brother Challenge
The Big Brother challenge is based on the popular reality TV show where people are stuck in a house without access to the outside world. It is named "Bigg Boss" in India.
In the sims, you will fill a household with different sims, all of them with different personalities, and put them in a house with no mobile phones, TVs, computers, books, radios, etc.
You'll start eliminating sims throughout your gameplay until one is the winner, and the challenge comes to an end. The last one to stay during the eliminations is the winner of the show.
You can read the rules here.
8. Decades Challenge
The decades challenge is a lot like the legacy challenge because every century of legacy will be in another decade where there are certain rules that you have to follow to play in that decade.
E.g., you're going to start in the 19th century, where you can have wood furniture, and no electricity. You'll be able to meet new obstacles with each time frame, and it'll be fun before you reach the current time span.
Check out this link for the rules.
9. Apocalypse Challenge
The Apocalyptic Challenge, though, lets you use your imagination to imagine that you are living in the post-war era!
The year is 2015, and a catastrophic nuclear war has washed out all of Simtopia! Luckily, the Sim has survived in their bomb shelter, and the goal is to survive before they die of old age.
The shelter is a single space that can only provide necessities: the cheapest bed, bathroom, and kitchen appliances (stove, refrigerator, counter).
Your Sim can not leave as the rest of the planet is lost, and there is a chance of radioactive fallout. Also, if your Sims dies of something other than old age, you lose the challenge!
Find the rules here for this challenge.
You might also like to check these best Wii games.
10. Runaway Teen Challenge
In the runaway teen game, you take a teen sim and make them live in a lot empty, which means that there are no adult or elderly sims to take care of.
You've got to find opportunities for youth to make money without being able to get a job before you have at least a decent home.
You're not even allowed to go to school; if your Sim mistakenly goes to school, you can take them home instantly. Likewise, you're not supposed to talk to someone older than you, but you can talk to teenagers and children simply for fear of anyone listening to you.
Get a list of Rules here.
11. Bachelor or Bachelorette Challenge
Bachelor or Bachelorette Challenge is much like a TV reality show that's very popular and spoken about on the social scene all the time.
Basically, the challenge aims to get your Sim to fall in love with one of the contestants and have a wonderful life with them at the end of the game while slowly deleting sims every three days.
Click here for the Rules!
12. Disney Princess Challenge
The Disney Princess Challenge is fun for any Disney fan so that you can play in the lives of some of the Disney Princesses of various generations. You begin with white snow, then cinderella, and so on.
You will find cool custom content for these Disney princesses to really make them look as they do in the film. For each doll, you will have different options to pick from and items to complete before you can move on to the next level.
For Rules, Check out this web page.
13. Bloodline Challenge
This challenge is part of a series of Sims 4 challenges that are really focused on the plot and can be very fun to mix it up. Essentially, the goal of this challenge is to make a single sim live ten generations as the ruler of the kingdom.
You've been given different things for each age, and when you have kids in your home, you play until they're a young adults, and then you have to get rid of them.
For Rules, check this page.
14. Bad blood Challenge
For all the Taylor Swift fans out there, this could be a fun experience for you. In this game, you have to build a sim, get a best friend, turn the best friend into an opponent, and get a team.
This is a talent-winning game and one that offers you various sims of different ability levels, so you will be able to battle your new opponent and bring an end to the game.
For Rules, visit this web page.
You may also like to play these best browser games.
15. Block Party Challenge
Any Sims 4 player who's a huge construction fan would enjoy this opportunity. Basically, you're joining one of the base game worlds, and you're demolishing every single lot in the world. Then, you're going to restore the whole planet yourself with a few basic specifications!
Click here for the official rules!
16. Build a City Challenge
The Build-A-City Challenge (also known as the BACC) is a rather tricky challenge that combines typical heritage-style gameplay elements of building or creating a city of your own in the game.
You start with a certain number of sims by using a randomizer at the start of the game.
If you advance your goals, you can unlock more rewards, jobs, CAS, Sims, etc.
The challenge offers you universal control of the environment you play in the control of all households to accomplish your goals! When you cross the limit of 50,000 points, you win the challenge!
You can read the official rules here.
17. Astronaut Legend Challenge
This mission is all about inspiring future astronauts to achieve their full potential. You're going to get a young adult sim who's a genius and a little clumsy.
They're not allowed to get home because they wasted all their household funds on a rocket ship, and then you're going to follow any of the rules outlined to learn the expertise to move on to the astronaut profession.
Read the official rules on this page.
18. Masterchef Challenge
This challenge is based on a great Food Network program, Masterchef. You're going to have eight sims in the house, three judges, five contestants, and you're going to have them do a variety of challenges to see who the best chef is.
They will both work and participate in the same building, and if you choose, they will have sexual experiences.
Check this link for the rules!
19. Homeless Challenge
In this challenge, you have to develop a single Sim-they can be male or female and have whatever characteristics you choose. Then, buy it and shift it to a vacant lot. Then, using cheats, get rid of all their money.
Your Sim can't have a career but can get cash by farming, fishing, gardening, digging through garbage, begging other Sims for money, writing books, playing music, drawing, or some other hobby.
In the beginning, they're going to have to use public toilets and sleep on park benches before you hit the section of the mission that helps them to start building a home. Of course, you're going to need enough money to do that, too!
You can read the rules of the Homeless challenge here.
Recommended Read: How To Optimize Windows 10 For Gaming?
20. Nomad Challenge
In this challenge, your sims are never able to get an actual job in the nomadic challenge. So instead, they've got to move into a vacant lot to start digging.
Your goal is to complete the collections, have a beautiful garden, and create a museum to display your collections.
Read the rules here for Nomad Challenge.
21. Wolf Pack Challenge
You have one model in this challenge: a pack of puppies, Six puppies, and one poor raccoon. You have to survive off the land (collection, fishing, etc.), and you should send dogs to hunt for treats.
You want to keep working on accumulating all this until you have a home worth 50,000 simoleons.
Go to this page for the Rules.
22. Clone Challenge
In this challenge, you're going to build a sim that you love, upload it to the gallery, and then live your life.
And, after their life is done, you will start saving a brand new life and taking another life journey and doing something totally different.
This is so interesting, so you can play games that you never want to do. For example, you may have a single sim that ages alone, a family of six children, or a sim that a cow plant eats.
Follow this page for the Rules!
The Bottom line
With some Sims 4 challenges harder than others, some more creative, some more time taking, and some more complex, if there is one thing that's certain with Sims, you're sure to have fun playing the game.
From thousands of player-made challenges available to take on, you can find which one is scintillating to you and stick with it!
The Sims 4 challenges mentioned above are the most popular among the masses, and you're sure to be left wanting more every time you play it.