Here in this article, I am going to share some easy tweaks that you can follow if you are wondering how to optimize windows 10 for gaming. Follow these simple tips to optimize your Windows 10 PC for gaming purposes.
No doubt, Windows 10 is the most popular operating system around the world. This latest iteration from Microsoft is very well designed to fulfill all the needs of users.
Since it is one of the most widely used operating systems for gaming, game developers primarily design their games to run smoothly on Windows 10. But it doesn't matter how well optimized your operating system is — if you are not using it the right way, you might face lags and stuttering.
To help you unleash the gaming performance of your Windows 10 PC, here we are going to share some optimization tips with you. If you follow these methods, you can make your games run faster and get better frame rates.
You may also like to try PUBG Mod Apk (Hacked)
These methods can be easily applied to both Windows 10 laptops and PCs. So, without any further ado, let's get started.
10 Simple Tweaks to Optimize Windows 10 For Gaming: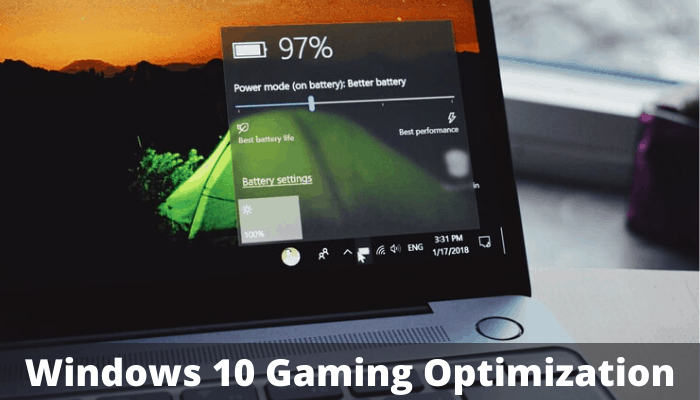 Here are my favorite walkarounds that you can follow to enhance your overall gaming performance and get stable frame rates:
1. Update Graphics Drivers
It can be a debatable point, as many people believe that updating graphics drivers can sometimes introduce new bugs to your PC and ruin your overall gaming experience. I agree with that to a certain extent because the programmers' team behind those big giants like Nvidia and AMD are humans.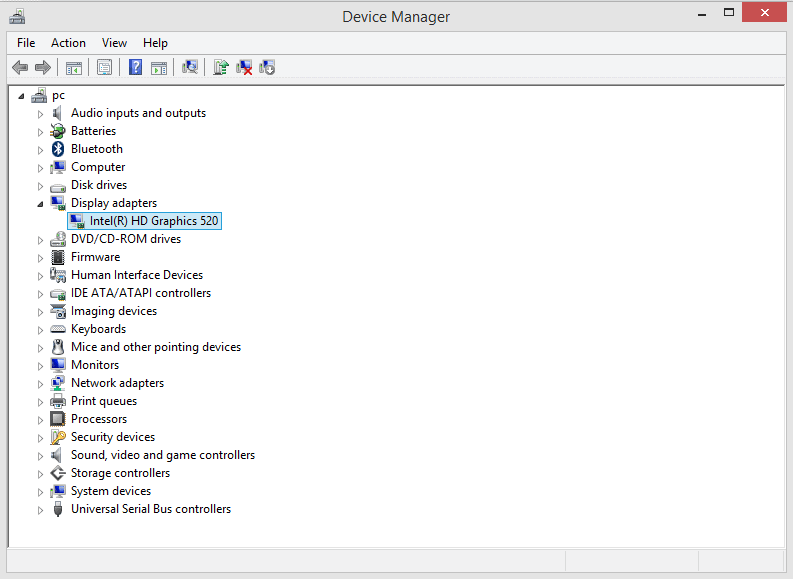 There are pretty good chances that they might make mistakes. But the chances for those mistakes are sporadic because a driver update releases after getting approved at multiple levels of testing.
Even at a point, you could have a buggy and continuously crashing graphics card because of outdated drivers. The only solution at that time to get rid of such issues would be upgrading your graphics drivers. Also remember, most of the graphics drivers' related updates are usually bug fixes by the developers.
Unfortunately, the Windows update center does not update graphics drivers automatically. So, you have an option to update them manually.
To update your graphics drivers, you have to follow these steps:
Right-click on This PC >> Click on the Properties option.
Now, select the Device Manager and click on the Display Adapters.
Now, Right-click on the available option and then select the update driver software.
This is how you can easily update the windows 10 graphic driver for a smooth gaming experience.
If you are using an Nvidia's GPU, go to their official website and download GeForce Experience.
It is a companion app for Nvidia graphics cards that let you know about the latest drivers updates and helps you optimize your graphics setting according to the game.
Similarly, you can download AMD Radeon Software Adrenalin for AMD GPUs to easily update graphics drivers.  Also, download and use these best ROMs.
2. Enable Game Mode
In the recent Creators Update, Microsoft introduced a new feature named as Game Mode for Windows 10. Basically, when you enable this function, your OS will prioritize GPU and CPU resources to give you the best stable gaming performance.

It also stops programs such as Windows Update and other background processes so that you can have more GPU cycles and CPU threads to run your games smoothly.
Do remember if you are using Game Mode on a laptop, it will use a hell lot of battery life, and you will notice a terrible battery performance.
In that case, I suggest using it only when you have your adapter connected for power supply.
To enable game mode, you have to follow these simple steps:
Open your start menu and click on the Gear icon to open Settings. You can also use the shortcut key "Windows Key+ I" to open Settings.
Now, click on the Gaming tile and then from the sidebar menu, select Game Mode.
Here, you have to toggle the button ON to enable the Game Mode.
Once done, your PC will start managing the resources to offer you the best optimum gaming performance.
3. Change your power plan settings for high performance.
By default, Windows set a balanced power plan for all the PCs and laptops. A stable power plan is suitable for people who use their PCs and laptops for regular work.
But if you are a gamer, then using a "high performance" power plan can help you improve the in-game performance.
But remember, if you are using a laptop, make sure you have your power adapter plugged in.
A high-performance power plan will consume too much energy, and if you don't connect the power adapter, then your laptop's battery will drain out soon.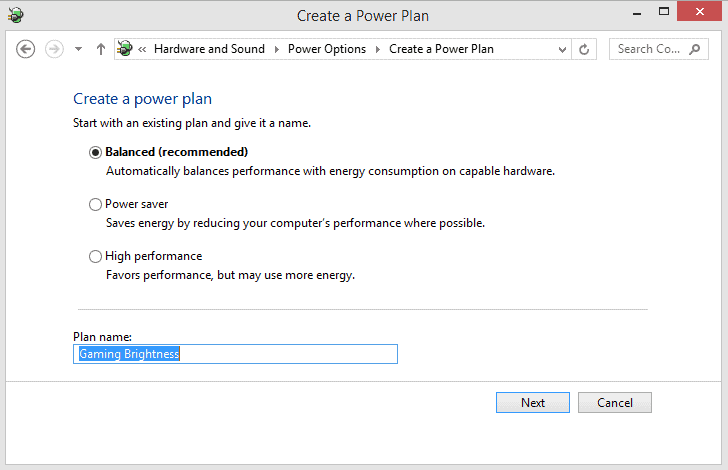 To use high-performance power plan, follow these steps:
Open your start menu by pressing the Windows Key on your keyboard and click on the Gear icon or press "Windows Key+ I" to open Windows Settings.
Now, click on the System tile and from the sidebar, select Power and Sleep option.
Click on the Additional Power Settings and, from the left pane, choose to Create a power plan option.
Now, select a high-performance option here and give this plan a name.
After that, save and choose this power plan to get higher performance from your PC/laptops.
Don't forget to switch the power plan back to balance after you are done with gaming.
You may also like to check out these best laptops under $500.
4. Optimize Visual Effects of Windows 10
Windows 10 uses visual effects to offer a smooth graphical user interface. Even though it does not make much difference on a high-end computer, if you own a budget PC/laptop, it can help you free up some GPU resources for your gaming.
Do note that making such changes in visual effects will make a significant difference in the overall UI and the graphics of your PC might look crappy. In that case, you can switch settings back to regular after playing games.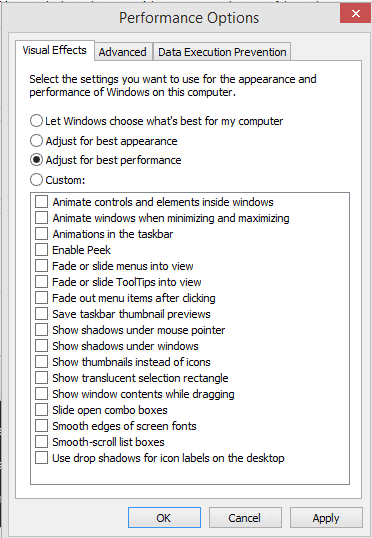 Follow these simple steps to optimize the visual effects of your Windows:
Right-click on This PC icon and select properties.
Now, from the left sidebar, choose Advanced system settings.
After that, from the Advanced tab, click on Settings under the Performance section.
Here, it will show you multiple options under the Visual Effects tab. Click on Adjust for best performance, and then apply the settings.
5. Disable Nagle's Algorithm
Nagle's algorithm was introduced to concatenate smaller data packets to increase the overall efficiency of TCP/IP network connection.
Even though it is advantageous, it affects the internet connection and makes it less stable. If you have this algorithm enabled, then you might face latency issues while playing competitive online games.
If you are an avid gamer, then you can disable Nagle's algorithm to boost your network performance while playing online games.
Disclaimer: Changing registry files can do severe damage to your OS. So, understand the process carefully before proceeding and make sure to create a backup of your registry so that you can restore if something mishap happens.
To disable Nagle's algorithm, you must have your IP address. To get that, follow these steps:
Press Windows Key + R to open the Windows Run Box.
Now, here, type PowerShell and hit enter to open the Windows PowerShell tool.
Here, you have to type ipconfig and hit enter.
It will show you a few details of your network connection. Look for the IPv4 address and copy that to Notepad.
Once we get the IP address, we are ready to disable Nagle's algorithm.
Again, press the Windows Key + R button to open the Windows Run Box.
Type Regedit and hit enter to open the Windows Registry Editor.
Click on the HKEY_LOCAL_MACHINE and visit the following path:


\SYSTEM\CurrentControlSet\Services\Tcpip\Parameters\Interfaces

Here, you will see a bunch of folders. You have to visit each of these folders until you find the one that has DhcpIPAdress associated with your current IP address.
In this folder, you have to create two new values. For that, right-click on the folder and choose New – DWORD (32-bit) value.
For the first value, name it TcpAckFrequencyand set value data to 1.
Similarly, for the second value, name it TCPNoDelay and set value data to 1.
After that, save and apply all the settings, and it will disable Nagle's algorithm on your Windows 10 OS.
6. Improve Network Performance
As I already told, the network plays an essential role in online gaming. Along with disabling Nagle's algorithm, I suggest you improve your overall network performance.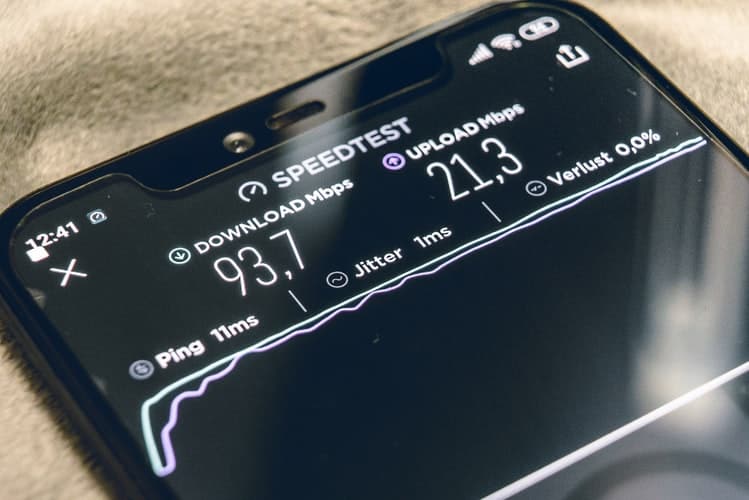 To start with it, I suggest you check whether you have a stable connection or not. If your connection is unstable, then try to upgrade to a stable wireless network.
Consider using a high-quality router that has rated good for gaming performance. Also, switch all your network connections to the 5Ghz band.
If you cannot upgrade your network, try removing obstacles that slow down or interrupt your network connection. If you are using a WIFI connection, either switch to an ethernet cable or use repeaters to boost your Wi-Fi___33 signals.
Don't miss these best laptops under 300 dollars.
7. Install DirectX 12 (The Latest Version)
DirectX is an API tool developed by Microsoft that communicates with your PC's hardware components. It is designed to manage tasks related to 3D and 2D graphics rendering, video rendering, and playing audio files on Windows.
The latest version of this software tool is DirectX 12, a lot better in performance than any of its predecessors.
Using this latest DirectX 12 tool can improve your CPU's performance, getting stable increased frame rates, improving graphical effects, and, most importantly, lowering overall power consumption.
In a few tests, DirectX 12 has shown up to 300% better gaming performance than DirectX 11. That's why I will always suggest you go with the latest DirectX version to boost your PC's overall performance.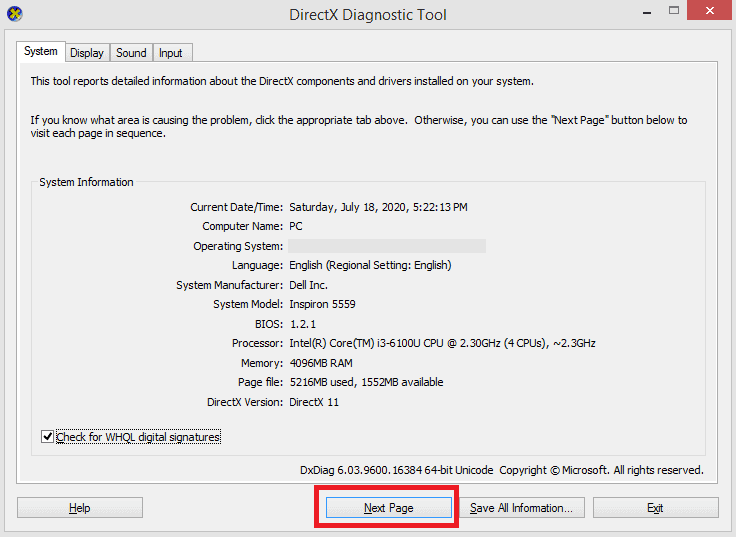 To check which DirectX version your PC is using, follow these steps:
Press Windows Key + R to open the Windows Run Box.
Now, type dxdiag and hit enter.
In a few seconds, the DirectX Diagnostic Toolbox will appear.
Check if your PC is running DirectX 12 or not. If you don't have DirectX 12 installed, you can update your Windows, and it will install the latest version of DirectX on your PC.
If you don't want to update your Windows, you can manually download and install DirectX 12 from the internet.
8. Defragment your Hard Drive
As we continuously use different applications and files, our PC's data files become fragmented and get spread all over our hard drive. It can lead you to a significant hit in performance and can make your gaming much laggy.
That's why it is always suggested that people should consolidate or defragment files on their hard drive to get stable, enhanced performance. Even it is something that people should do more often.
To defrag your hard disk, you have to follow these steps:
Hit the Windows Key on your keyboard and type Disk Defragment and Optimize Drives and open the app. You can also manually go to Start > All Programs > Accessories > System Tools and then Disk Defragmenter.
Here, select the drive in which you have installed your Windows OS and hit on the Defragment Disk option. Remember, if you have an SSD, it will show you the Optimize button instead of Defragment Disk.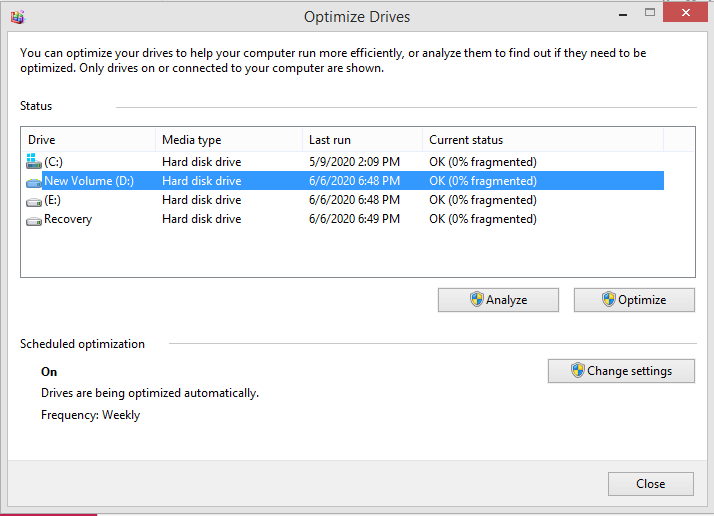 Do note that this disk defragmenter process can take a while, so it is suggested to leave your PC to defrag overnight.
Don't use any energy-saving features such as screen saver or auto-sleep because it may cause the process to stop, and then, you have to start it again.
Do this process at least once or twice a month, and you will notice a significant improvement in your PC's overall performance. You may also like to read this Grammarly free trial guide.
9. Upgrade to an SSD
If you are using an HDD to run your OS, it will be wise to upgrade to an SSD. Even though SSDs won't show much difference in gaming performance, it can still reduce the loading time and speed up your PC or laptop's overall performance.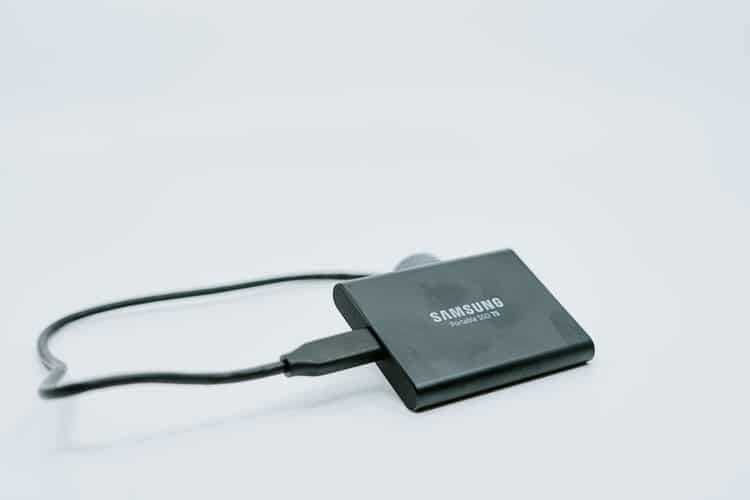 SSDs are even more reliable and durable than traditional hard drives. They are more shock-resistant and do not heat up like hard drives.
It also consumes a much lesser amount of power juice than HDDs, which is a good thing, especially for laptop gamers.
10. Clean your hardware components
Cleaning your PC's hardware components are very important if you want to get stable performance from it. If you have not cleaned your PC in the past, then you should do it right away.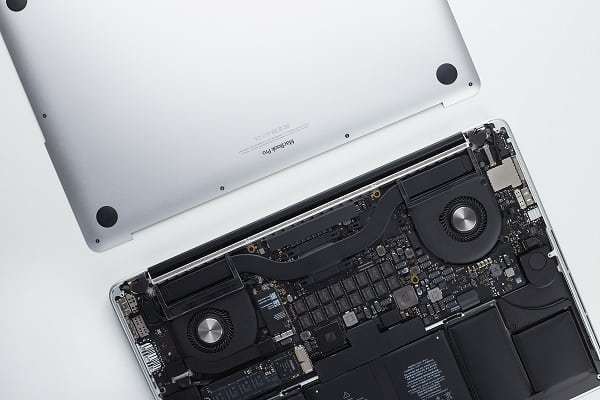 Over time, dust can buildup inside your PC/laptop, which could undermine your PC's cooling efficiency. As a result, your PC will get heat up quickly, and it can reduce the lifespan of its components.
Therefore, one should clean their PC's hardware components at least once in three to six months. It will not only reduce the heat but also give you an enhanced gaming performance.
The Bottom Line
These were 10 best tips to optimize Windows 10 for gaming.
You can follow these best tweaks to improve your Windows PC/laptop's gaming performance. After following these Windows 10 gaming optimization tips, you will see a sudden growth in the game's frame rates and stability, even if you are running an old PC.
These tips can make a significant difference in your gameplay. Additionally, you can try using some tools like CCleaner to delete junk files and outdated registry files. You can make some in-game changes too if you are using an old PC.
With that said, here I am wrapping up this article. I hope it helped you in optimizing your Windows 10 for gaming. If you have any issues, then feel free to shoot them below. Our team will try to answer them ASAP.