Are you looking for the best ISO mounter for Windows? If yes, then you have come across the right webpage. Today in this article, I will share a list of the top 10 best ISO mounters for Windows with you.
ISO mounting is one of the best techniques to preserve the data of your CDs and DVDs. It also makes it easier to create backups and transfer files. Further, these tools can help you with other operations such as ripping IMG files, making copies, and burning them.
The ISO mounters we mentioned on our list are known to be the best tools in terms of features, performance, and services they offer. So you can pick the one that fulfills all your needs well.
So, without any further ado, let's get started.
10 Best ISO Mounter for Windows PC in 2023
To help you select the best ISO Mounters, Our CartelPress team tried many ISO mounters, and we selected these 10 great ones who can sort out your problem of scanning ISO files without overloading your device with creepy ISO software.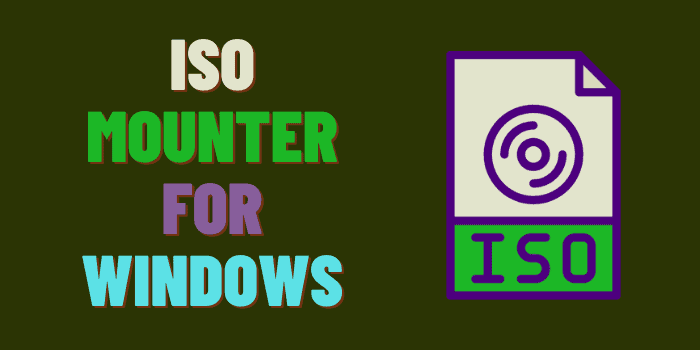 Here is the list of the 10 best and most popular ISO mounters for Windows PC:
Windows 10 Built-in ISO Mounter
WinCDEmu ISO Mounter
WinArchiver Virtual Drive
Daemon Tools Lite
Virtual Clone Drive
Gizmo Drive ISO Mounter
Power ISO
ISO Workshop
OSFMount For Windows
Microsoft Virtual CD-ROM
#1. Windows 10 Built-in ISO Mounter
The Windows 10 version boasts an in-built ISO mounting tool that you can access directly from the File Manager. Therefore, if you are a Windows 10 user, it would be the best idea for you to use Windows 10 built-in ISO mounter instead of installing any additional tool. However, note that this tool only offers basic functionality, but it is still sufficient for regular users.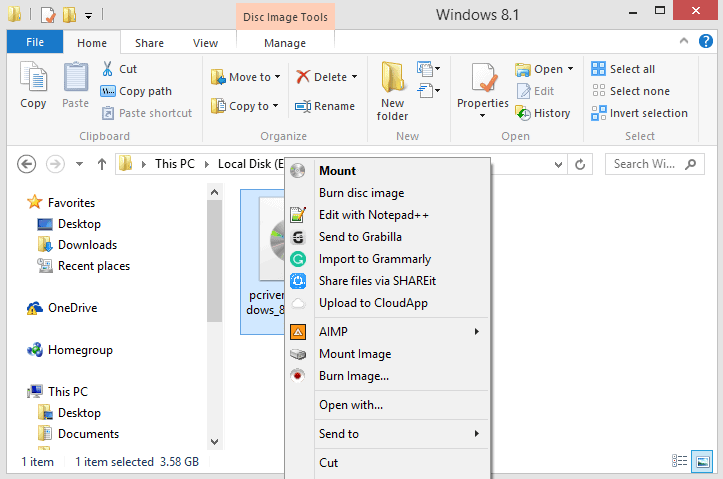 To use this tool, you will have to right-click on the IMG or ISO file, and that's it. It will take no time to mount that file. On the other hand, if you want to access files inside the ISO or IMG file, you have to right-click on the file, click on the "Open with" option, and then select Windows Explorer. Being an in-built tool, it is completely free. You can also refer to this guide for more information.
Read | How to Optimize Windows 10 For Gaming
#2. WinCDEmu ISO Mounter
If you are not a Windows 10 user, then the best piece of software that you can use to mount ISO files in Windows is WinCDEmu. It is a very lightweight ISO mounter that works very efficiently with all different released versions of Windows, including Windows 10. Plus, this ISO mounter tool, WinCDEmu, is entirely free, so there is no excuse not to use this software.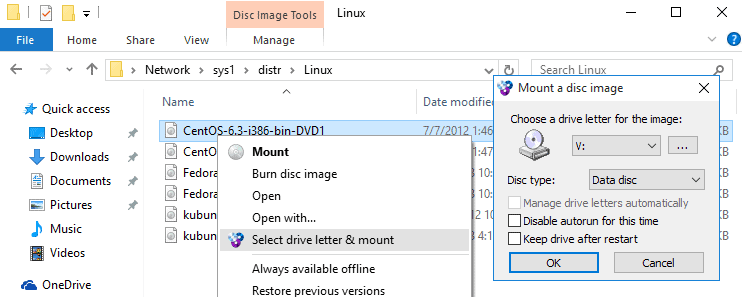 The tool is straightforward to use, and it hardly requires 5 MB of space on your computer. To mount an ISO file using WinCDEmu, you have to right-click on the ISO file, select the mount option, and that's it. Along with ISO and IMG, this tool supports many different file formats that include NRG, CUE, MDS, CCD, GZ, AR, etc. Overall, WinCDEmu is a perfect ISO mounter for Windows computers. You can easily download it from the link mentioned below.
Click here to download WinCDEmu.
#3. WinArchiver Virtual Drive
WinArchiver is a very popular ISO mounter for Windows that supports almost all Windows OS, including Windows 98. It is a very lightweight tool, and it requires no configuration. You have to install it, and you are all set to mount ISO files on your computer.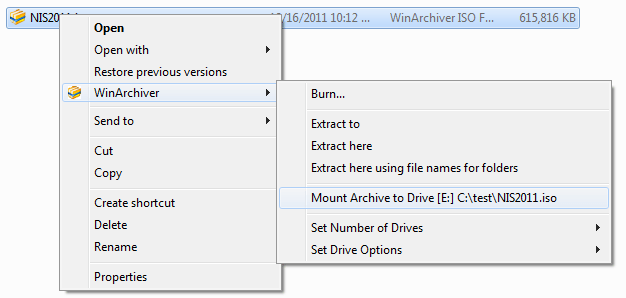 Along with providing the ability to copy and mount ISO files from DVDs and CDs, it can also be used to copy popular archive files. Tt supports multiple archive formats, including RAR, ZIP, GZ, 7Z, etc. The only major drawback of WinArchiver Virtual Drive is that it doesn't get integrated with Windows PowerShell, and therefore, you have to operate the mounting process manually.
Click on this link: Get WinArchiver.
Read | 10 Best Android Emulators For Windows PC
#4. Daemon Tools Lite
Daemon Tools Lite is one of the most advanced ISO mounting tools you can ever find for Windows OS. It is highly regarded for its premium features, but it offers a free version which is more than sufficient for ISO mounting needs. However, the free version promotes advertisements and tries to install adware on your PC while installing the client software.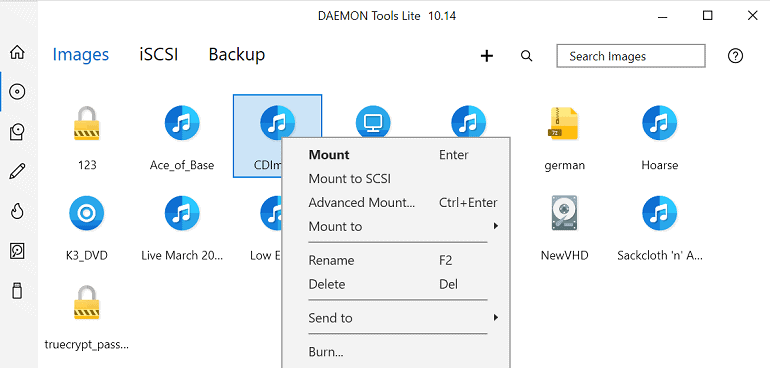 Go with the manual installation option to avoid installing adware on your PC. That said, the tool allows you to mount different file formats that include ISO, VMDK, VHD, TC, TrueCrypt Files, etc. Plus, it easily gets integrated with the Windows shell, and you can access it directly by right-clicking on the image file.
Get Daemon Tools Lite.
#5. Virtual Clone Drive
Virtual Clone Drive is designed for the only purpose, and it serves that very well. It doesn't offer many fancy features like Daemon Tools Lite or others, but it is one of the robust tools that you can use to mount ISO files on Windows. In addition, this tool lets you create multiple virtual hard drives to mount ISO files.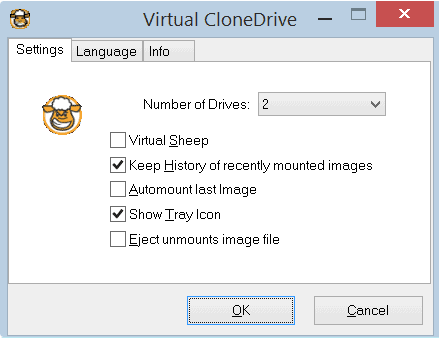 Virtual Clone Drive is a pretty lightweight and completely free ISO mounter. Despite that, it supports a wide range of file formats that include ISO, BIN, IMG, CUE, and others. Plus, it also supports the automount feature that can help you automount the last image file you copied.
Download: Virtual Clone Drive.
Read | 11 Best USB Bootable Software for Windows PC
#6. Gizmo Drive ISO Mounter
Next, we have Gizmo Drive on our list. It is one of those tools that are completely free yet offers multiple premium-like features. It supports various file formats, including ISO, IMG, BIN, NRG, CUE, and others, and on top of that, you can use it to mount virtual hard drive files like VHD and VMDK.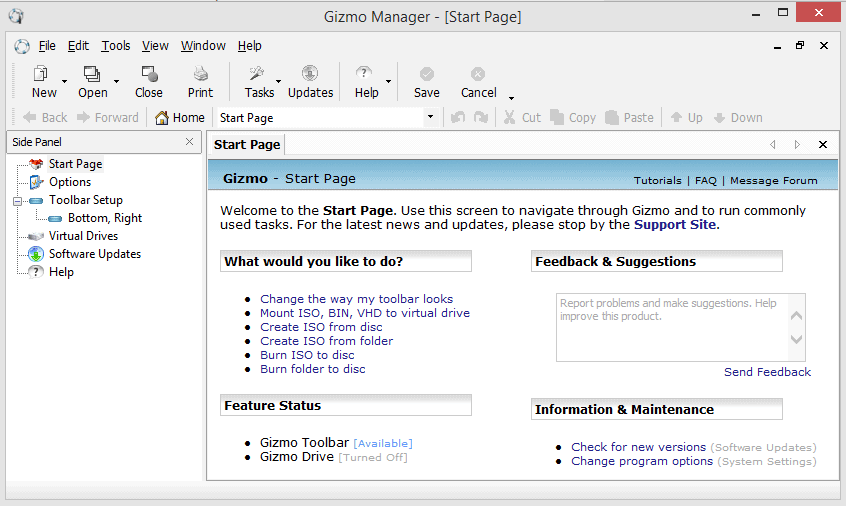 Additionally, you can encrypt files and hard drive images with keyphrases and passwords. The only drawback of Gizmo Drive is that its user interface is a bit complicated for first-time users. Therefore, you need to spend some time getting used to it. Otherwise, it is an excellent tool for ISO mounting purposes.
Click Here to download Gizmo Drive.
#7. Power ISO
Power ISO is another popular ISO mounting software on our list. This tool further helps create images and mounting ISO files within the optical drives and create images on CDs and DVDs. On top of that, this tool gives you the ability to burn images of different file formats, including ISO, BIN, NRG, DAA, and CDI.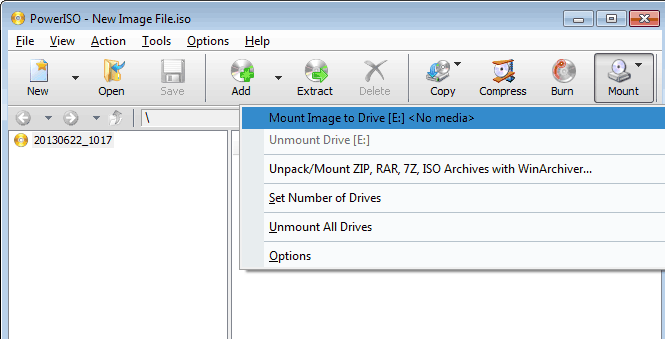 It is a very versatile ISO mounting tool and possesses many great features. It is the main reason this tool is quite popular among users. One of the unique features of this tool is that it facilitates burning and ripping different audio formats such as MP3, BIN, AVI, APE, etc. Overall, I can say that Power ISO is a good ISO mounter for Windows PC. You must try it on your device and let us know how it works.
Click Here To Download Power ISO.
Read | 11 Best PC Cleaner Tools for Windows Devices
#8. ISO Workshop
If Power ISO doesn't work out for you, ISO Workshop can be an excellent choice to accomplish your ISO mounting needs. The tool facilitates multiple features that include ISO mounting, burning, ripping, conversion, and image management. In addition, the user interface of the tool is straightforward to use.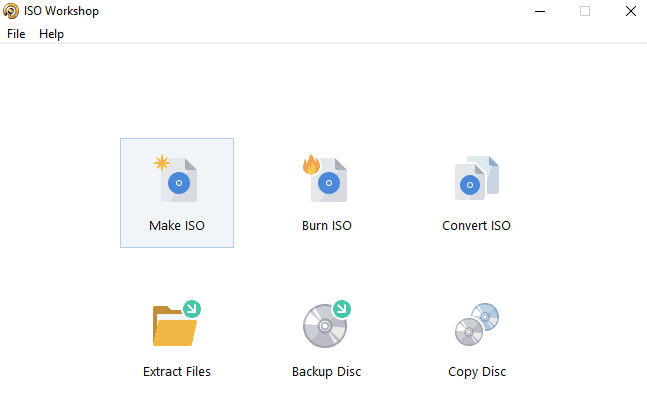 ISO Workshop can be a great solution to create disc backups, extract files from images, making copies of CDs and DVDs, and more. On top of that, this tool supports multiple Windows iterations all the way up from Windows XP to the latest Windows 10.
Click on this link to download ISO Workshop.
Read | 36 Best Manga Sites (FREE) To Read Manga Online
#9. OSFMount For Windows
If you want a simple ISO mounter for Windows that could replicate the optical disk drive of Windows, OSFMount is the best option for you. This tool is primarily designed for ISO mounting purposes only, and it can allow you to create a bit-to-bit copy of files in Windows OS.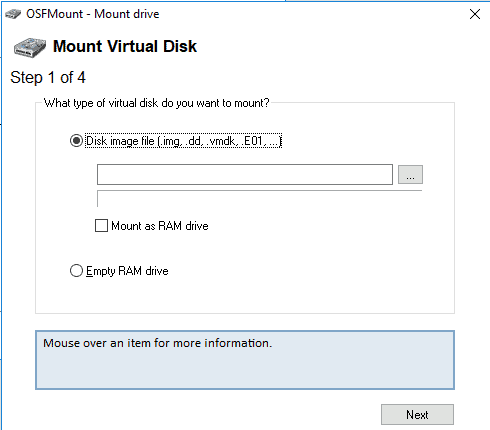 This tool will be the best choice for you if you want to create virtual hard drive files such as ISO, IMG, VHD, and VMDK. You can also assign files with a drive letter. Note that the images are mounted in a read-only format by default to ensure that the actual files on the image are not altered. Finally, I can say that it is a safe and reliable ISO mounter for Windows PC. You should try it if you want a robust ISO mounter for your laptop.
Microsoft Virtual CD-ROM is another tool designed by Microsoft that they unveiled in 2013. It is similar to Windows 10's in-built ISO mounter, but Microsoft officially discontinued it. Therefore, you cannot find the official source to download this tool. However, the tool is still functioning, and you can get it from other reliable sources.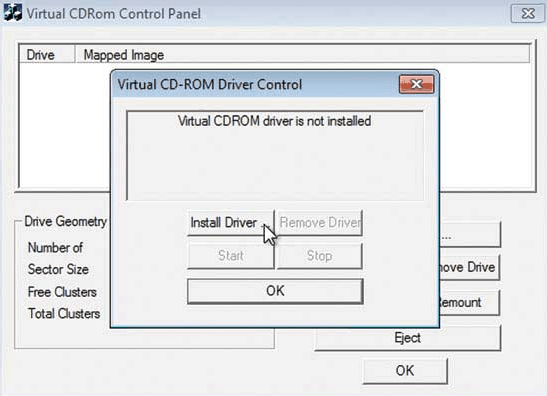 Since a similar tool comes pre-installed in Windows 10, you would not require to download it if you are a Windows 10 user. Features of this tool are pretty basic, but still, it could be a good choice for people having low-end PCs.
Read | Grammarly Premium Free Trial (11 Legit Ways)
The bottom line
So, this was a list of the 10 most popular and best ISO mounter for Windows PC.
Now, here I am wrapping up this article. I hope it was helpful for you. If you have any questions or if you think that we missed any powerful ISO mounting tool that can make a place on our list, you can let us know by leaving a comment below. Our team will try to respond ASAP.