Here we are presenting a list of the 15 best audible alternatives that are better in terms of services and very pocket friendly.
15 Best Audible Alternatives You Must Try in 2023: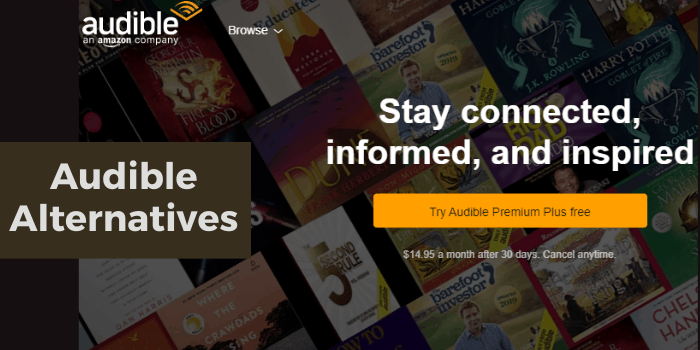 Whenever it comes to audiobook apps, Audible is considered a pinnacle of the industry. But it is not the only platform to find audio books online, and there are plenty of other good Audible alternatives that can completely replace Audible.
So, without any further ado, let's get started:
#1. Scribd.com/audiobooks
A continuously growing library with over a million audiobooks is what makes Scribd a solid Audible alternative. In addition to audiobooks, the library of Scribd contains magazines, ebooks, podcasts, documents, and much more educational stuff that can easily intrigue any frequent reader.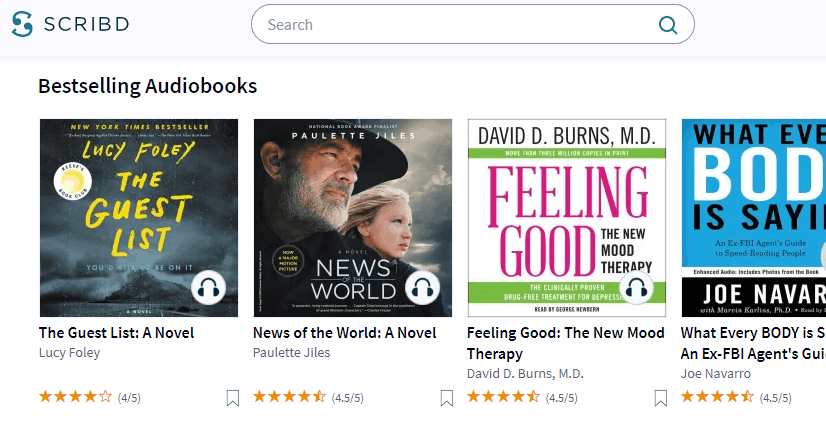 Scribd has over 60 million books, magazines, and audio stuff ranging from study material, guides, government and medical reports to fiction, history, entertainment, business, and others.
The user interface of Scribd is immaculate and easy to use. Further, at just $8.99 a month, you get access to one of the most extensive audiobooks and ebook libraries on the internet. Even though Scribd claims to offer truly unlimited access, users can only listen to three new titles every month. There are no limits on older titles.
Visit: Website Page
#2. Kobo Books
Kobo Books, which is considered a pioneer in ebooks, also has a substantial collection of audiobooks. The library of Kobo Books contains over 1.5 million titles from diverse genres that make it a worthy Audible alternative for audio reading.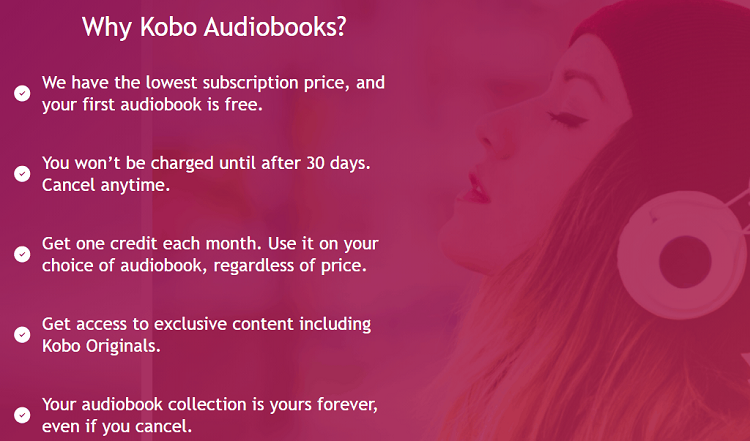 Not only that but Kobo Books is also much cheaper than Audible. At a monthly subscription fee of $9.99 a month, users can pick any audiobook title for free – regardless of the actual audiobook price. You can additionally buy credits to buy more books.
Another good thing about Kobo Books is that it will become yours forever once you buy a book, even if you withdraw your membership. The app is available for iOS and Android platforms and provides readers a seamless audiobook listening experience.
#3. OverDrive
If you don't know about it, then let me tell you that OverDrive is a platform that can help you borrow audiobooks from over 30,000 libraries, mostly for free or at a very nominal price. To take advantage of OverDrive, you will be required to have a verified account with a school, institution, or a participating library.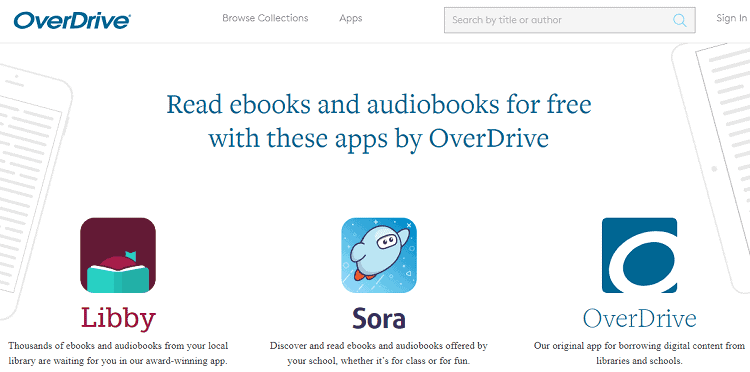 OverDrive is officially available in over 40 countries, and mostly it is a free platform. However, as I told you earlier, you will need an approved OverDrive account to access the library. However, OverDrive is primarily not an audiobook platform; instead, it is an ebook-sharing platform.
Therefore, the audiobook library is not as extensive as Audible or other alternatives. In addition to that, since it is a library, it has very limited copies of each audiobook, and there are chances that you have to wait for a prolonged period to get your copy.
Visit: Website
#4. Hoopla
Hoopla works on a similar concept of OverDrive. You will need to verify your account with the help of a supported library card, and thereupon, you can get access to the massive collection of the Hoopla content library.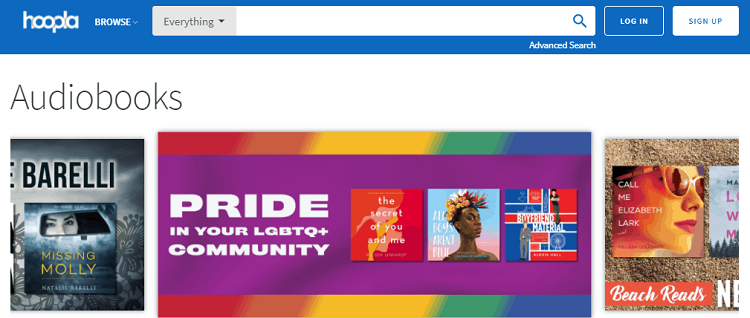 Apart from audiobooks, Hoopla provides you access to a never-ending collection of movies, music, comics, ebooks, and television shows. A big majority of audiobooks and other content available on Hoopla can be wholly accessed for free.
The drawbacks of Hoopla remain similar to OverDrive. Popular audiobooks can have a prolonged waiting period, and the content library of Hoopla is not as extensive as other alternatives in this list. However, the platform is free, and therefore, there is no practical reason not to try this Audible alternative.
Visit: Website
#5. Google Play Books
It is almost impossible to think of a list of the best audible alternatives without mentioning Google Play Books. After all, with over 7 million audiobooks, it boasts one of the most extensive and continuously growing audiobook libraries on the internet.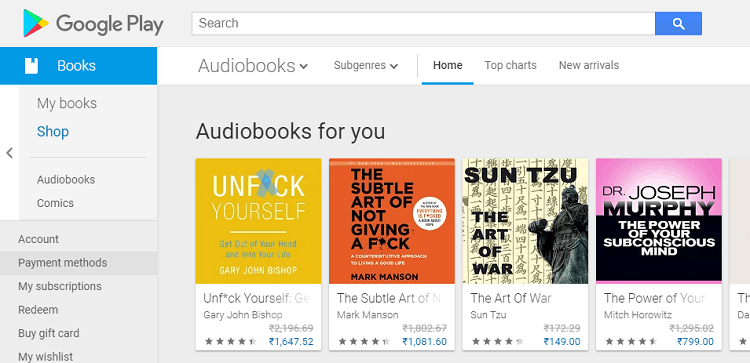 Google Play Books works on the concept of pay per book. That means if you want to listen to a new audiobook, you need to buy that book from Google Play Store. However, once you buy a book, it will always remain yours, and you can get the audiobooks at as low as a few cents to a couple of dollars.
There are many good things about Google Play Books, including its massive library, reasonable pricing, easy-to-use interface, no subscription pricing, etc. However, Google Play Books doesn't boast original titles like Audible Originals. Plus, sometimes, you might have to pay the full price of the book.
Visit: Website
#6. Apple Books
If you are using Apple products, then you can give a try to Apple's books section. Apple boasts a good collection of ebooks and audiobooks, and you can buy them at a much lower price. The books catalog of Apple is continuously increasing, which is a good reason it is a worthy Audible alternative.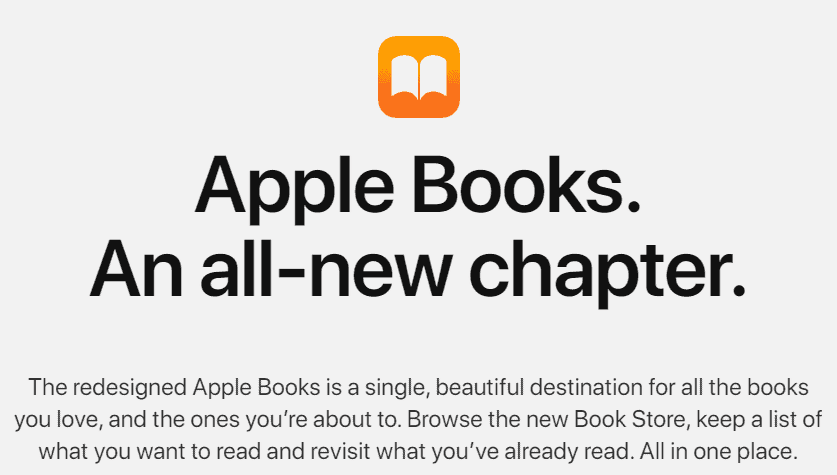 I highly enjoy Apple Books because it keeps track of the books that you have already read, listened to, or are currently listening to, and depending on that, it gives you a recommendation of new books. Also, it has a Top Chart section where you can find all the popular trending audiobooks.
Like Google Play Books, Apple's audiobooks are also individually priced, and once you buy a book, you can keep it forever. The user interface is very clean and neatly designed. However, the only drawback of Apple Books is that it is restricted to the Apple ecosystem only.
Visit: Apple Books
Read | Grammarly Free Trial (11 Legit Ways) Premium FREE Trial
#7. LibriVox
If you are looking for free Audible alternatives, LibriVox can be a good choice for you. It has a decent collection of over 50,000 audiobooks that are openly available in the public domain. Each year, the platform adds around 1000 new items produced by individual volunteers, and you can join them too.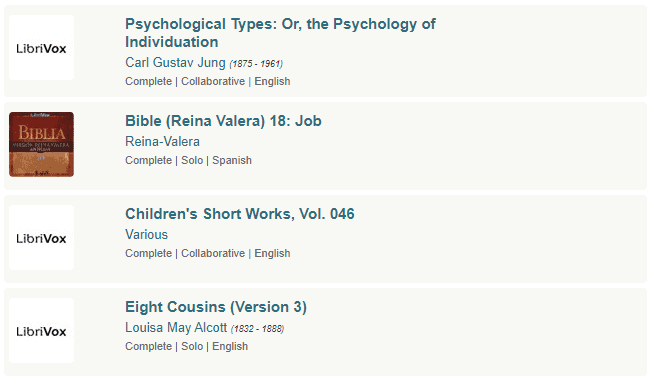 Since it primarily focuses on audiobooks available in the public domain, it lacks best sellers, novels, and latest released titles. Therefore, if you are looking to find bestsellers or latest releases, LibriVox would not be the suitable Audible alternative for you.
The user interface of the website and app looks very basic, yet it gets the job done. There are applications available for Android and iOS platforms that let you listen to audiobooks on the go. Overall, it is an excellent platform for new audiobook listeners.
Visit: Website
#8. Audiobooks Now
Audiobooks Now can be an excellent and one of the best Audible alternatives for regular audiobook listeners. If you buy one book a month, then the book's pricing on Audible and Audiobooks Now will be somewhat the same. But when you buy the second book in a month, you will get an additional $5 discount with a Club membership.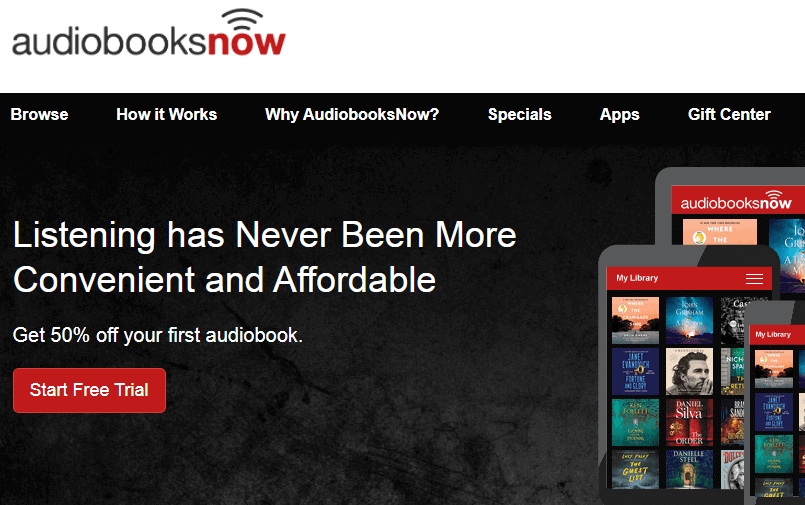 Another great thing about Audiobooks Now is that it has a good collection of over 120,000 audiobooks. You can easily find all the latest releases and bestseller titles on this platform. In addition to that, you can buy the first audiobook of every month at a flat 50% off.
When it comes to pricing, I highly doubt Audible can ever beat Audiobooks Now. Audiobooks Now is a value for money Audible alternative, but if you listen to a diverse genre or you are a once-in-a-while reader, it certainly might not be the right choice for you.
Visit: Website
Read | 36 Best Manga Sites (FREE) To Read Manga Online
#9. eStories
If you enjoy listening to fiction stories, eStories is one of the most popular Audible alternatives for you. It boasts a massive library of over 120,000 fiction and non-fiction audiobooks, including many popular titles like John Grisham's The Whistler, Chuck Wendig's Star Wars, and Game of Thrones by George R. R. Martin.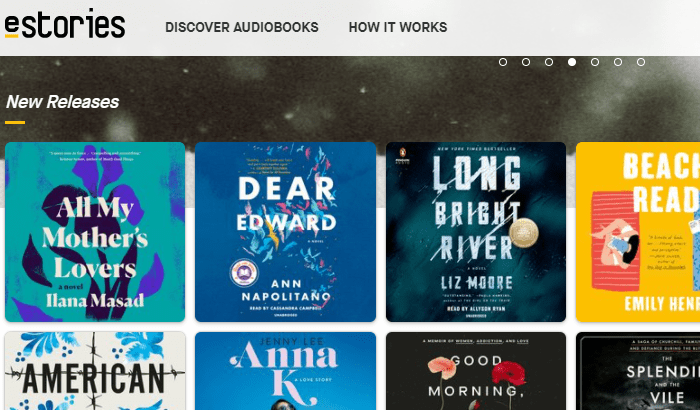 The majority of the audiobooks here are DRM free, which means you can buy them once, and then you can download them and use them forever. Additionally, it offers unlimited free audiobook cloud storage where you can store all your audiobooks safely.
If we talk about pricing, then audiobooks on eStories are slightly priced on a higher side, especially if we compare it with other rivals. But it all comes down to the titles you are looking for, and you should only use eStories for audiobooks that are not available on other platforms.
Website: Visit
#10. Downpour
Downpour is best known for offering DRM free content, but that is not the only good thing about this Audible alternative. It has a library of over 80,000 titles that include many famous names like Mathew McConaughey's Greenlights and Andy Ngo's Unmasked.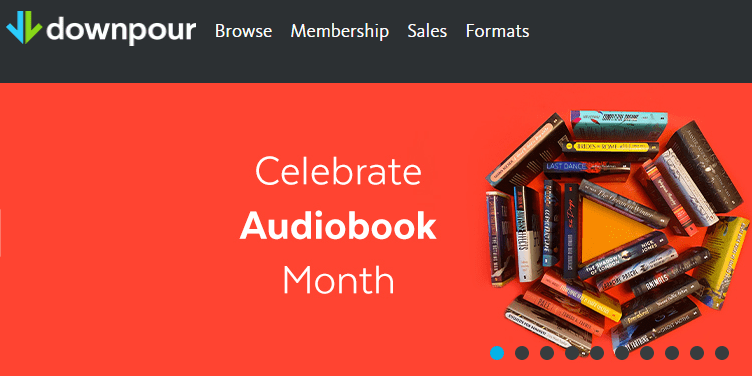 The thing that I liked the most about Downpour is its audiobook rental service. With a monthly membership plan that costs $12.99 a month, you can rent audiobooks for 30-60 days, depending on the audiobook, and save up to 70% on the retail price.
Downpour has official apps available for Android and iOS platforms, and PC users can access Downpour through its website. Overall, It is a great choice over Audible if you are somebody who doesn't repeat audiobooks once you finish listening to them.
Website: Visit
Read | 11 Best Adult Mobile Games For Android (Kids Not Allowed)
#11. Audiobooks.com
With a solid library of over 250,000 audiobooks, Audiobooks.com is undoubtedly a robust Audible competitor on our list. It has audiobooks from a wide variety of genres, including a good collection of family and kids-friendly audiobooks.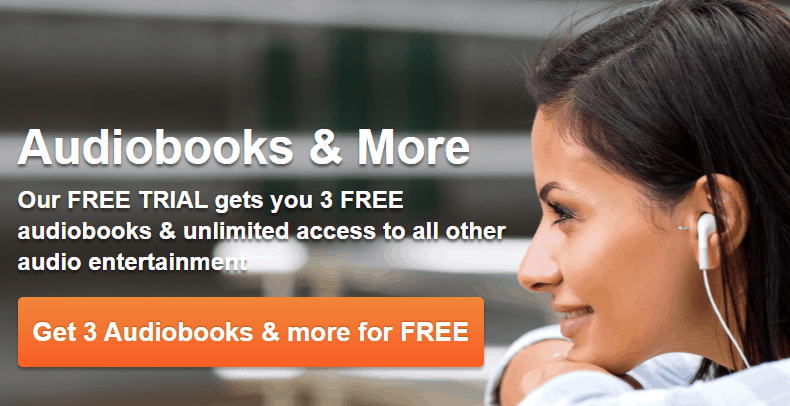 Very similar to other Audible alternatives, Audiobooks.com is also a credit-based platform where at $15 a month, you will get one credit that you can use to buy any audiobook from their catalog. If you want to buy more audiobooks, you have to pay for additional credits.
Of course, at this pricing, Audiobooks.com is not a budget-friendly Audible alternative at all. But the content library of Audiobooks.com is pretty diverse, and I only recommend it to you only if you are looking for titles that you could not find anywhere else.
Website: Visit
#12. Storytel
If you are from India, then Storytel might be a fantastic Audible alternative for you. The reason is pretty simple – Storytel stands amongst those few audiobooks and ebooks selling platforms where you can listen to audiobooks in your local, regional languages.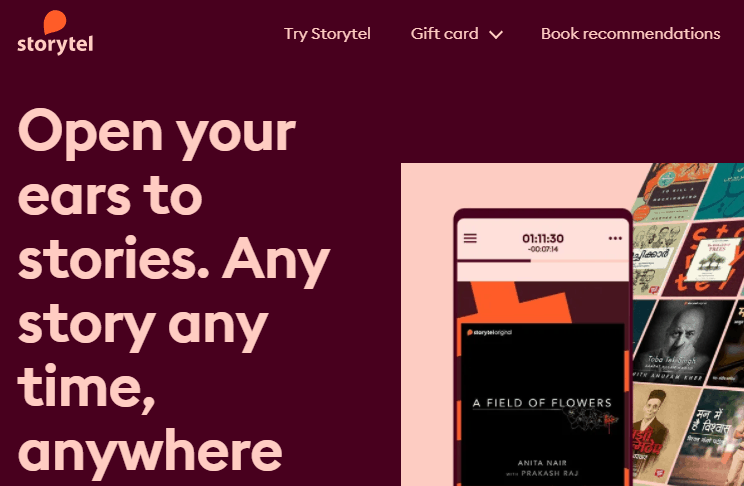 Storytel has a solid library of audiobooks that includes many famous worldwide and Indian local titles such as The Alchemist by Paulo Coelho, Think and Grow Rich by Napoleon Hill, Kabuliwala by Rabindra Nath Tagore, and others. This platform contains books from various genres ranging from fiction, non-fiction, biographies, personality development, religion, thrillers, etc.
They also have an entire section specially dedicated to kids-friendly audiobooks. At just INR 299, it gives you complete access to its diverse massive library. At this pricing, nothing can go against Storytel. It is not the best Audible alternative that you can find, but it is worth giving a try.
Visit: Website
#13. Nook Audiobooks
Nook Audiobooks is one of the premium Audible alternatives on our list. Instead of a monthly membership option, Nook Audiobooks works on a pay-and-get model, making it a good choice for occasional audiobook listeners.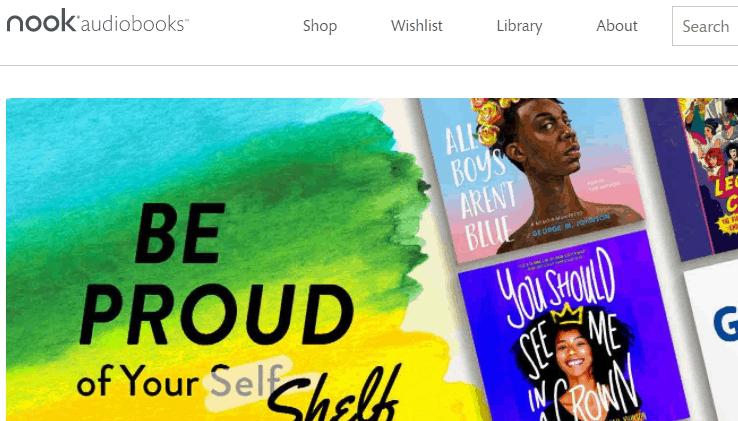 It doesn't boast a massive collection like Audible, Scribd, or other audiobook selling platforms. Instead, it has around 60,000 titles, but each of them is either a bestseller or high-on-demand. It is what makes Nook Audiobooks a good choice over Audible.
However, audiobooks on Nook Audiobooks are slightly on the costlier side when it comes to pricing, especially if we compare it with other rivals like Audible, Scribd, or Google Play Books. But again, it all comes down to the titles you are interested in.
Visit: Website
#14. ChirpBooks.com
ChirpBooks is a platform that claims to help users discover newly released audiobooks at a very affordable price. However, the platform is only accessible by users living in the US and Canada. Therefore, if you are not from any of these regions, Chirp will not even be a choice for you.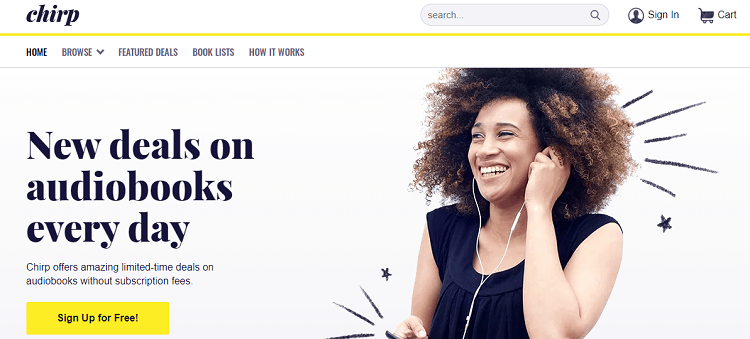 Rather than using the popular monthly subscription option, it uses the pay-and-get model. It makes it a perfect choice for people who occasionally listen to audiobooks. The best thing about this model is that it will ultimately become yours once you buy an audiobook.
You can get many popular audiobooks at a meager price at Chirp, but the deals change constantly. For example, when I tested this service, I saw a deal on Robert Kiyosaki's Rich Dad Poor Dad audiobook. It was available at just $7.99, but when I am writing this article, the pricing jumped to $21.99.
Visit: Website
#15. Spotify
Spotify primarily is not an audiobook selling platform, but surprisingly, it has a good collection of audiobooks. Even one of the most popular audiobooks of all time, Rich Dad Poor Dad by Robert Kiyosaki, is freely available on Spotify, which might cost you $10-$25 on other platforms otherwise.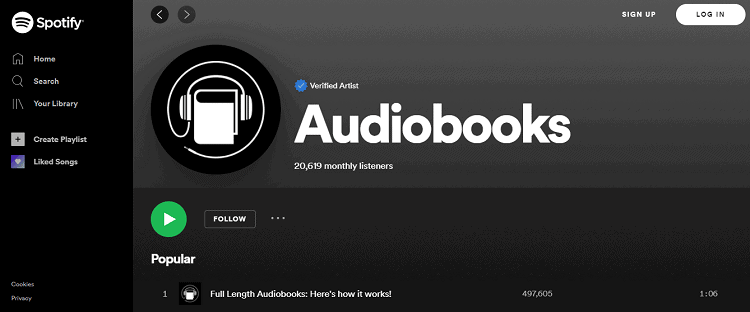 Spotify doesn't have a massive library of audiobooks, and there is no specific data that shows how many audiobooks are available on this platform. However, a vital piece of advice would always be that if you are looking for any audiobook, search for that on Spotify first.
Talking about the user interface and availability, we all are very much familiar with Spotify. It has one of the best user interfaces and offers you a lot of customization. Additionally, the app is available for all major platforms.
Visit: Website Page
The bottom line
So, this was a popular list of the 15 best Audible alternatives.
The trend of audiobooks has increased dramatically in the last few years, and Audible captured the market very well. However, people were never delighted with Audible because of its high pricing.
Hopefully, the above-mentioned Audible alternatives can help you replace it. Each of them has its own pros and cons, and therefore, pick the one that serves you well.