This guide will help you if you're looking for some effective tips on how to preserve printer cartridges in 2023.
Printer cartridges are expensive pieces of hardware. They're also essential to ensuring your home office or workplace runs smoothly. However, many printer owners don't know the most effective ways to take care of their printer cartridges, which can result in excess money can be put into cartridges.
11 Tips To Preserve Opened Printer Cartridges In 2023: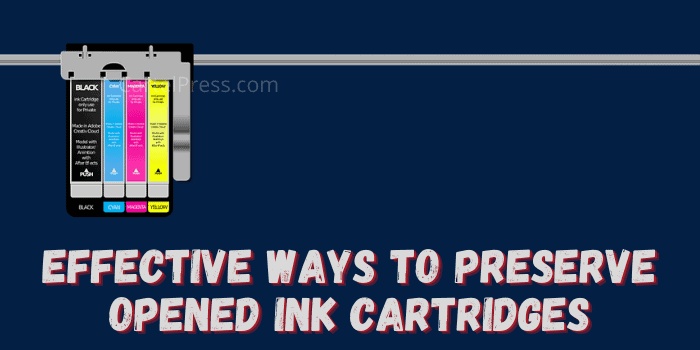 Maintaining your office supplies is a key part of growing your business, especially as we move into an online age where small businesses are regularly competing with one another. Cutting costs by extending the life of your printer cartridges is really easy when you know how to do it, so read on to find out how!
1. Treat Cartridges Carefully
Print cartridges are more complicated than you might think. Both laser and ink cartridges are easy to damage, meaning you should always handle them with care. That means avoid dropping them at any cost, as doing so can shuffle around the interior components, resulting in non-functioning cartridges – not to mention ink stains!
Read | 388 Best Kahoot Names – Funny Ideas For Boys & Girls
2. Buy Cartridges Yourself
Since cartridges are so fragile, we always recommend acquiring yours by shopping for them at a brick-and-mortar location. Online shopping is convenient for some products, but printer cartridges need to be stored and shipped in a specific manner to avoid any possible product damage. You know how you'll be transporting your cartridges, but with online shipping, it can be a gamble. For that reason, we recommend seeing it yourself.
3. Print Regularly
Using your printer is a necessary part of keeping things running smoothly. If you don't use your printer often, then the ink can dry out in the print head and jam up the printing process. To avoid this, we recommend printing something out at least once a week, even if it's only one page!
Read | 11 Best ePub Reader (Free) for Windows & Mac
4. Clean Your Cartridges Regularly
Cleaning your cartridges is a must if you've noticed streaking, lines, or blotches on any of your documents. Most modern printers actually have a self-cleaning mechanism available through the printer software. If you're not sure how to use this, just check your owner's manual, and if you've lost that then you can look up any available instructions online. Just enter your specific model into a web browser, and it'll usually be on the first page.
Sometimes your printer's self-cleaning procedure might not yield the results you're looking for. If that's the case, then you can easily take matters into your own hands. Just follow these simple steps:
Dampen paper towels or a soft cloth.
Gently swipe down the printer's head.
Remove any dried ink from the nozzles.
5. Use Quality Ink
What also helps is ensuring the ink you use is of the right quality. Using official Canon ink for your Canon printer can make sure the ink is of the proper consistency to run smoothly through your print nozzles.
6. Storage Procedures
Since printer cartridges are filled with ink, storing them improperly can reduce damage to the inside components, leaking, and other issues. If the interior ink reservoir or any chips suffer damage, then the result can make the cartridge completely inoperable.
7. Store Cartridges Safely
Store your cartridges in a cool, dark space where they won't be susceptible to damage caused by rowdy children or curious pets. Any sudden force to a printer cartridge can cause its interior components damage, so make sure they're protected. Storing them in packing peanuts or bubble wrap can help significantly.
Read | 11 Best Photo Viewer Software for Windows 10
8. Ensure the Storage Temperature is Safe
If exposed to high heat, the ink inside can swell and leak from the cartridges, making them unusable. The chips inside can also be damaged by heat, so store them well away from any heat source. The same goes for cold temperatures, which can cause the ink to gunk up and dry out inside your cartridges. Room temperature is definitely the way to go with storing your cartridges.
9. Avoid Air Travel
Exposing your printer cartridges to changes in pressure can result in ink spillage, chip damage, and more. Generally, if you can avoid bringing your cartridges when you fly then you should do so. That means it's usually a bad idea to order your cartridges internationally, as they'll likely be air-shipped to you.
10. Limit Contact With Light Sources
The drum or photo-conductive cylinder on your laser cartridges is sensitive to light. If over-exposed to any light source, these can become faded in appearance and lose their overall quality. This will result in your seeing smudges and blotches on whatever you print out. To avoid this, store yours in an area where they won't be exposed to any sun or artificial light.
Read | 20+ Sims 4 Challenges List (Legacy And Other) Updated
11. Leave Ink Cartridges in Their Original Packaging
The ink inside cartridges can dry up when exposed to air, so it's recommended you leave yours in their packaging until you need to use them. Otherwise, you're just drying out dollars.
It doesn't matter what kind of ink cartridge you have. Whether you're using printer ink by YoyoInk or an official brand, the cartridge should still stay in its original packaging.
Preserve Printer Cartridges – The Bottom Line
So, these were some useful and effective ways that I follow to preserve my opened printer cartridges. Storing opened Ink cartridges is the most important skill to learn if you own a printer as the Printing ink is very expensive and if we don't store it carefully, it will be of no use. I hope this guide will surely help you in storing your opened printer cartridges. Let me know if you know some more ways to storing ink cartridges using the comment section below. Keep visiting CartelPress for more updates.