Do you like reading news on your Windows PC or macOS device? Are you looking for some popular ePub readers? If yes, then you're on the right page. I've listed the 11 best ePub reader apps and websites to use for free e-reading in 2023.
The bibliophiles of our planet are moving towards electronic mediums for reading books. The Epub format is taking over the traditional pages.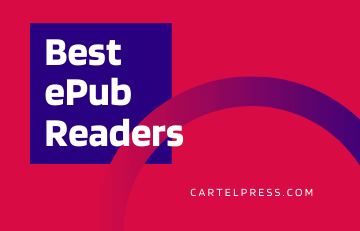 Reading on a tablet with coffee in one hand and the tablet in the other has gained attraction. However, you can read via Epub Readers on your desktop PCs too.
This article revolves around the 11 Best Epub Readers for bibliophiles looking forward to reading on PC.
What is Epub Reader?
Epub or Electronic Publication is the new age book publication media that lets you read using an electronic device. This includes tablets, smartphones, PCs, etc. The books read on such platforms are known as e-books or electronic books. With various publication media platforms available to use, you can choose one of them.
11 Best Epub Readers You Must Try in 2023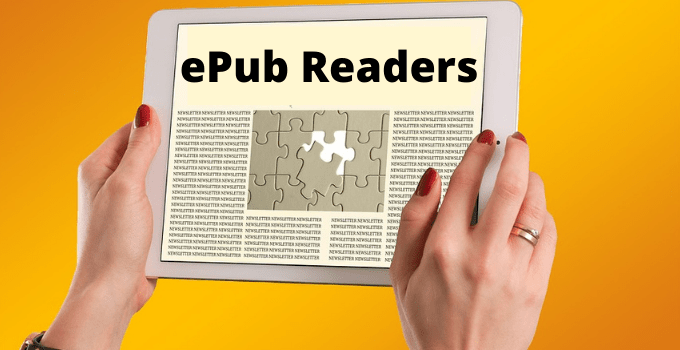 The market is filled with innumerable Epub Readers to choose from. Thus, I've handpicked the best ones in this piece of information. Go through them well and choose the best one according to your preferences!
#1. Calibre Ebook

Calibre is one of the most popular Epub Readers available in the market. It a free and open-source software that you can install on your device without any problem. It comes with a powerful and easy-to-use interface. You get a detailed e-book viewer with an interface to view and arrange your favorite e-books.
It can be used on any device from anywhere around the world with zero hustle. You get a detailed plugin interface to substitute features and tools according to your preferences. It will help you enable various types of plugins.
Highlighted Features:
Editable Metadata
Wide range of reading modes
Optimize e-book collection
Download news and magazines
Option to backup the library
Download Calibre for Windows & macOS
#2. Amazon Kindle

Kindle from Amazon the most popular e-book viewing service available across the globe. Amazon has been leading the market since when they started selling books online. The foundation of Amazon was always focused on books. Thus, you will never be disappointed by Kindle.
Built especially for bibliophiles, you can choose from the library of millions of books available. This includes textbooks, comics, novels, storybooks, and anything that you could think of. The best part is its availability in different languages.
Highlighted Features:
One time buy
Advanced Search option to search inside the books.
Customizable user interface
Highlight your favorite lines or take notes with ease.
Read the first chapter for free before buying the book.
Download Amazon Kindle for Windows & macOS
#3. Adobe Digital Editions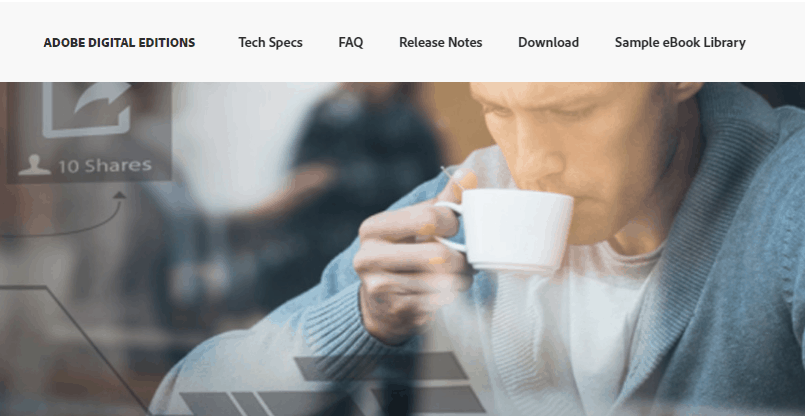 Adobe Digital Editions is one of the best epub readers out there from one of the leading tech giants. With powerful software and easy to use interface, it is perfect for the students. You can use it to read and download the content online and offline.
You can search among various chapters and characters from inside the book. Every book you purchase via Adobe Digital Editions will be automatically available to read on all your devices.
Highlighted Features:
Borrow e-books from public libraries
Organize your digital e-publications and create bookshelves.
Access books in different formats like EPUB, EPUB3, PDF, etc.
Highlight quotes and takes notes.
Available in various languages
Download Adobe Digital Editions for Windows & macOS
#4. Freda

Freda is exclusive software for reading e-books for their bibliophile friends. It is a universal application available for various operating systems like Windows, macOS, and Android. Thus, it can run smoothly on any device, including Android smartphones, tablets, PC, Laptops, etc.
Freda falls under Project Gutenberg. Hence, you will get innumerable free e-books and Smashwords. Also, you get the text-to-speech option for various e-books exclusively on Freda. This is amazing for people who love listening to audiobooks while working out.
Highlighted Features:
Customizable user interface
Enable annotations and bookmarks
Search for definitions in the dictionary
Available in various reading formats, including EPUB, HTML, TXT, MOBI, FB2, etc.
Get visuals like diagrams and images from textbooks.
Share your collection with friends.
Download Freda for Windows & macOS NA
#5. FB Reader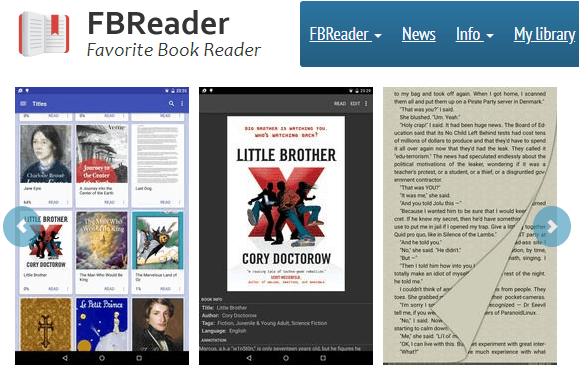 FB is another best epub reader available in the market that works on all major platforms. This includes Windows, Android, macOS, etc. With FB Reader, you are granted access to a huge free library of e-books. Not just that, you can include your own catalog as well.
It offers online storage space for saving e-books and create book collections. You can store them on various cloud services like Google Drive, DropBox, etc. Apart from the application, FB Reader is accessible on browsers as well.
Highlighted Features:
Online cloud storage
Customizable user interface
Option to arrange books via categories
Support for all major reading formats like EPUB, MOBI, FB2, HTML, TXT, etc.
Integrate library, bookmarks, reading positions, etc.
Download FB Reader for Windows & macOS
#6. Bibliovore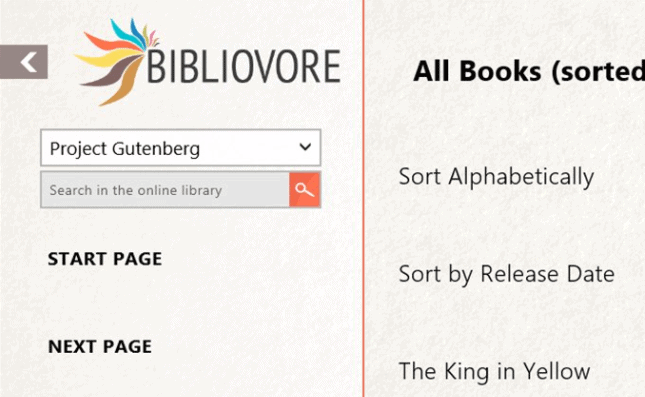 Marketed by Microsoft, Biliovore is an amazing Epub Reader available in the market. It has been specifically designed for Windows OS. Thus, you can never get disappointed by it while using a Windows device.
You can arrange your favorite e-books categorically with ease. Also, you can share them across various platforms and devices. The support for OneDrive grants you extra options to save your favorite e-books on cloud storage. In this way, you can access it from anywhere in the world.
Highlighted Features:
Substitute customized bookmarks
Customize the user interface
Manage reading themes
Day and night modes and landscape and portrait modes for a better reading experience
Edit metadata and browse through various downloaded books.
Download Bibliovore for Windows & macOS (NA)
#7. Kobo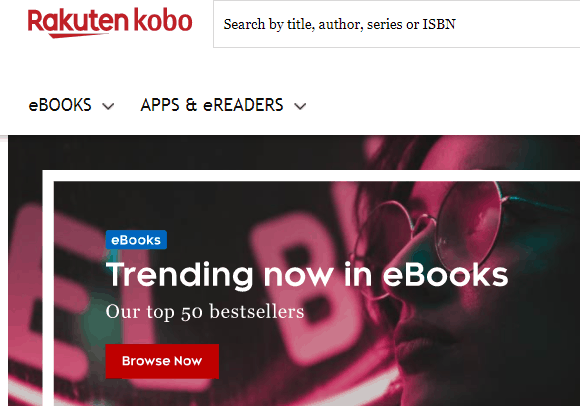 Kobo is one of the most flexible and versatile Epub Readers available in the market. The best part is you can switch between devices while reading. You can start reading on one device and switch to another at any time. The reading options are just endless with Kobo.
You can choose from various e-books from the huge library of Kobo. They offer you a small cloud storage space to save some of your favorite books. Also, you can keep them to other cloud storage.
Highlighted Features:
Cloud storage space
Special night light reading option to protect your eyes.
Customizable user interface
Supported on almost all platforms: Android, iOS, Windows, etc.
Download Kobo for Windows & macOS
#8. Nook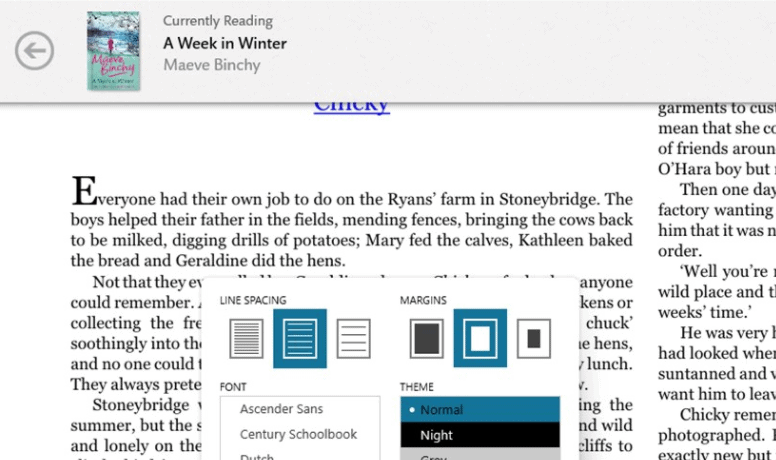 Nook is a similar application to Amazon Kindle available for Windows OS and macOS. It was started by a bookstore Barnes & Noble, who wanted to compete with Kindle-likes devices in the market. Although their device turned out to be a lot better, Amazon's marketing & distribution budget helped Kindle to grow faster.
Apart from the device, the application available for Windows & macOS is amazing. It comes with a warm and composed night light to offer a comfortable reading experience to everyone.
Highlighted Features:
Quick reading options with page-turning buttons.
Customizable user interface
Online syncing capability
Buy physical books from their store directly via the application.
Download Nook for Windows & macOS (NA)
#9. Cover by FrenchFry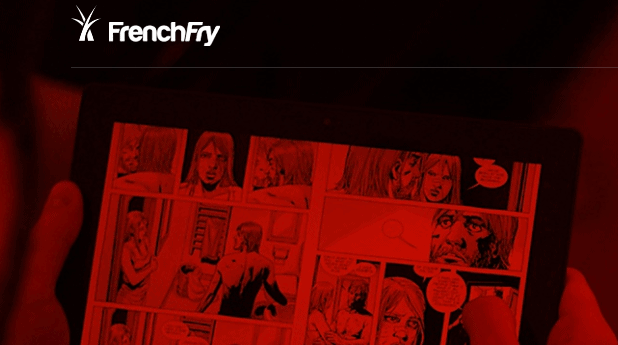 Cover by FrenchFry was primarily designed to distribute and manage comic books using an Epub Reader. However, the format supported by Cover is EPUB. This means any book that supports the EPUB extension can be used on it. Not just that, it can support file formats such as ZIP, RAR, 7R, etc.
Comprehensive library management is something to look upon. The e-books are categorically arranged in the perfect way possible. You can arrange your shelves, have bookmarks, and do a lot more.
Highlighted Features:
Gets updated automatically
Create reference books and network with other bibliophiles around the globe
Sync your reading status across devices
Save your favorite books to OneDrive or GDrive.
Download Cover by FrenchFry for Windows & macOS (NA)
#10. Bookviser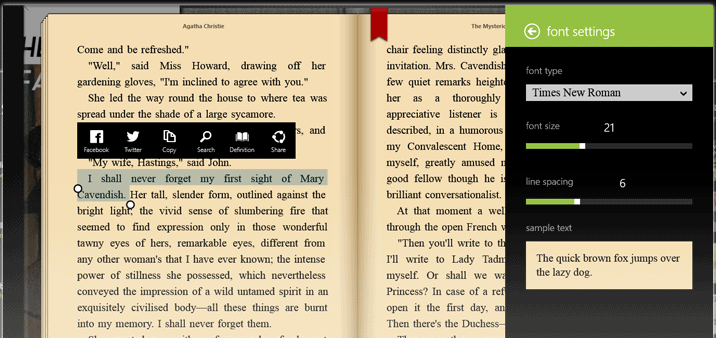 Bookviser is another best Epub Readers available in the market to look forward to. It is loaded with features for bibliophiles for the best possible reading experience. You can organize the e-books according to file formats such as EPUB & FB2 separately.
Bookviser works both as an e-book reader and a downloader. Thus, you can view the books that haven't been downloaded yet and that have been downloaded too.
Highlighted Features:
Access e-books from a huge library
Highly customizable user interface
Various file formats are supported, including EPUB, TXT, and FB2.
Bookmark things and use page text search inside books.
Arrange your bookshelves alphabetically.
Download Bookviser for Windows & macOS (NA)
#11. IceCream Ebook Reader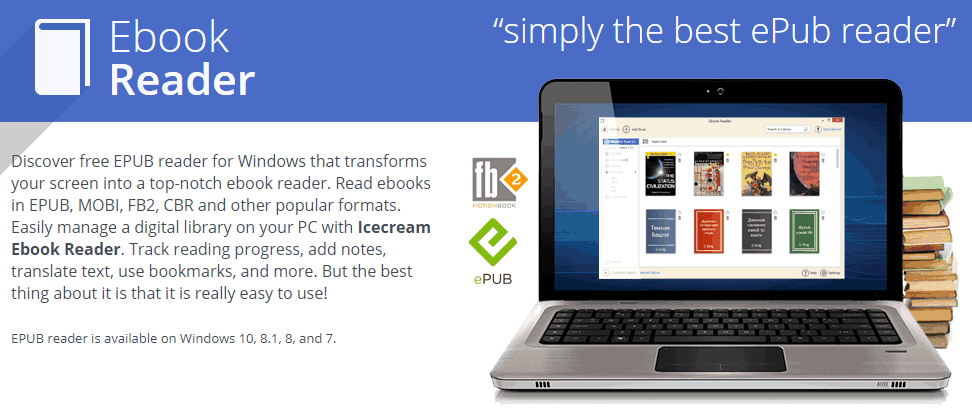 IceCream Ebook Reader is the last but not the least option on our list. It comes with the option to keep a check on the number of pages you've read. This comes in handy while reading a novel or biography. The night mode and the book mode are amazing to consider while reading for a long time.
Highlighted Features:
Search for text on Google picked up from the books
Use highlighters to highlight your favorite quotes or paragraphs.
Navigation Scrollbar to scroll comfortably
Search for books by authors in their huge library
Support for almost all operating systems, including Mac, Windows, etc.
Download Icecream Ebook Reader for Windows & Mac.
You may also like to read Grammarly review, Hoverwatch review, and MSpy review.
Final Verdict: Best Epub Readers
The modern era of electronics has helped us enjoy reading right from our Laptop or smartphone. Some of the best epub readers in the market have been mentioned above.
Which device do you prefer using for e-book reading?
Which epub reader are you going to download?
Do let us know in the comment box below and keep visiting Cartel Press.