Top Fanfiction Websites: Are you looking for the best fanfiction sites where you can either publish or read fanfiction stories? If yes, then this is going to be a very helpful article for you. Here we are going to review the 15 best fanfiction sites on the internet. So, without any further ado, let's get started.
What is FanFiction?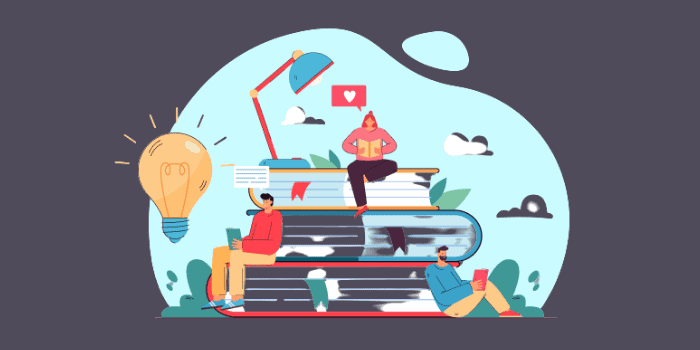 Fanfiction writing is basically a fictional story written by fans. The writing can be done in the real world where we live or in an existing fictional universe created by other writers such as MCU, DC, or any other.
Mostly, these fanfiction writers include the characters in the original author's world, while sometimes, they add new ones. However, fanfiction writers don't own any rights over the world or characters they are writing about, and they don't get any credit or royalty.
Still, fanfiction writing is very popular among budding writers to showcase their talent and make an audience base. Besides that, fanfiction writing helps them get a quick review of their writing, and they can use these reviews to furnish their writing skills.
Read | 30 Best Manga of All Time (Most Popular) [Updated]
15 Best FanFiction Websites To Read FanFiction Stories 2023: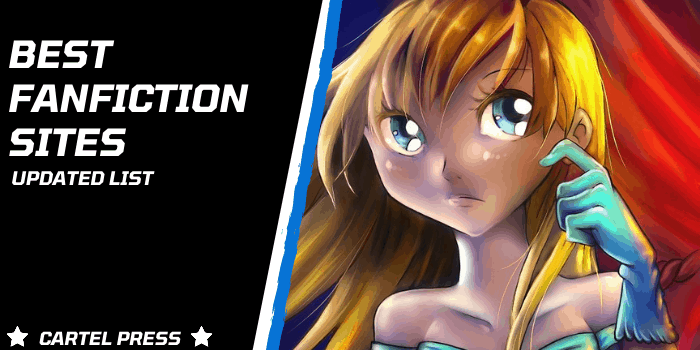 If you are an avid fanfiction reader, then you can refer to the websites mentioned in this article to get your hands on a great variety of fanfiction stories. So, whether you are a fanfiction writer or a reader looking for a good story, this list of best fanfiction sites is going to come in handy for you.
Archive of our own, aka AO3, is a non-profit fanfiction story-sharing platform that has been designed by a fan. It is a non-commercial platform that entirely runs on donations made by fanfiction readers worldwide. You can find a massive collection of Manga and Anime fan arts, fanfiction books and literature, fan videos, podfic, and all other stuff on the platform.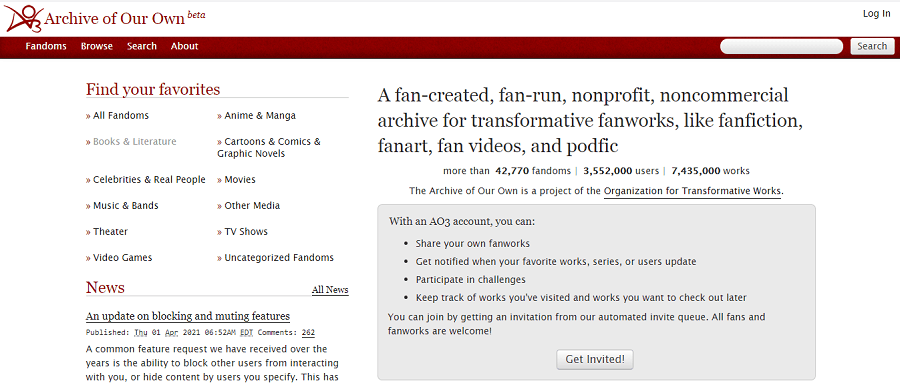 The platform boasts a massive collection of over 7,357,000 transformative fanworks. Currently, the platform has more than 3.4 million registered users, and let me tell you that you don't need an account to access files from this platform.
Undoubtedly, this fanfiction website receives millions of unregistered users on a daily basis. Considering the vast collection of fanart and massive userbase, AO3 is probably one of the best platforms for fanfiction writers and readers.
FanFiction is another popular multi-fandom fanwork sharing platform. It came into existence in 1998, and arguably I can say that it was the first multi-fandom automated archive platform. It was started by Xing Li when he was a UCLA student.

Right now, FanFiction has one of the most extensive libraries of fanfiction artwork. The platform lets users upload their fanfiction art in over 40 different languages. However, it is believed that around 80% of the content available on the platform is in the English language.
One thing that intrigues me the most about FanFiction is its UI and features. It has an old forum sort of user interface. In addition, it lets users create a free account and upload their fics on the platform. At the same time, readers can review their work and give valuable inputs.
Read | 11 Best eBook Torrent Sites (EBook Torrenting Websites)
Wattpad is a top-rated global community where writers can share their fictional work among Wattpad's massive userbase to gain readership and popularity. It is a community of a gigantic 90+ million readers and writers.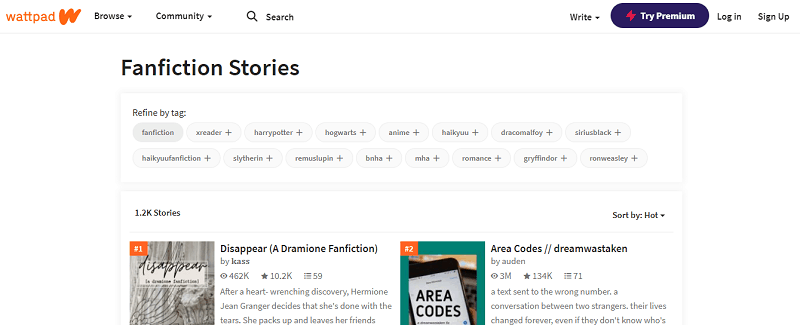 Wattpad is not limited to fanfiction work only. Instead, they feature a massive library of over 70 million stories from a wide range of genres. Wattpad distributes many awards every year and holds writing contests to encourage writers to publish more stories on the platform.
The website's user interface is very eye-pleasing and gives a premium feel. Also, it is very easy to navigate throughout the website. However, the platform can be more beneficial for writers rather than readers. That is because fanfiction is just a tiny part of their library, whereas most of the content on the platform is original work.
It is another top-rated fanfiction site that offers a good collection of fanfics. But Quotev is much more than just a fanfiction website. Along with fanfics, it lets users upload their original work, such as novels, stories, poems, quizzes, and much more.

Quotev offers a wide range of fanfiction categories for writers and readers. Ranging from Anime work to MCU, DC, and Harry Potter fanfiction world, it provides a wide variety of fanfiction genres to choose from. Therefore, if you are a writer, Quotev can be a good choice for you.
And if you are a reader, then obviously, Quotev can be the best shot for you. It has everything that a reader needs, right from a gigantic library of stories, novels, poems, quizzes, and other stuff available to read. On top of that, the user interface of the platform is exquisite and easy to use.
If you are a budding writer, then I will highly recommend you to join Commaful. It is one of the best online communities for newbie writers. Even though the userbase of Commaful is less comparatively other platforms such as AO3 or Wattpad, people here are more active, friendly, and highly engaging.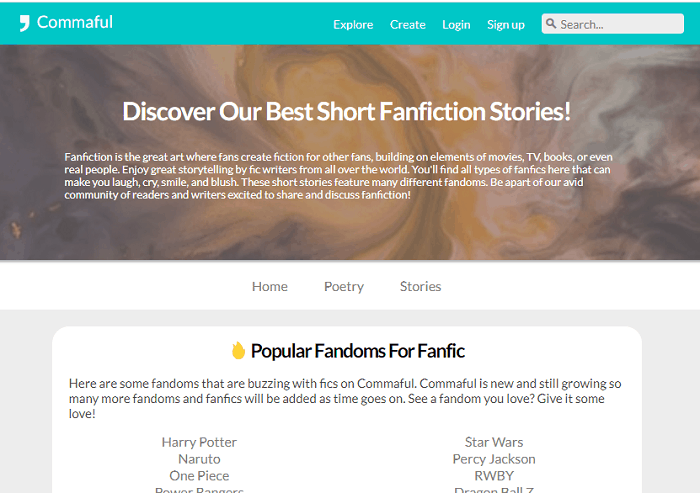 Since the platform is great for beginner writers, you will mostly see teens on the platform. But they also have many experienced writers, editors, professors, teachers, and even some bestselling book and novel authors. Therefore, you can get a review of your writing from many professionals as well.
When you land on the website, you will discover that it is not a good platform for fanfics readers. That is because the platform has a very different posting style than traditional writing. For example, the site lets you post short stories or test ideas rather than upload big novels.
Read | 36 Best Manga Sites (FREE) To Read Manga Online
AsianFanfics is a web platform primarily devoted to Asian cultures, topics, characters, and their stories. Therefore, if you are interested in knowing more about Asian culture or writing fanfiction about it, AsianFanfics can be the best choice for you.

Despite being only an Asia-focused fanfic website, the platform has well over 220,000 fanfic stories. In addition, the number of registered users on the platform is more than 400,000, making it the most popular Asia-specific fanfic website.
The website has a blog-type user interface, but it is a highly feature-rich platform. Registered users can communicate with other users, leave reviews, request specific fanfic, and upload their work on the platform.
Tumblr is not primarily a fanfiction sharing platform, but you can easily use its massive user base to promote your fanfiction work. If you know how to use the platform's features the right way, you can gain a good amount of popularity within no time.

Tumblr has always been the first choice for people who want to express their thoughts to a vast audience. So naturally, therefore, they feature a massive library of fanfic content. The only tricky part is that you should know the right tags to follow.
The best tags that you follow to find new posts on Tumblr can be either fanfiction or fanfic. These are the most popular tags that fanfic creators use to publish their stories.
MediaMiner is another popular platform where you can get some good quality fanfiction to read. If you are a writer, you can also use the platform to showcase your writing skills. Above that, it is also an excellent place for people who are interested in fanart and anime.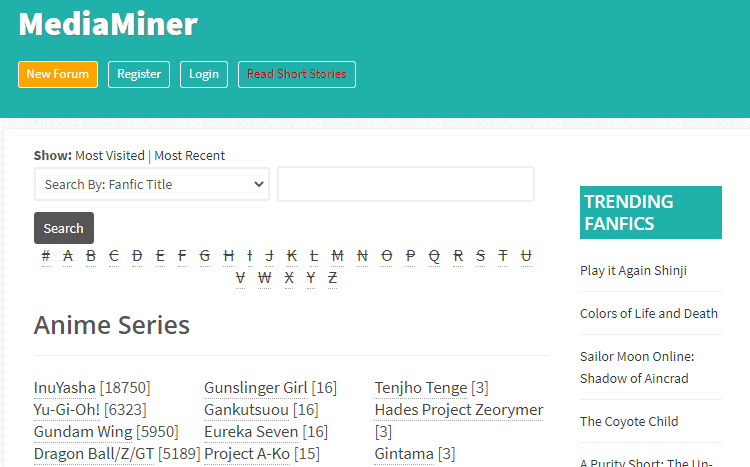 The platform has a decent amount of content to read, but the way they have organized their library makes it a worthy choice. They have distributed all their content in three separate sections: Anime Series, Non-Anime Series, and Miscellaneous Series.
Additionally, you can search your favorite genre or fanfic work by entering their title, author's name, or author's email. The user interface of the website is also very simple and visually attractive.
Read | 12 Best Anime Streaming Sites/Apps (Watch Anime Online)
DeviantART needs no introduction. After all, it is one of the most popular platforms that let artists showcase their work. Even though the platform is widespread for visual arts, you can find high numbers of fanfic text on the platform as well.

DeviantART has over 200,000 deviations in the topic of fanfiction. Further, this can be classified into six different categories that include drama, horror, general fiction, romance, science fiction, and humor.
Even though the platform has a very eye-catchy user interface, it may look a bit confusing to new users. However, once you get used to it, it will become a cakewalk for you. If you are a fanatic of visual arts or fiction, I highly suggest you give DeviantART a try.
If you are a Potterhead, then this is the only place where you should go. This fanfiction website is purely dedicated to Harry Potter, his world, and the rest of the gangs. This website boasts over 80,000 stories revolving around JK Rowling's Harry Potter world and its characters.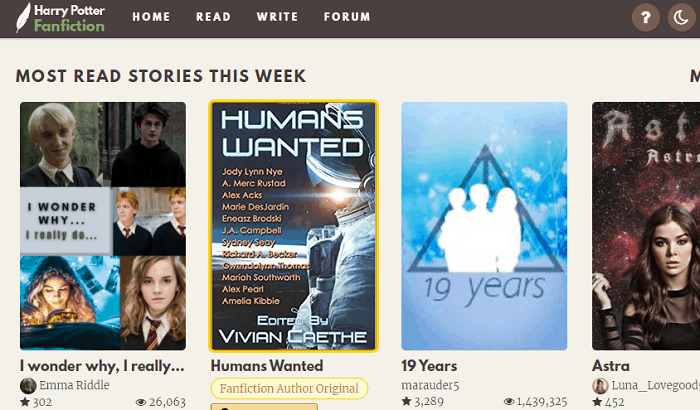 The best thing about this platform is that the site owners and their team manually check each story's quality on their platform. Therefore, you are only going to get fanfiction that meets specific quality standards.
Additionally, the website distributes annual awards to encourage writers to write better fanfics for the website. Overall, if you are a Harry Potter fanatic and looking for some high-quality fanfic to read, this is the right platform for you.
FicWad is another platform where new budding writers can share their creative work and fanfic easily. It was launched back in 2005 by K&D Lynch, and since then, the platform has received steady growth. Currently, the platform has more than 50,000 quality stories available to read.

With the website title that quotes "fresh-picked originals and fanfiction," FicWad is a platform that archives both fanfic and original work. Therefore, it doesn't matter what sort of reading you prefer. FicWad can definitely be a good choice for you.
The best thing is that users don't need to register themselves on FicWad to read any story. You can directly visit the website, select a story and start reading it. However, their Anime, Celebrities, and Cartoon category are by far the most popular.
Read | Grammarly Free Trial (11 Legit Ways) Premium FREE Trial
FeedBooks is not mainly a fanfic sharing platform. Instead, it is an ebook store where you can buy ebooks or access free ebooks that are freely available in the public domain.

Obviously, there are not a lot of fanfic stories available on the platform. They just have around 800 fanfiction books, but the good thing is that all of them are very well written. Some of the most popular fandoms on the platform are Narnia, Harry Potter, Batman, and Percy Jackson.
However, if you enjoy reading high-quality writings, FeedBooks can be a worthy choice for you. But if you are more into fanfiction only, it is certainly not a good option for you.
GoodReads is another platform where you can find high-quality fanfics to read, but unfortunately, its content library isn't that big like others. GoodReads just have around 35,000 fanfiction books on their shelves, but each of them is very well written.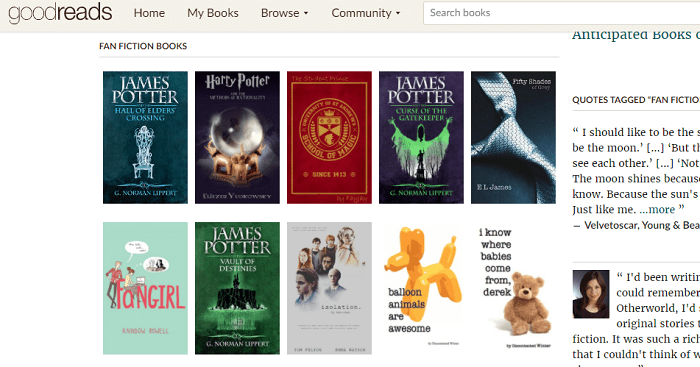 The best thing about GoodReads is that it has a very friendly and highly engaging user base. Therefore, if you are a writer, you can get honest, valuable feedback for your work from professionals.
Even though their fanfiction section has stories of diverse worlds, some prominent ones are inspired by Naruto, Harry Potter, Twilight, and Lord of the Rings. So whether you are a fanatic of reading high-quality fanfiction or a writer, GoodReads can be a good choice in both scenarios.
FictionPress is the sister site of FanFiction.net. Because of that, FictionPress has derived many features from its sister site. Even they have a similar user interface as well. The only difference in UI is the color theme on both websites.

However, unlike FanFiction.net, FictionPress is a story-sharing platform that is mainly designed for original work. Even they don't have a fanfiction section on FictionPress.com.
Even though the user base of FictionPress is a bit less than FanFiction, the community is relatively active, and you can undoubtedly get some good readership and feedback through it. So overall, if you are an aspiring writer who wants to sharpen your skills, FictionPress can be a good platform for you.
Read | 11 Best Chrome Video Downloader Extensions (Updated)
The last website on our list is WritersCafe. It is a very active community where writers can post their work to get instant feedback from other fellow members of the platform. Not only that, but you can also join different groups to learn more about different writing techniques.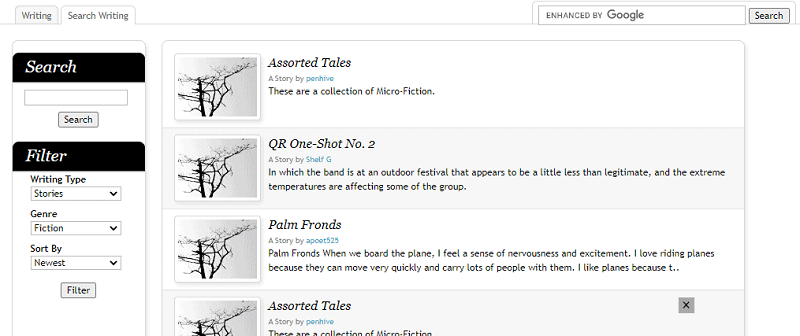 WritersCafe regularly holds different writing contests, and anybody who is a member of this community can participate in those contests. Also, to sharpen your skills, you can enroll in free writing courses.
The platform allows users to share a wide range of written works. You can submit almost anything related to writing on the platform ranging from poetry, scripts, and short stories to big novels, screenplays, and fanfics.
The Bottom Line
So, this was a list of the 15 best fanfiction sites on the internet.
This list includes the best websites for both fanfiction admirers and writers. However, if you ask me to suggest one to showcase your writing, I will definitely recommend you to go with FanFiction.net or AO3. But if you want to sharpen your skills, then you can go with WritersCafe or FictionPress.
Whereas if you are a reader, then obviously, AO3 and FanFiction have the most extensive library. But if you only want to consume high-quality writing, then GoodReads can be a good choice for you.
That said, here is the time to wrap up the article. I hope it helped you to choose the right fanfiction site for you. Nevertheless, you can shoot them in the comment section below if you have any questions. Our team will try to respond to all your comments ASAP.