If you are looking for the best voice recorder apps for iPhone, then you're on the right page. In this article, I will list the 6 best voice recording apps you can use on your iPhone to record calls or face to face conversation.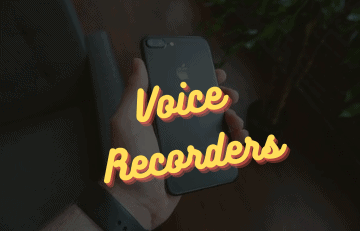 I faced a ton of moments in our lives, which we regret not recording when we had the time. With constant advancements in processor speeds and camera lenses, recording and keeping digital copies of our memories has become way easier than it used to be. However, recording voice notes or someone on-call can still give you some trouble.
Reason?
There just aren't that many apps that focus on capturing good quality audio, faster.
Why Is the Voice Recorder App Important?
Recording voice may not be considered an important feature when there are effective camera and video systems in place in most devices. However, it comes in handy when you need to record someone's call or conversation.
It may be the recording of a face to face conversation or a call record when you are on the phone. When you want to keep evidence of the person's communication or speech, you turn on your voice recorder to recall those speeches later on.
You may also want to remember an interesting conversation with your friend, or you may be conducting an interview, which would be much more helpful if you get to record it quickly.
This is where a voice recorder app serves its importance.
6 Best Voice Recorder Apps for iPhone Users in 2023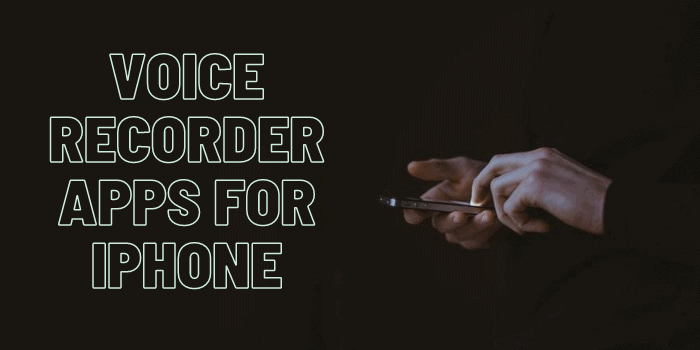 However less, but there are some good options available on The App Store when you start looking for a voice recording application.
A good app will be connected to calls as well as to radio features on your phone. If a particular song or news is being played on your smartphone's radio, you can use it to record the song or the story.
The voice recorder app serves as a multipurpose recording application. Most mobile phones have an inbuilt voice recorder, but it is mostly obsolete.
This is why you need an application that records audio and enhances the quality of the recording and filters out white noises. Here are some of the best options for iPhone users: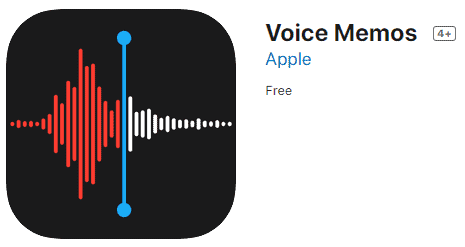 Voice Memos is a free voice recording app that is supported by iOS 12.0 or later. It is undoubtedly one of the best applications for recording notes for free.
The voice memo helps you record audio without restrictions; all you need to do is tap on the record button to start recording speeches and conversations. The app permits you to pause and resume recording whenever you want.
This app works in the background to record the conversation while using other apps on your iPhone. After recording the whole conversation, you can trim the audio file and save it in your device.
Pros:
Voice Memos is very easy to use and is quite comfortable and straightforward.
The application is available to all iWatch owners and iPhone owners.
Cons:
Voice Memos is equipped with only the necessary tools for editing. It is not that advanced.
There is no file sharing features or options in Voice Memos. Thus, you cannot share your recorded speech or Voice using this app.
You may also like to try these best iCloud bypass tools.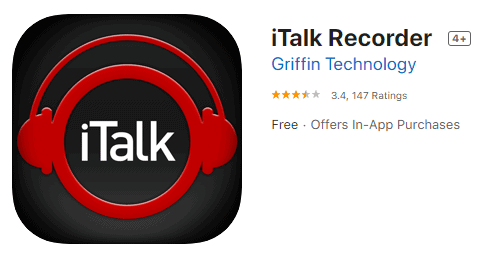 iTalk is a simple to use voice recording app, which allows the user to record voices our conversation and allows the usual to share the recordings straight to Sound Cloud. The basic version of the iTalk app is free, and it will enable you to listen and record files.
To unlock many additional features, including control options such as fast forward and reverse, you can make an in-app purchase. It is a great app that will help you record interviews, lectures, and other tasks, but using this application, you may not be able to send emails of your recordings.
Pros:
iTalk application has an easy user interface.
It helps you select the quality of the audio, i.e., you are allowed to choose right, better, or best sound you want to get recorded in your iPhone.
This application gives you access to transfer recordings from the app to AirDrop files.
This app has a note feature that helps you save a massive number of records as it allows you to add notes to your recordings.
Cons:
We cannot email a recording or a file using this application as it does not allow users to do so.
You also can't delete records or send the recordings via iTalk sync.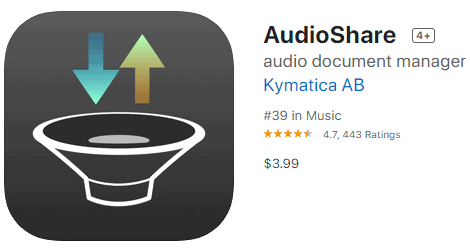 Audio share is a cool voice recording app that can be used to record conversations, and other recording and the app can be installed from the Apple Store.
This app allows you to file along with adding music to your recordings, and this is the perfect app for songwriters and musicians, which would enable them to use their iPhones to make music.
The user interface of this application is among the best for such apps out there. There is a lot that you can do using this fantastic voice recording app.
Pros:
This app allows the user to share audio files, record them, and trim them.
This app supports inter-app recordings that will enable you to record from other apps on your iPhone.
The app will allow you to organize midi files and all sound files right on your phone.
Apart from these all advantages, it has enormous, significant, and many other silent features.
Cons:
This application is a little complicated and can be a bit confusing and complex for the new users.
$3.99 price tag might make the user think that the rate is low high.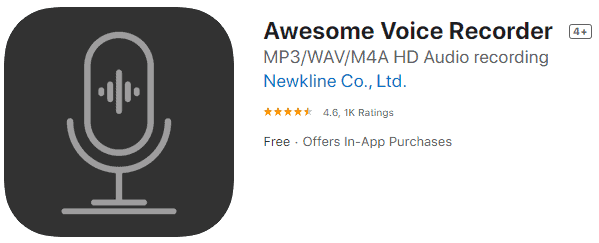 Awesome Voice Recorder is a free voice recording app for the iPhone, but you can try in-app purchases. This voice recording app is best for music industry professionals. This application helps to reduce the constant background noise and thus ensures a high-quality audio file.
The app provides you with a feature of adding a tag, which will help you highlight parts of the recording that you think is important, or you may also resume a recording session after a maximum 3-minute pause.
You can expect the best and advanced features from this app as it offers features like combining two or more files, tagging, and many more. The application can be downloaded and installed as it is a free version, but you can also pay to upgrade to AVR pro for $4.99.
Pros:
It provides you with features during the recording, like tagging of essential events.
You can just pause the record if necessary and then continue it whenever you want just where you left off.
The recordings are password protected and can be moved to the folder that can be saved.
This app is also compatible with iPhone and Apple Watch.
Cons:
There are no features that can allow you to transfer multiple files to DropBox.
Some features, such as combining audio files, required more precise instructions.
As the app has many features, so a new brand user may have difficulty or can be confused while using this app.
You might also like to visit these manga sites 2023.

Voice recorder and audio editor is one of the perfect apps for recording speeches and lectures from the school. You can not only record the lectures or speeches, but you can also get them transcribed with an 80% accuracy rate if you in-app purchase and upgrade the app.
This app is best for the students, and it does not restrict the duration of your audio recording. The free version of this app allows you to select the file format of the audio file you are creating.
You can also trim the parts you don't need in the recording and altered their playback speed. Once recording and editing complete, you can easily store them in the cloud or share them on social media.
Pros:
Voice recorder and audio editor app offer you with unlimited recording times.
The app also supports the transfer of recordings via Wi-Fi.
It has a sleek user interface.
You can use your phone while the tape is being recorded in the background.
Cons:
It has limited editing functions and offers only essential audio editing tools, and it only allows deleting.
When the recording is stopped, it generates a new file, which may create a large file.
For using file transcription feature, you need to in-app purchase and upgrade the app as it is not free.
Also, check out this Grammarly free trial guide.

REV voice recorder is a free voice recorder app which you can download from the Apple app store on your iPhone. This app is customer-oriented and is easy to use as it was built based on the feedback that came directly from the customers.
REV voice recorder is a popular choice for users looking for a great voice recording app. In case you want to purchase a transcript of the app anytime, you just need to pay $1.25/audio, which will increase the audio durability to 30 minutes at a time. The app is convenient for journalists and market researchers.
Pros:
The voices and conversations can be recorded and trimmed.
The voice files or recorded files can be sent anywhere, including iCloud Drive, DropBox. Google Drive and Evernote.
You can also record the conversation in the background while using other apps.
You can import recordings from other iPhone apps to Rev.
Cons:
iPhone users might not like to pay for each transcription, but your audio will be guaranteed 99% accuracy, like automatic alternatives since it is transcripted by real humans.
Thus, these are the listed best voice recorder apps you can install on your iPhone. So what are you waiting for? Install one of them and enjoy the best voice recording experience.