4 Quick Ways to Optimize Facebook Business Page in 2023 – Plenty of Americans now use Facebook to find out more about products and services, and the pandemic has only increased this. Facebook reported that searches for local businesses increased by 23% from February to May 2020.
4 Quick Ways to Optimize Facebook Business Page in 2023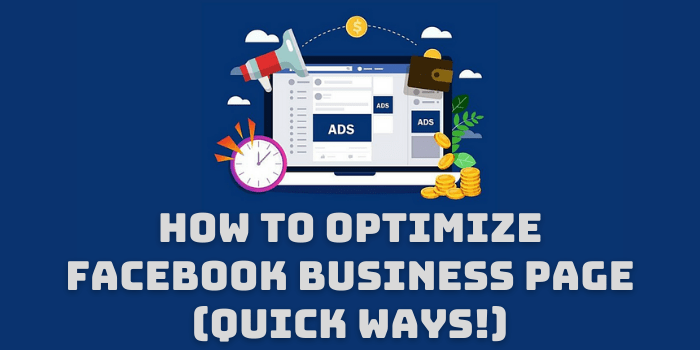 Business owners, especially SMEs, can use the platform to expand their reach, continue servicing their customers, and stand out from the competition. This is certainly good news for business owners with a dedicated social media presence — and if you don't already have one, here's how you can optimize your Facebook business page.
#1. Make Yourself Visible
When customers search for products or services, are you showing up on the results page? The search is optimized based on what the user is looking for, so if you don't fit the bill, then your business won't rank high.
You can rank higher on search results by including relevant details on your page info. Write your address, business hours, location, products, and services on your business page, as this is the basic information users look for. An article on SEO also emphasizes the importance of adding relevant keywords in your notes, captions, and headlines to generate more results on Facebook and Google. If you want to attract more local customers, then you can add geo-tags to these posts!
Read | How to Use Tinder Without Facebook (The QUICK Way!)
#2. Schedule Your Posts
Consumers are more likely to follow the Facebook pages of businesses that post content regularly. This is a known strategy for engaging with social media users and an effective way to update your patrons about your business and your offerings. Do note that publishing content does take a lot of time and effort. That said, business owners that do not implement this strategy risk losing the interest of their target customers.
Luckily, you can hit two birds with one stone by scheduling your posts. You can do Facebook scheduling in less than 20 minutes. Just simply drag and drop your scheduled post into the calendar so that the system can post them whenever and however you want. By doing this, you can plan your content ahead of time without worrying about posting regularly — Facebook will already do it for you. You can also keep your patrons updated, interested, and engaged in your page and, in turn, your business.
#3. Track Your Post Engagements Using Data
Facebook business pages have a custom feature called Facebook Insight, which allows you to review data on your page views and engagement. It also tracks the demographics of your audience and the actions that they have taken on your business page. Furthermore, you can also track your competitors using the Pages to Watch feature within Facebook Insight.
This feature can be crucial to your business's success because you can gauge whether your online campaigns are effective in increasing your conversion rate or not. Through the data, you can adjust the number and the content of your posts so that you can attract more customers.
Read | How To Create Your Facebook Avatars: Step-By-Step Guide
#4. Engage With Your Customers
Deliver excellent customer service to your online consumers by interacting with them on your Facebook business page. Use this social media platform as an avenue for your brand to develop a personal relationship with your audience.
Chief marketing officer Jeremey Donovan notes that "failed promises can be as simple as poor service or unresponsiveness and may extend to more complex issues, such as inconsistent quality."
Allow your customers to feel valued and appreciated by responding to their replies and addressing their reviews. Let them know that they are important to your business by responding actively and politely to their comments on your page. Furthermore, you can let your customers know that they can easily get in touch by setting automated responses on Facebook Messenger. These automated responses are integral to your customer service because Facebook also tracks the response rates and times of the businesses in their platform.
Attract your target customers by optimizing your visibility, customer service, as well as your post scheduling and engagements! There are already a lot of consumers on the lookout for new brands; you just need to use the right tools and tricks to improve your business page. For more tech news, check out our Blog articles.