If you are an avid user of Grammarly and searching for Grammarly for iPad, you are on the right page. You will get all information about the Grammarly iPad keyboard application. If you want to download the latest version of this keyboard on your iPad, you can click on the link mentioned below.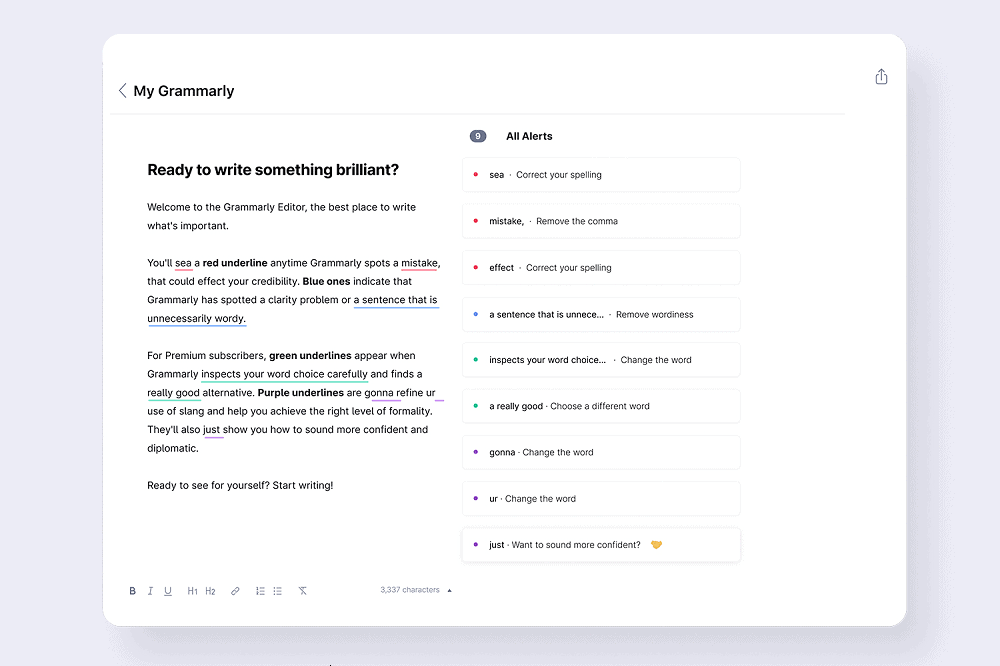 Do you write every little detail of your life? Or do you write a lot for professional uses like emails, letters, proposals, etc.?
Well, grammar and punctuation check is necessary for all. It helps you write better and the reader to understand better. That's where Grammarly comes in handy to look for wrong punctuation placements and spell-check.
Do you own an iPad? Well, you definitely do, and that's why you're on this page. Recently, Grammarly announced the Grammarly for iPad version for better usage on iPad.
Mentioned below is everything that you need to know about Grammarly before installing it on the iPad, along with the installation process.
What is Grammarly for iPad?

Grammarly for iPad is one of the best iOS applications to check spell and punctuation marks in a document. So no matter whatever you write, correct spellings, grammar, and punctuations make it look perfect.
Also, the reader can read and understand everything in a better way. By using Grammarly, the algorithm can proofread your document instead of a human.
However, it is not as perfect as a human proofreader. Nevertheless, it saves you time and money. Grammarly iPad application is free to use for a lifetime with unlimited document options.
However, you get limited features with the free version to proofread your document. You can upgrade to the premium or business plan to get a feature-rich tool, depending on your requirements.
You can read this Grammarly review for more information.
Features of Grammarly for iPad
The free version of Grammarly offers the following features to you:
150 Types of critical grammar and spell checks.
Choosing the type of English you use, like American English and British English.
Choose the language you are writing from formal, casual, friendly, native, friendly, neutral, etc.
Set your audience from general, knowledgeable, and expert.
Set your intent and tone of the article to enhance the proofread.
Look for the performance score of your writing and check for corrections.
Export the insights of your document's grammar and writing score in a PDF document.
Features of Grammarly for iPad
That's a hell load of features! However, they are limited when it comes to checking a document deeply. Following are some of the highlighted features from the premium version of Grammarly:
100 Additional advanced grammar and spell checks.
Word choice suggestions.
A huge library of words for better vocabulary.
Genre-specific writing scores and proofreading.
Plagiarism Detection: This is one of the most notable features of Grammarly's premium version. It comes in handy while writing articles and blogs online.
Not just that, using Grammarly for iPad is the best solution available in the market right now. For instance, take three words – to, too, and two.
For non-native speakers, these three words might sound challenging to use and understand in a sentence. Therefore, a regular proofreader only checks if the spelling is correct.
However, Grammarly checks for context to use the right word and offers you suggestions accordingly.
You might also like to check: How to get Grammarly free trial?
Download Grammarly for iPad (Latest Version)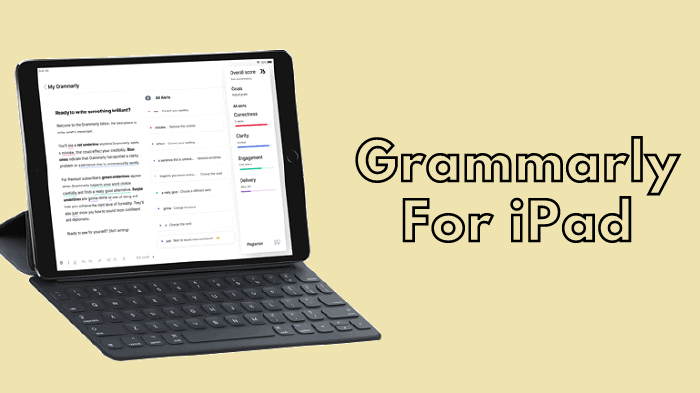 After attaining a lot of success, Grammarly has come up with its latest application for iPad. It is available on the App Store to download for free.
However, it does have in-app purchases. You can use the majority of the online features of Grammarly for iPad with ease. It gives you suggestions on the iPad while writing for improvements in your document.
The latest version comes with a magic keyboard option. Unlike the online version, you can do a lot more with the iPad version. For example, while writing something on an Apple device, you can complete another device.
Also, using the AI-powered assistant on the iPad will be better than the online dashboard. You get three categories that are color-coded for correctness, engagement, clarity, and delivery.
Grammarly for iPad also allows you to access the online web editor and Keyboard features from the same app. Therefore, you get a complete package for your Apple iPad to look for various corrections and suggestions.
Apart from that, Grammarly for iPad comes with more cool features. You can connect the application with your keyboard; no need to download any keyboard separately. It will allow you to check for everything you write.
Be it replying to a client on email or WhatsApp or writing an Instagram caption or Tweet – it can handle everything easily. After connecting, you will see suggestions after each word to the writer efficiently and rapidly.
Last but not least, the application will generate a weekly insights report. This report will help you to understand your writing skills better.
Thus, you can work on your weaknesses rapidly and become a better writer with the insights report. It includes vocabulary, spell check, grammar, punctuation, tone, etc.
You might be interested in these deals:
To download Grammarly for iPad, head over to the App Store and search for Grammarly or click on the Download button below.
The bottom line
Grammarly iPad application is the best tool to check for your writing skills along with grammar, spell check, and punctuations. If you are using an iPad, check out the latest version of Grammarly for iPad. It comes in really handy while typing anything like a tweet or an email.
So, this was all about the Grammarly iPad app. I hope I've cleared all your doubts related to this new release of Grammarly. If you have any doubt, drop down your query using the comment section. I or someone from the Cartel Press team will surely revert you to assist you.