Windows 10 has been a flawless operating system with amazing perks. Microsoft has done a brilliant job in updating its OS from Windows 7 to Windows 10. The user interface is much cleaner, and it is well-built for touch screen devices.
You can use any USB device on your Windows 10 machine and the operating system will automatically find the drivers and install it. In fact, windows will find the best possible driver on the internet so that the hardware can perform efficiently without causing any conflict to the system.
Why you should disable the auto installation of the drivers:
Automatic installation of the driver is a great thing, but this might not be the case for unwanted devices. For instance, when you insert an infected pen drive into your computer, it might install a hidden driver. This hidden driver may cause many unwanted problems. In fact, this driver might be installed unnecessarily, which will increase the load on your computer.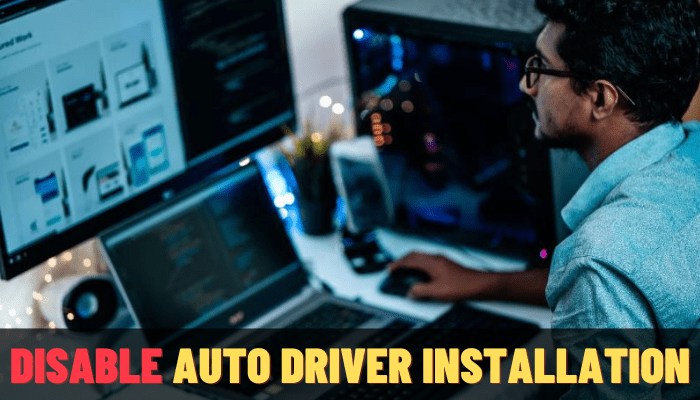 In this article, we are going to learn some amazing techniques by which we can disable automatic driver installation on our personal computers. We are going to describe each step very precisely so that anyone can avoid disabling automatic driver installation.
Accessing the system settings
To disable automatic driver installation, you need to access the system settings tab. You can do so by accessing the control panel or hitting the windows + x button. In the system properties window, click on the hardware tab. Now select the device driver installation button and disable automatic driver installation by selecting the radio button "NO". After that, you might have to restart your computer so that the new changes will take place in your system. In most cases, major changes in the system settings require a full system reboot, and this is completely normal.
Do you need any further steps?
The simple answer is No. Once you have done that, you should see no drivers are being automatically installed, even though the system will recognize the new device. By doing so, you may run into some problems, but it will reinforce your security to a great extent. At times, you might mess up the system settings, but you can easily revert the changes by restoring your computer to an earlier date. However, before you restore your system, we strongly recommend that you try to fix things manually via system settings.
Adding drivers manually
Once you have disabled the automated driver installation process, you need to manually add the drivers and download the package from the internet. While doing so, you may consider using the VPN to stay anonymous. VPN for Windows allows you to mask your identity in the internet world and thus the hackers will not be able to find your digital footprint. Always remember, that you might be using the best device with the latest updates, still, you will have to stay concerned about your security.
Benefits of disabling automated driver installation
One of the key benefits of disabling automated driver installation is the reinforcement of security. You will always know which driver you are installing on your PC, and thus you will feel more confident about your system. However, if you keep on adding new devices to your PC, it is better to keep your automatic driver installation features on as it will save huge time. In special cases, you may consider turning it off to improve the safety of your personal computer.
#Method-1: Disable Auto Installation Using third-party software
You stop downloading of driver automatically by using third-party software. In fact, you can rely on driver maintenance software which will help you to choose the driver you need to install. But using additional resources to manage your driver downloading and installation option is not a good idea when you can easily do that by using the Windows system settings panel.
#Method-2: Disable Automatic Driver Installation Using the device manager
To manage your driver efficiently, you can also access the device manager tab. With the help of the device manager tab, you should be able to manually install, update or uninstall a driver from the system. Every time you will connect a new device to the system, it should show up in the device manager list. Based on your requirement, you may bring necessary changes to the system and keep your system super clean.