Many chatting apps are available today, but it is tough to find some of the best anonymous chat apps for android and even iPhone users. No doubt, there are many chatting apps available such as Whatsapp, Facebook Messenger, but we can't talk secretly with strangers by hiding our identities.
So, anonymous chatting apps are the solution if you're trying to make some new friends, but you don't want to let'em know about your real identity.
11 Best Anonymous Chat Apps for Android And iPhone in 2023
Do you want to make new friends, but your introverted nature isn't allowing you to make the first move? Don't you want to spend hours searching for the handiest anonymous chatting application for your iPhone or your android phone?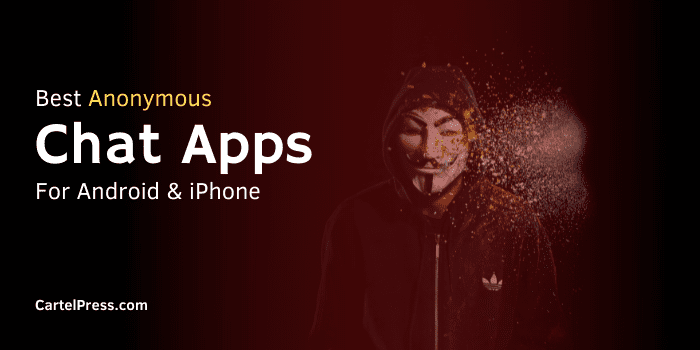 If yes, you've landed on the right webpage, as today I am going to share a list of the 11 best anonymous chat apps for Android that you can use to connect and meet new people. So, without any further ado, you must check out the list available on this article, and let's get started.
Read | Twitch Logs: How To Check Twitch Chat Logs (Easy Guide)
#1. Psst! Anonymous
The very first chatting app on our list is Psst! Anonymous. Psst! Anonymous is like a social network application where you can create your profile, share your opinions, news, secret confessions, life experience, and much other stuff. The best thing about this app is that it lets you do all that without revealing your true identity.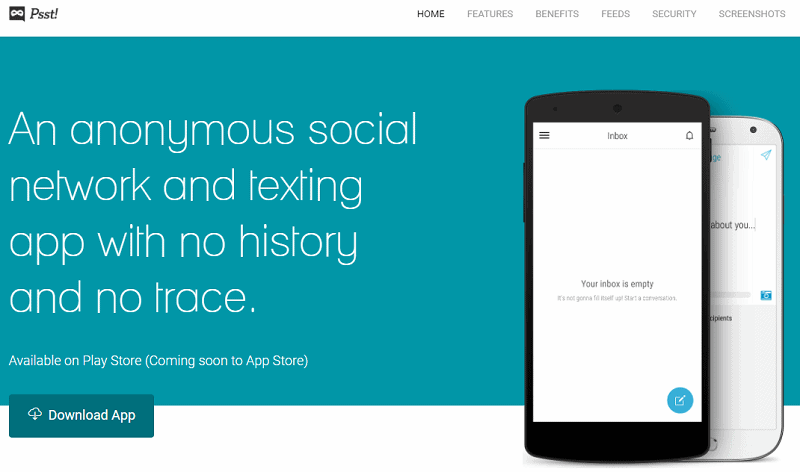 You can read and see other people's posts and photos that they have shared openly. If you like their posts, you can add them as friends to start chatting. If you don't want them to know you have followed them, you can use the secretly follow feature. Every post on this app stays active only for 48 hours. Plus, all you need is only your email to join this platform.
#2. Connected2.me
Connected2.me is an excellent app for finding new people, connecting with them, and having good conversations without revealing your identity. There are two ways to use this app – you can create an account by entering some basic information or using the platform entirely anonymously. Having an account will unlock some additional benefits, but that is completely optional.

This app looks like a mixture of Instagram and Tinder. It has a story feature that is quite identical to Instagram stories, while the profile quality and other things look like Tinder. This app uses GPS to help you find nearby active profiles, and once you like someone's profile, you can immediately start chatting with them. The app also has a shuffle feature that connects you with random users who are available to chat.
#3. Chat for Strangers by FunPokes
Next, we have Chat for Strangers by FunPokes on our list. This is a very user-friendly app that lets users chat, video call, and do a number of other things. You can use the app to connect with random strangers and talk to them about almost anything you want. Users can also share images, videos, and other things with these strangers.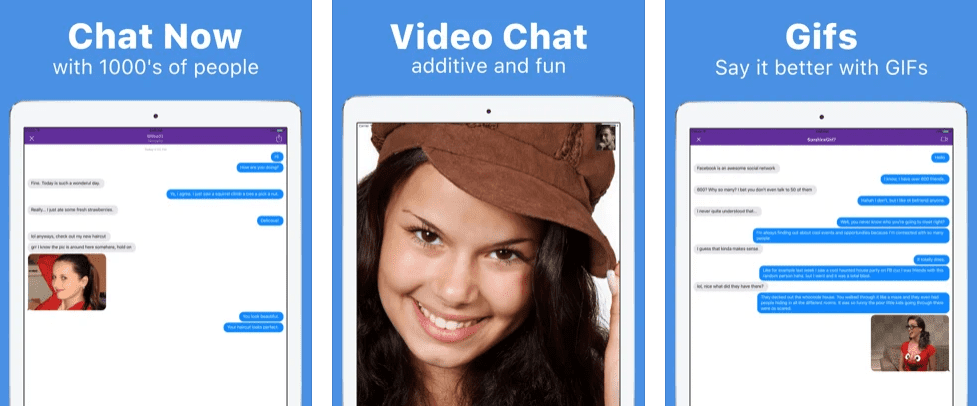 Additionally, the app allows you to filter profiles according to their age. You can also filter these profiles by gender, but for that, you need to opt for elite membership. The app has well over 500K+ downloads, ensuring that you will never lack people to talk to. The user interface of the app is simple and easy. Though it looks a bit dated, it gets the job done, so I have nothing to complain about.
Read | 11 Best ChatStep Alternatives (Similar Sites & Apps)
#4. Chatous
With over 10 million Android downloads, Chatous is undoubtedly a top-rated app for anonymous chatting. This social networking app makes it easy to connect and communicate with strangers with similar interests. Along with chatting, you can also make video calls and share images and other stuff with other people. The good thing here is that you don't have to pay a single penny from your pocket to use this app.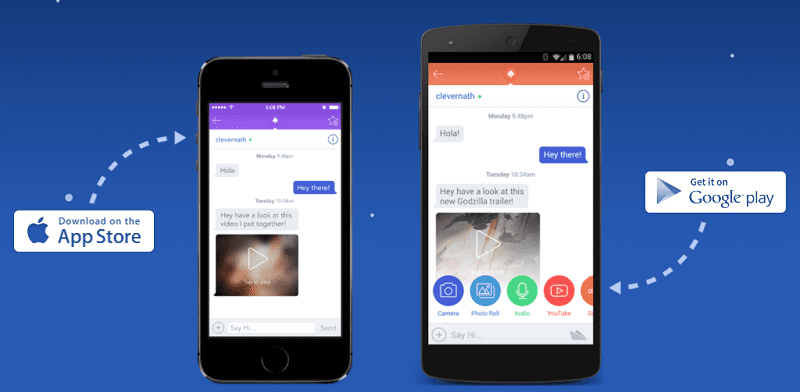 Although the app has some premium in-app purchases, they are not necessary to get a conversation going. All of the chats on Chatous are anonymous and private and are only temporarily stored on the app's web server. You can use hashtags to find people who share similar interests. The app features additional filters, such as filtering users by gender, but those are only accessible with in-app purchases.
#5. MeetMe
Founded back in 2005, MeetMe is amongst one of the oldest anonymous chatting apps on the internet. However, MeetMe was initially started as a social media platform. Therefore, it appears like a combination of both a stranger chatting app as well as a social media platform. Along with chatting with random strangers, you can also stream yourself to gain some popularity, make a giant friend circle and fanbase.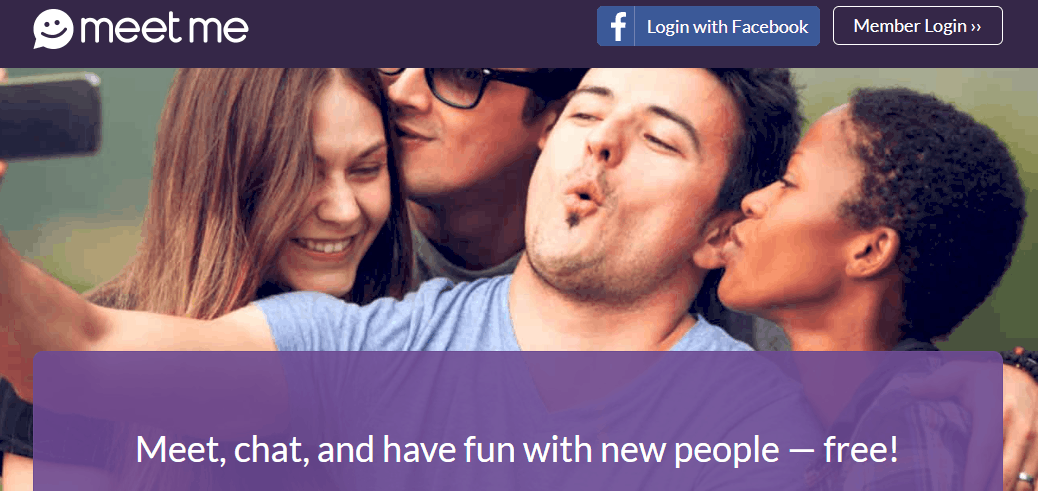 MeetMe uses GPS to find and show nearby available people. You can use additional filters and tags to find strangers who share similar interests and likes. The only issue with MeetMe is that since it markets and categorizes itself as a social media network, the minimum age to join the platform is 13. As a result, you will meet a lot of people who are minors. But overall, it is an excellent app to talk anonymously with strangers.
Read | Is Hangouts Safe? Is Hangout Chat Secure? Honest Review
#6. Camsurf
Have you heard about Omegle? Camsurf is quite similar to that, but unlike Omegle, video chats here are a bit clean and safe. This app is excellent for making new friends, doing some healthy flirtings, and strangers across the globe. The app has over a million users from more than 200 countries. The best thing is that you don't need to log in or sign up to start chatting with other people. Open the app, and you are good to go.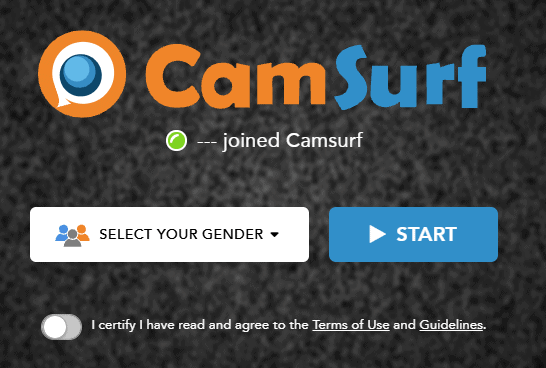 The app features a bunch of filters that allow you to filter strangers based on their location and language. You can also filter profiles based on gender, but that feature is limited to paid users only. Since it is a live video calling app, web servers don't store any data of yours, making it an amazing anonymous video calling app for Android.
#7. Moco
Next, we have Moco on our list. Moco is a great app that allows you to chat, hang out, and make new friends. The app uses GPS to show a list of people nearby who are available to chat now. Once you like someone's profile, you can immediately hit your shot by sending them text messages. The app is freely available on Google Play Store with some in-app purchases.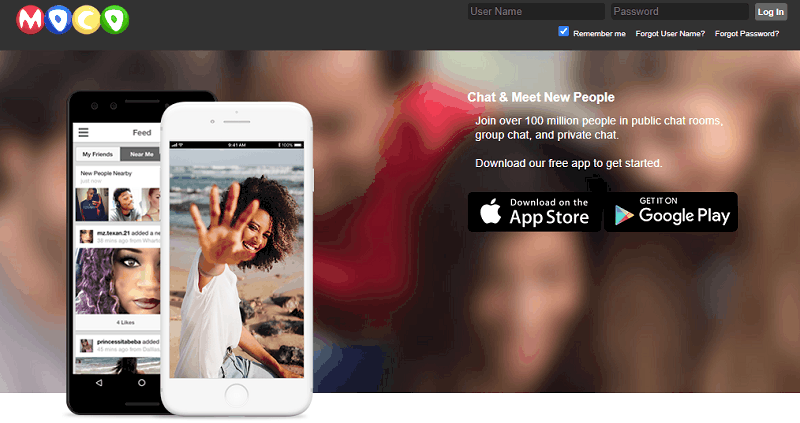 If you don't like profiles of nearby people, you can join free chat rooms. These chat rooms can have up to 1000 real people at a time, making it a great place to find new people. Along with GPS-based suggestions, the app features a robust and detailed search option. This search function allows you to find people by their age, gender, location, sexual preferences, and other things. By far, this is the best search function I've seen on an anonymous chatting app.
#8. Anonymous Chat Rooms, Dating App by Anti Corporation
If you are seriously concerned about your anonymity, this chat app by Anti Corporation can be a good choice for you. This app allows you to connect with random strangers across the globe and send them self-destructive messages. The app has over 1.6 million registered users, and at any time, you can find thousands of strangers to talk to.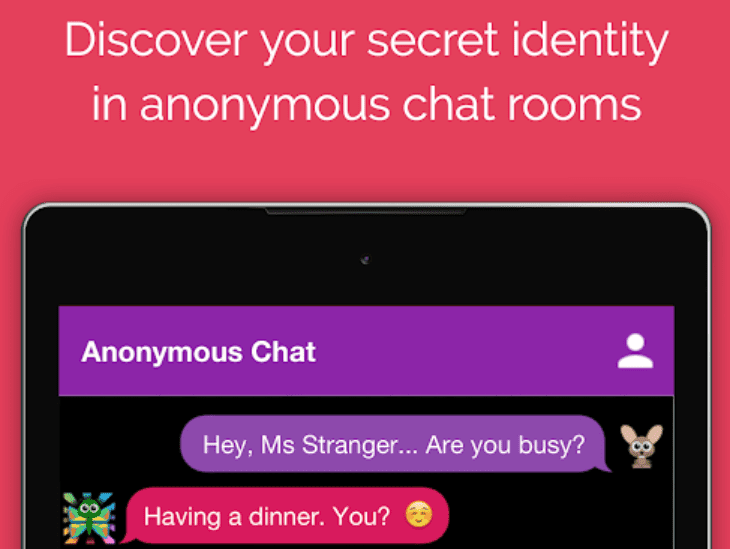 Along with one-to-one chats, this app features several chat rooms where you can share your experiences, interact yourself with a group of people, and more. The algorithm of this app continuously keeps an eye on annoying behavior, bullying, and other things to make your conversations healthy. Users can also create 10-second videos and send them to their contacts privately.
Read | 15 Best Adult Chat Room Apps and Websites [Updated]
#9. Wakie Voice Chat
Do you want to discuss weird things with strangers? If yes, Wakie is an excellent solution. It is an anonymous text and voice chatting app that lets users discuss almost any topic. You just need to create a topic on the app, and other users who will be interested in it will come to talk to you. So this is really a way to initiate a conversation.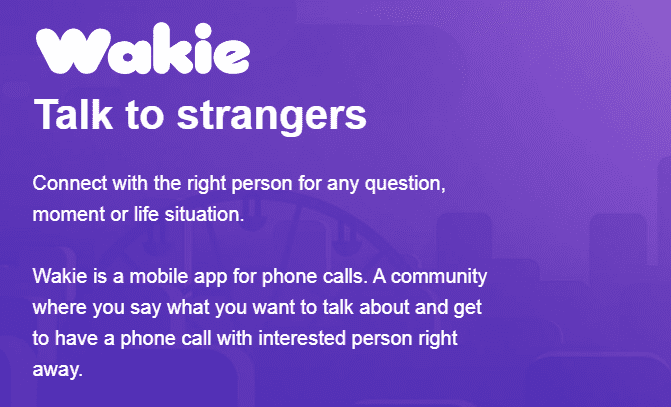 The main idea behind this app is to provide a platform where people can share their feelings and thoughts without being judged for that. The app has over a million users. However, do note that the app, by default, is not entirely anonymous. Therefore, you need to configure settings if you want complete anonymity.
#10. RandoChat
RandoChat is arguably one of the easiest anonymous chat applications on the internet. This app is solely dedicated to random chat, and that's why it doesn't have many fancy functions. Therefore, if you are one of such guys who prefer using such apps, RandoChat can be an excellent option for you. The app is so simple that you don't even need to create an account. Just install the app, and you are ready to go.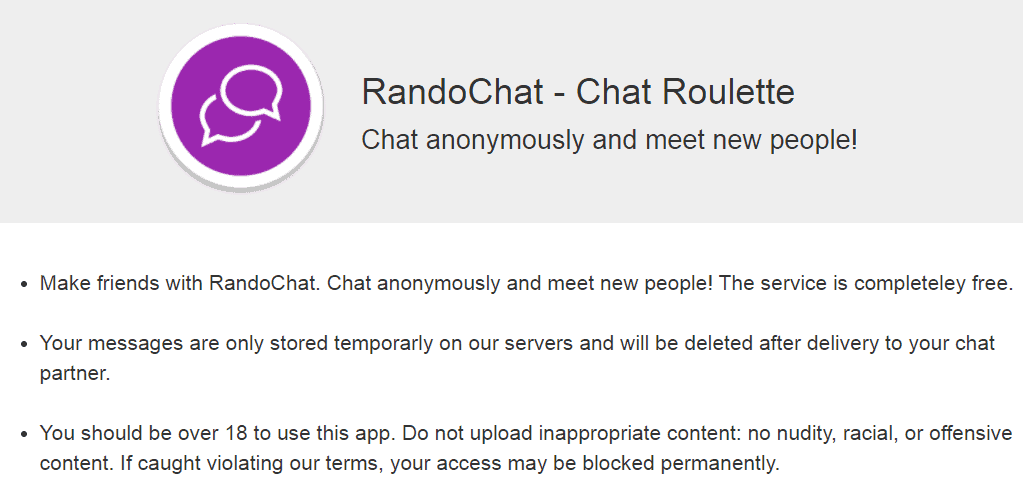 The user interface of the app looks very similar to WhatsApp. You just need to open the app and tap on the chat option. Then, the app will connect you with some random stranger across the globe. Though you can use the app for flirting and fun, you cannot send or upload explicit images. Otherwise, your IP will get banned permanently.
#11. Holla
Lastly, we have a fun random video chat app named Holla on our list. With over 30 million monthly active users, Holla is arguably one of the most popular video chat apps for Android. This app operates in over 190 countries, and it is also one of the most downloaded apps on the Google Play Store. Such a massive user base ensures that you will never lack potential strangers available to talk.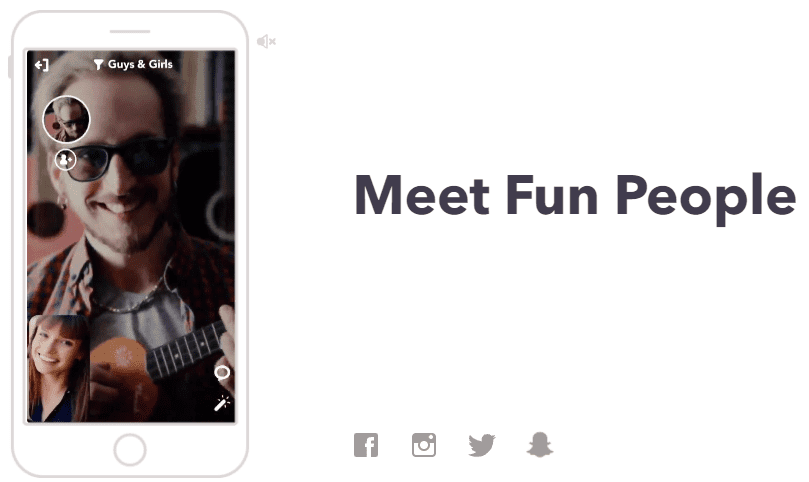 Along with free text chat, you can use Holla for free video and voice calls as well. The best feature that I liked about Holla is that it hides your face on a video call until the other person's face isn't visible. Therefore, you don't have to worry about explicit content during video calls. Another good thing about this app is that you can use a bunch of filters to enhance your video call experience.
The bottom line
So these were some of the 11 best anonymous chat apps for Android and iPhone.
Talking to our friends is fun until we get bored with them. If you are also feeling bored and looking to make some new friends, these random chat applications can help you. With the help of these apps, you can connect with millions of strangers across the globe.
With that said, here I am wrapping up this article. I hope it was helpful for you. If you have any questions, feel free to shoot them in the comment section below. Our team will try to answer them ASAP.